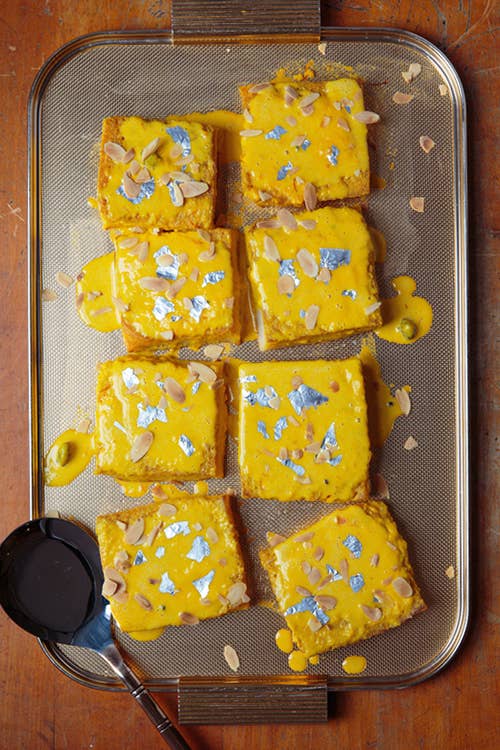 This syrup-soaked toast is slathered in a sweetened reduction of milk flavored with saffron. The recipe comes from Afzal Ahmad, chef to Sulaiman and Vijaya Khan, the raja and raina of Mahmudabad, near Lucknow in northern India. In the Khan's sprawling palace, great feasts were once—and occasionally still are—held. Dishes such as this, lavished in flower essences and finished in edible silver leaf, displayed the wealth and generosity of the Muslim nobility. This recipe first appeared in our August/September 2014 special India issue with Holly Shaffer's article Soul of the Palace.
8 cups whole milk
5 green cardamom pods
1 tsp. saffron threads
1¼ cups sugar
1 cup ghee
1 (1 lb.) Pullman loaf, crusts removed, sliced 1" thick
½ cup sliced almonds, toasted
Edible silver leaf, for garnish (optional)
1. Boil milk and cardamom in a 6-qt. saucepan. Reduce heat to medium; cook, stirring occasionally to prevent scorching, until thick and creamy, 1–1½ hours. Mix saffron with 1 tsp. water in a bowl and add to pan. Stir in ⅓ cup sugar; cook until sugar is dissolved, 2–3 minutes.
2. Melt ghee in a 12" skillet over medium-high. Working in batches, cook toast, flipping once, until crisp, 2–3 minutes; transfer to a plate. Wipe skillet clean; add remaining sugar and 1 cup water, and boil. Cook until sugar is dissolved, 2–3 minutes; let cool. Return milk mixture to a simmer. Working in batches, dip toast in syrup; transfer to milk mixture. Cook until toast is softened, 4–6 minutes. Transfer toast to a serving platter; spoon remaining milk mixture over the top; garnish with almonds, and silver leaf if you like.