Recipes
Sour-Milk Griddle Cakes
These tangy, fluffy pancakes topped with a sweet-tart blueberry sauce make a heavenly breakfast.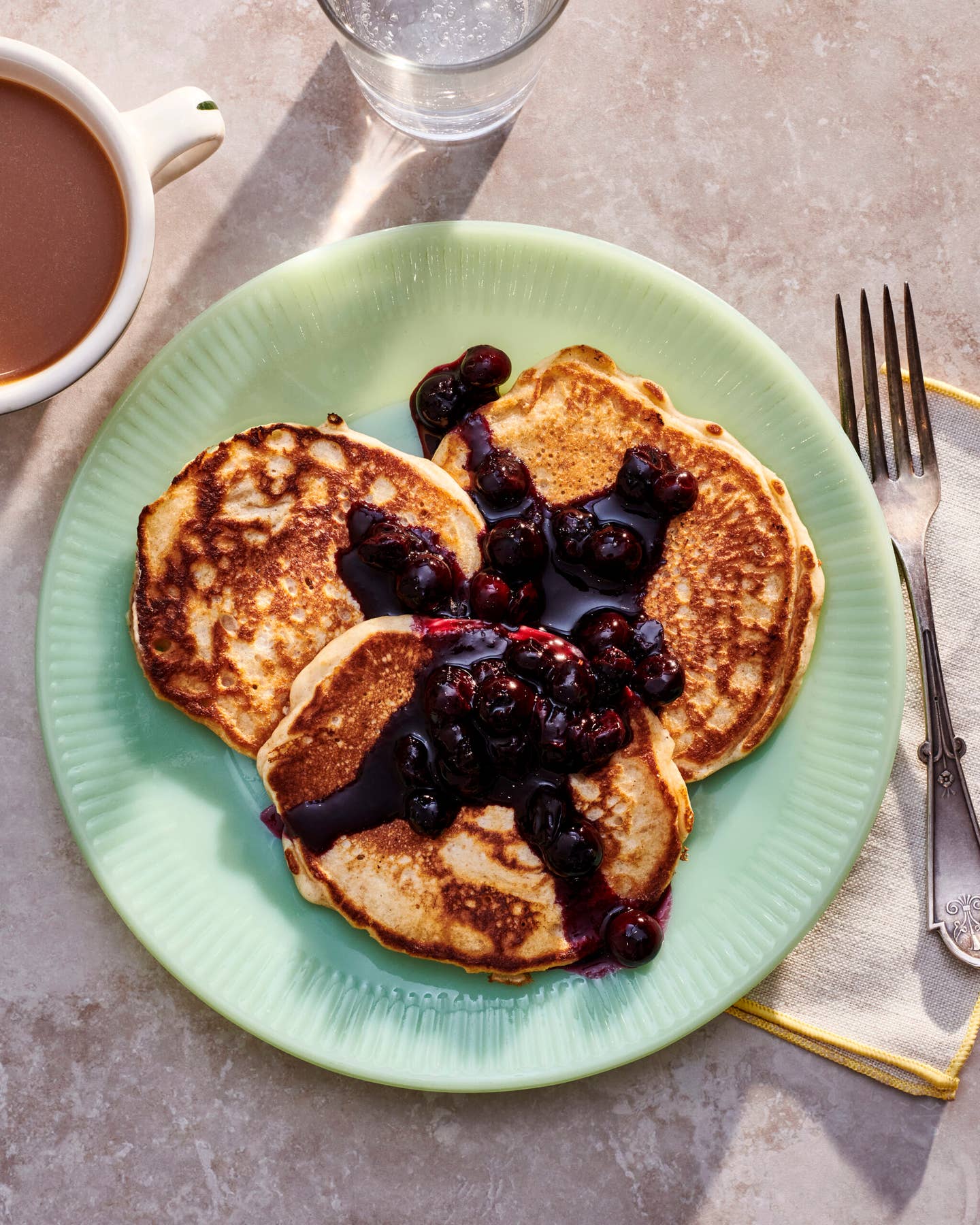 In this sour-milk griddle cake recipe—adapted from Edna Lewis' The Taste of Country Cooking —a thick, tangy batter cooks up into soft, fluffy rounds. The rustic pancakes make a delicious breakfast, especially when topped with stewed berries and maple syrup. You can use fresh or frozen blueberries to make the sauce.
Ingredients
FOR THE SAUCE
2 cups blueberries, rinsed
⅓ cup sugar
FOR THE PANCAKES
1½ cups all-purpose flour
1⁄2 cup whole-wheat flour
2 tsp. baking powder
1⁄2 tsp. baking soda
1⁄2 tsp. fine salt
1 Tbsp. unsalted butter, melted, plus more for cooking
1 large egg, beaten
2 cups sour milk or buttermilk
Maple syrup, for serving
Instructions
Step 1
Make the sauce: To a medium pot set over medium heat, bring the blueberries, sugar, and 1⁄3 cup of water to a boil. Turn the heat to low and cook, stirring occasionally, until the blueberries break down and the sugar dissolves, 4–5 minutes. Remove from the heat and set aside.
Step 2
Make the pancakes: In a large bowl, whisk together the all-purpose flour, whole-wheat flour, baking powder, baking soda, and salt. Whisk in the melted butter and egg until just combined and no streaks of flour remain, then whisk in the sour milk.
Step 3
In a large non-stick skillet set over medium-low heat, melt 1 tablespoon of butter. Once the foam has subsided, working in batches, use a ⅓-cup measuring cup to scoop the batter onto the pan (without crowding the surface). Cook until tiny bubbles begin to form on the tops of the pancakes and the bottoms are golden brown, 2–4 minutes. Flip and cook the other side until golden brown, 2–4 minutes more. Transfer the pancakes to a platter and tent with foil to keep warm. Add more butter to the skillet and repeat with the remaining batter. Serve immediately with the blueberry sauce and maple syrup.