Recipes
Spiced Buttermilk Oatmeal with Dried Fruit and Pecans
This from-scratch breakfast cereal is miles better than instant.
Serves

serves 4-6

Cook

40 minutes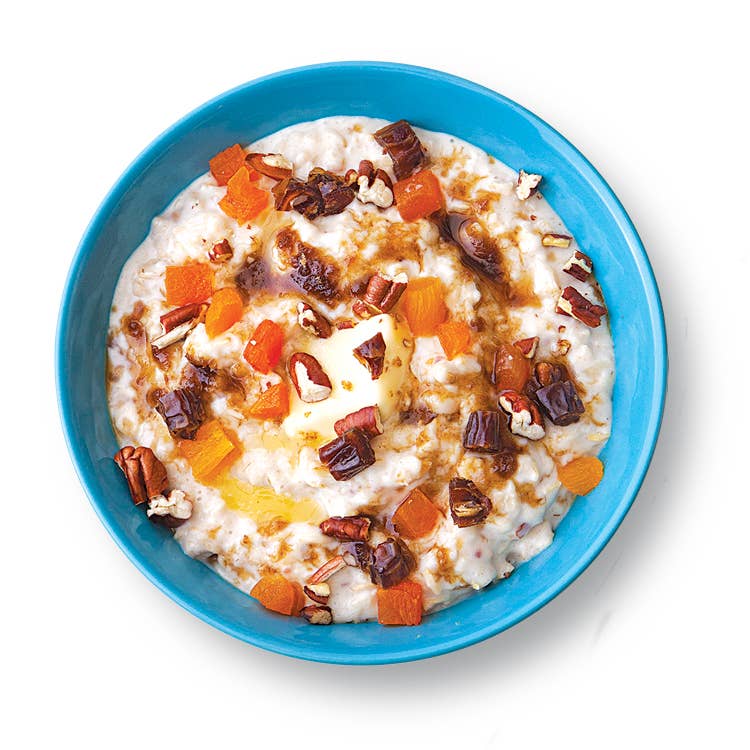 Spices including cardamom, star anise, and ginger jazz up this warm breakfast cereal from New York Times restaurant critic Pete Wells. Steel-cut oats, also known as Irish or pinhead oats, take longer to cook than rolled and instant varieties, but boast a satisfying and toothsome texture that is well-worth the wait. Check out all of our breakfast recipes here.
Ingredients
3 tbsp. unsalted butter
1 cup steel-cut oats
1 tsp. ground cinnamon
1⁄2 tsp. ground green cardamom
1⁄4 tsp. ground star anise
One 1-in. piece of ginger, peeled and pounded into a paste
1⁄2 tsp. kosher salt
3⁄4 cup buttermilk
1⁄4 cup whole milk
1 tbsp. honey
1 cup mixed dried fruit, such as apricots, dates, and prunes, coarsely chopped
1⁄2 cup coarsely chopped pecans, toasted
Orange marmalade or raspberry jam, for topping (optional)
Instructions
Step 1
In a medium Dutch oven, melt the butter over medium-high heat. Add the oats, cinnamon, cardamom, star anise, and ginger, and cook, stirring occasionally, until the oats are slightly toasted and the mixture is fragrant, 2–3 minutes. Stir in the salt and 3 cups of water, bring to a boil, then turn the heat down to medium and cook, stirring occasionally, until the oatmeal is tender, about 25 minutes. Add the buttermilk and milk, and continue cooking until the oatmeal has thickened slightly, 8–10 minutes.
Step 2
When ready to serve, stir in the honey, then divide the oatmeal between 4 bowls. Top each with the dried fruit and pecans and a dollop of marmalade if using.