One Ingredient, Many Ways: Oats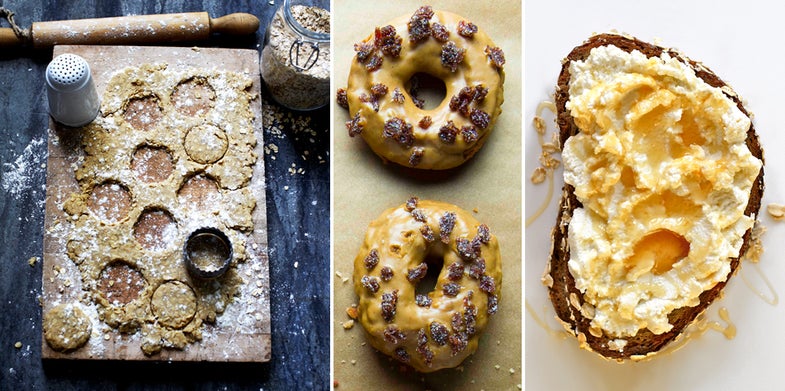 Consider the oat. There is oatmeal, of course—the warm, nubby porridge that has powered generations of early-risers. There are oatmeal cookies, which offer textural variation from the standard chocolate chip. There is hearty, oat-encrusted bread; there is toasty granola and its raw cousin, muesli. And yet for a cereal grain that stands at the center of so many iconic foods, oats somehow play second fiddle to other, trendier grains like quinoa or farro—confined to the breakfast table or overlooked entirely.
Maria Speck, author of the award-winning cookbook Ancient Grains for Modern Meals, believes the humble, hearty oat deserves a closer look. "They have a natural delicate sweetness," she says—one that works equally well added to a stack of pancakes or the crunchy topping of a fruit crisp. They are nutritious too: Unlike other grains, which can shed their bran layer when processed, Speck says that all forms of oats are considered whole grain—from hulled oat groats and steel cut oats, to rolled oats (commonly called old-fashioned oats), and even quick-cooking oats.
And yet, with all due respect for ready-in-a-hurry instant oatmeal, there is something to be said about the satisfaction of a little chew. Speck prefers the steel cut variety, which she briefly parboils at night to shorten the next morning's simmer and stir time. She also likes to dress up oat groats with savory flavors like toasted walnuts, thyme and gorgonzola. Served this way, she writes, they "will steal the limelight from trendy farro in an instant." Similarly, oatmeal cookies laden with dried cranberries and drizzled with a sweet cinnamon glaze, like the ones below, command attention at the dessert table. Check out the recipe for these charming cookies, along with a collection of dishes that highlight everything the oat has to offer.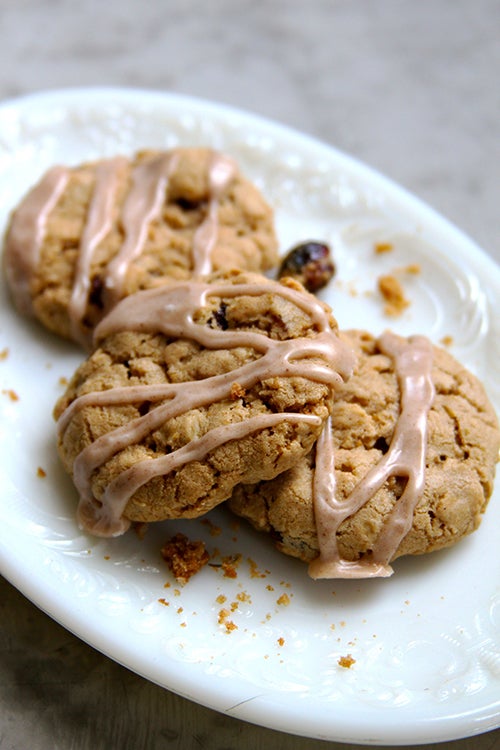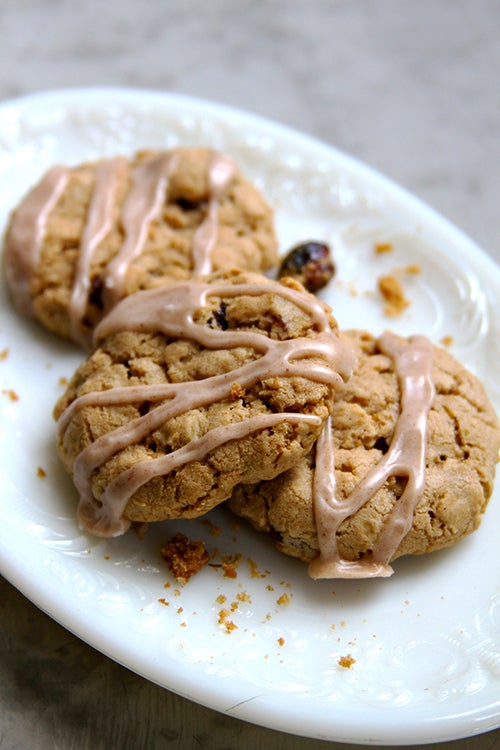 Glazed Cinnamon Oatmeal Cookies
Laden with dried cranberries and drizzled with a sweet cinnamon glaze, these go beyond the typical oatmeal cookie. Get the recipe for Glazed Cinnamon Oatmeal Cookies »
BREAKFAST
Pistachio Coconut Olive Oil Granola
Rolled oats make a hearty base for this toasty pistachio and coconut granola.
Muesli
Flavored with raisins, vanilla, apples and kiwi, this breakfast mix is a flavorful take on the original raw-cereal mixture developed in Switzerland.
Banana Oatmeal Muffins
These banana muffins have added nutritional heft thanks to the rolled oats and chopped pecans hidden inside.
Martha Stewart: Cinnamon Oat Pancakes
Start the morning off with these nutty, hearty pancakes, which come brimming with rolled oats.
SWEET
Gluten-Free Oat Donuts with Rum Raisin Glaze
There's a lot to love about these old fashioned donuts: they are gluten-free, fortified with oat flour, and topped with a deliciously boozy raisin glaze.
Blackberry Crisp
Stain your lips crimson with this simple-but-decadent blackberry crisp, which comes topped with a rolled oat crumble.
Oatmeal Lace Cookies
These lacy, butter-crisp oatmeal cookies are surprisingly light and delicate.
Caledonian Oatmeal Ice Cream with Fruit Compote
Steel cut oats (sometimes called pinhead) are the unlikely—and delicious—base of this sweet ice cream dish.
SAVORY
Ricotta and Honey Sandwich
Toasted oat bread needs little more than a dollop of ricotta and a drizzle of honey to be delicious.
Sweet Potato Casserole with Pecan Crumble
Serve this decadent oat and pecan crumble-topped casserole at your next Thanksgiving.
Donegal Oatcakes
These three-ingredient (four if you include water) Irish biscuits taste delicious topped with butter and jam.
Martha Stewart: Savory Oatmeal and a Soft-Cooked Egg
Serve breakfast for dinner with a twist with oatmeal dressed up like grits: topped with cheddar, scallions, and a soft, runny egg.
Food 52: Oats with Mushrooms
Whole oat groats are softened with white wine and tomatoes, and flavored with onion, bell peppers and herbs.
Epicurious: Lentil Croquettes
These meat-free patties are filled with flavor, and enriched with oatmeal.
Leah Koenig is a freelance writer and author of The Hadassah Everyday Cookbook: Daily Meals for the Contemporary Jewish Kitchen.