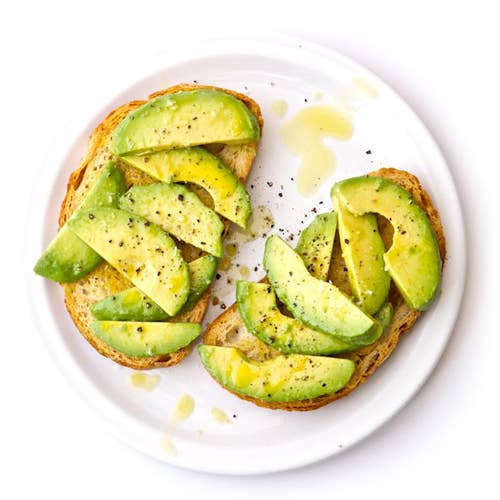 Recipes
Morning Glory: Breakfast Rituals
Nine people share their breakfast rituals, from chef Lidia Bastianich to ballet dancer Tyler Angle
Toy Store Owner
Those folded buttery pastries most people call danish? Here in Denmark we call them wienerbrød, or Vienna bread—they were introduced by Austrian bakers when Danish bakers went on strike. I love them filled with almond paste or berry preserves.
Chef
I like to make an early quesadilla on a whole wheat tortilla stuffed with Chihuahua cheese and strawberry marmalade. It tastes like cheesecake, only funkier.
Poet/Editor
On Sundays I cook at sunrise for myself, since my family sleeps until lunch. I make a dish I call simply "The Fregg," which combines in a frittata my favorite breakfast foods: hash browns, chives, shallots, bacon, and eggs.
Food Writer
Ceylon Orange Pekoe tea in a china cup; Hadrian spelt bread from Cumbria, toasted, with whey-cream farmhouse butter from Lancashire; and orange marmalade. I enjoy them in my kitchen, wearing my old pink dressing gown, reading yesterday's Times.
Dining Critic
My go-to breakfast is steel-cut oatmeal. I think it will magically eat up and spit out all the cholesterol I ingest every night. I make it with lowfat buttermilk. When I don't have buttermilk I use yogurt, but it makes me angry with myself. I add marmalade or jam if I'm feeling like the world owes me something. More often, fresh—or better, dried—fruit: dates, apricots, dried nectarines. The best was when I had a bunch of spice blends from La Boîte à Epices, especially one called Reims, a mix of star anise, ginger, cinnamon, and cardamom. That spice blend was so good, I forgot about adding sugar. See the recipe for Spiced Buttermilk Oatmeal »
Chef
I start my day with caffé latte con pane. I heat milk and add two shots of espresso and a teaspoon of honey. Then I break a slice of day-old country bread into the hot caffé latte and dunk it, enjoying it like a morning coffee soup. It is a breakfast we had often as children. Sometimes, if we had leftover polenta, we'd cut it into chunks and use it in the latte instead of milk.
Writer/Editor
I'm not really a breakfast eater, the meal a victim of my portly childhood and the notion that a calorie saved is a calorie earned. When I have to have something in the morning, I love congee—Cantonese rice porridge—and even more so, stir-fried noodles. Why don't we eat more morning noodles? See the recipe for Stir-Fried Breakfast Noodles »
Ballet Dancer
Breakfast is scrambled eggs. I crack them in the pan, throw in some butter, turn on the heat, and stir them constantly like risotto. I take them off the heat and put them back on so that they don't cook too fast, and toward the end, if I have it, I'll fold in some crème fraîche. They really are the best.
Food Writer
I'm Russian, and we love savory breakfasts. I'll happily eat dinner leftovers in the morning, or hummus on apple slices sprinkled with za'atar or sumac. Failing that, sourdough rye toast spread with avocado, a few drops of olive oil, and sea salt and pepper fits the bill.