Recipes
Summer Panzanella
A new life for rustic, old bread.
Serves

serves 4

Cook

25 minutes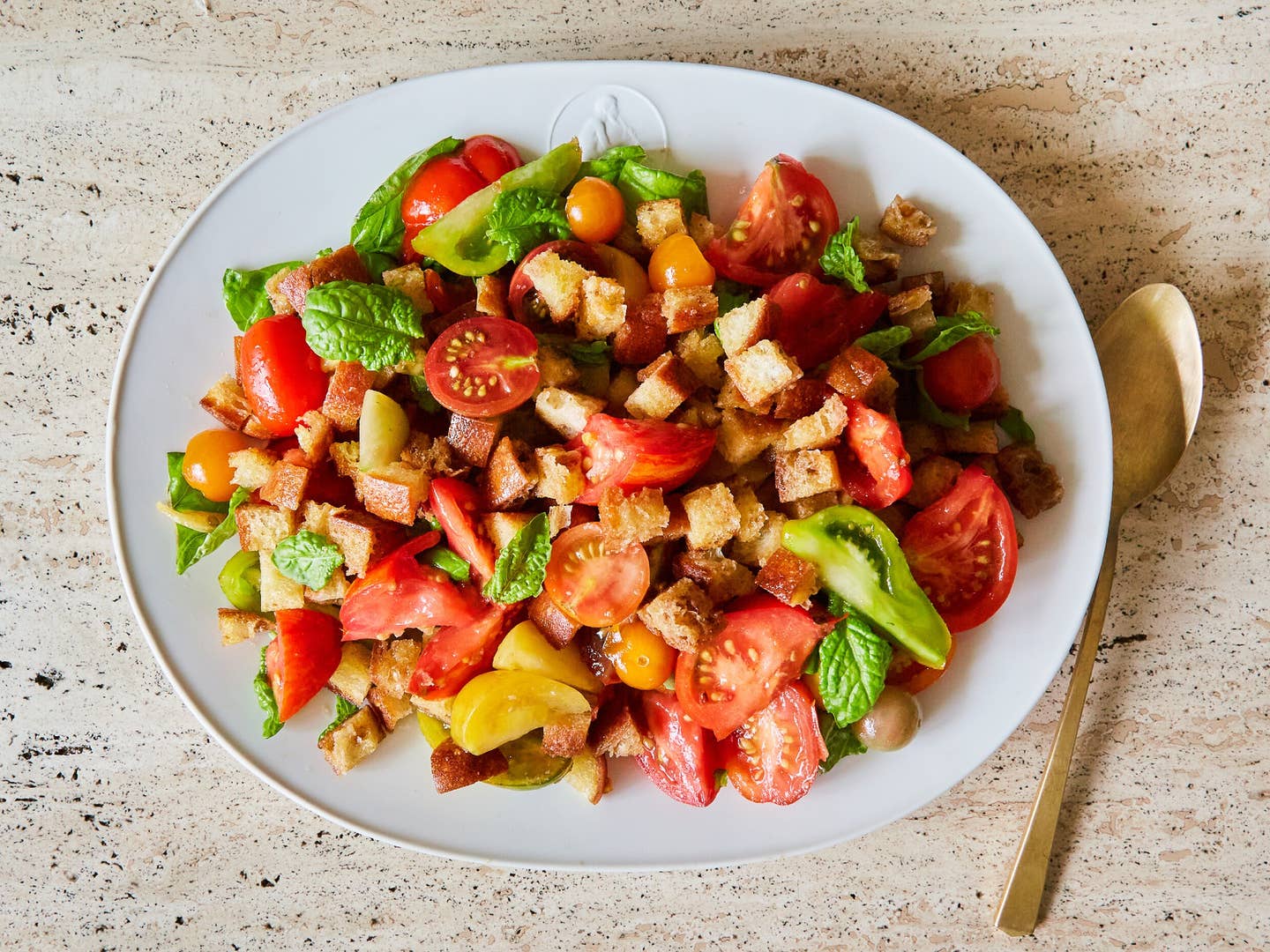 Toasty, day-old country bread gets a second act in this sweet and garlicky Italian salad. Panzanella embodied the "waste not, need not" lifestyle of Tuscan villagers and originally featured onions before the 20th century. Nowadays, sweet, ripe summer tomatoes take center stage. The simple ingredients of this dish benefit from finding peak-season produce. Serve alongside grilled chicken and pesto for an easy weeknight dinner.
Ingredients
1⁄2 cup extra-virgin olive oil, divided
4 tbsp. unsalted butter
3 cloves garlic, peeled and sliced
Half a baguette or other good bread, cut into ½-inch cubes
3-4 lb. any and all kinds and colors of the best vine-ripened tomatoes available
2 tbsp. balsamic vinegar
Kosher salt and freshly ground black pepper
1 handful fresh basil leaves, thinly sliced, plus more for garnish
Instructions
Step 1
Preheat the oven to 350°F. In a large ovenproof skillet, heat 1⁄4 cup of the oil and the butter over medium heat. When the butter has melted, remove the skillet from heat, add the garlic and bread cubes, and mix well. Place the skillet in the oven and bake, stirring occasionally, until the bread is golden and crisp, 10–15 minutes. Remove the skillet from oven and set aside to cool.
Step 2
Meanwhile, prepare the tomatoes: If using cherry tomatoes, halve lengthwise. For larger tomatoes, core and slice into medium cubes. Put the tomatoes in a large bowl, add the vinegar and remaining 1⁄4 cup oil, then season to taste with salt and pepper; toss well to combine.
Step 3
Shortly before serving, toss bread and basil in with the tomatoes. Adjust seasonings. Spoon panzanella into each of four shallow soup bowls and garnish with sprigs of basil.