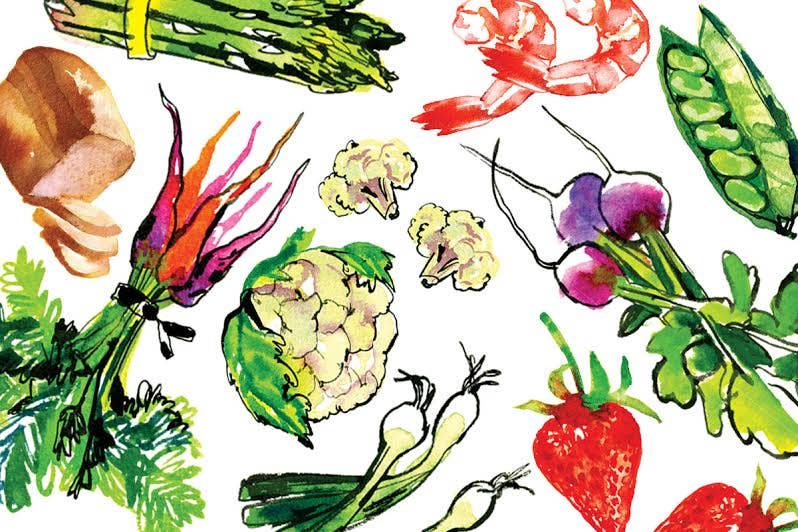 Drinks
Cider House Rules
Basque-style ciders have started appearing on wine lists across the U.S., and have even earned primary devotion at several stand-alone bars. Crisp, dry, and with low ABV, it's perfect for pairing with briny, spicy foods, or simply for carousing with friends.
In Northern Spain's Basque Country, the process of naturally fermenting apples into low-alcohol cider is a centuries-old tradition. But in the United States, Americans have only just begun catching on to the acerbic versatility of its complex flavors. It can be an acquired taste; unlike the sweetened hard cider that Americans are more familiar with, cider from the Basque region and its neighbor Asturia is considerably more acidic. It has little to no sugar. It is unfiltered or "natural," meaning fermentation occurs because of the native yeast that is already present on the skins of apples. Nothing is added—no sweeteners, no additional yeast. The effect is a layer of funk on the flavor, and underneath a swish that is both bone-dry and tart. It is a beverage that begs to be paired with food.
Chefs and beverage directors agree, and that's why more and more drink lists across the United States are starting to include a Basque cider or two. Leading the charge is Txikito, the acclaimed Basque restaurant in Chelsea from chefs and owners Alex Raij and Eder Montero. On a recent Sunday evening in early spring, Raij and Montero transformed Txikito into a pop-up sagardotegi, the cider houses unique to the Spanish Basque country. Since the 11th century when Basque cider-makers first began fermenting apples into potent beverages, sagardotegiak have sat at the core of Basque culture. Every year from January to May, Basque cider houses fling open their doors, inviting guests to savor the first ciders of the season, to eat, sing, and make music together as a unified, thirst-quenched community.
At Txikito on that lively Sunday evening, Raij and Montero served the traditional cider house fare of cod omelettes and wood-fired txuletas, the customary bone-in steak. One of the many highlights of the evening was the txotx (pronounced "choke"), the centuries-old Basque cider house ritual of tapping a new barrel of cider. Once the tap is released, sending cider streaming out of the barrel like a sweet-scented fountain, drinkers rush to thrust their cups under the tap before any cider can hit the ground. The ritual feels sacred.
The sharp beverage that spewed from Txikito's barrel was Shacksbury Cider's 2014 vintage of 'The Basque," an unfiltered extra dry cider made from a blend of 30 apples native to Northern Spain. The apples are pressed and then fermented for three to four months before being shipped to Vermont, where the cidery is located. Owners David Dolginow and Colin Davis are working hard to expose the American palate to Basque cider. The flavor of The Basque, perfectly brisk and dry, is meant to surprise, Dolginow said. "We wanted to come out right out of the gate to show what the apple is capable of doing—without any flavoring or additives," he said.
At Tinto in Philadelphia, Chef Jose Garces has created a dining menu comprised of traditional pintxos and entrees that showcase the flavors of Basque cuisine. The seafood-driven plates include some real delicacies: Spanish octopus with green olive aioli, diver scallops with a uni emulsion, and shrimp with chorizo and espelette chile. Tinto's Beverage director, Justin Holden, tells me that it was a "no brainer" to include cider on the menu because the drink is such an integral part of Basque culture.
"Eight years ago in Philadelphia there was not a scene for cider…it used to be a completely foreign concept," he says. "Today we're seeing that people need a lot less education than they used to." Holden attributes the beverage's evolution among Americans to the prevalence of natural wines and fermented Lambics. But don't expect fermented ciders to push Sangria and classic riojas into the corner just yet. "It is still a very new concept," he adds.
Huertas, a temple to the Basque culinary scene in New York City's East Village, has skillfully translated the Basque pintxos bar experience for an American audience. Instead of laying out massive platters of pintxos out on the bar counter as is the tradition in the Basque country, servers here wander among the tables, wielding large pintxos trays dim-sum style. Chef and co-owner Jonah Miller was inspired to open Huertas (which means orchard in Spanish) after studying abroad in Spain during college. Upon returning to New York he was disappointed by the dearth of Northern Spanish cuisine and decided to roll up his sleeves and recreate those food experiences, as well as Basque beverage culture, which he found to be even less represented in the New York dining scene. Miller's business partner Nate Adler, who serves as beverage manager and co-owner of Huertas, drank his way through the coastal city of San Sebastian before putting together Huertas's drink menu. "When I went over there, I saw that people drink all day long," he says. They attribute the secret to their day drinking to low alcohol cocktails like kalimoxto—red wine mixed with coke, and of course, cider. "Basque cider is so unique," says Adler. "If you like it, you're not going to find that flavor profile in anything else in the world." Both Adler and Miller say that the number of customers who come to Huertas specifically to drink cider has spiked. "On a macro level, the palates of consumers have grown up in the past few years," Adler says. Miller agrees, adding that customers exhibit a stronger interest in acidic beverages than in the past.
While its sharp bite might be off-putting for some, Basque cider taps into the micro beverage zeitgeist in America today, one in which dry and crisp have edged out over bold and fruity at the top of the food chain. There is no stronger indication of cider's sudden relevance in American beverage culture than the sundry of cider bars popping up around the country. In San Francisco, self-described "cider house-gastropub" Upcider offers ciders from around the world including the Basque favorite, Istastegi. Washington D.C. will soon get its first cider bar with Anxo, a Basque restaurant, bar, and cidery opening in late 2015. Chicago eagerly awaits the opening of Northman, its first cider pub set to open this summer. And in late March, New York City welcomed Wassail, which boasts a rotating list of some 100 ciders from around the world. Wassail currently carries Isastegi as well as the 2013 Zapiain. Both can also be found at Huertas, along with the 2013 'The Basque' from Shacksbury Ciders. The 2014 vintage will soon join that list as well.
Huerta's Adler recommends pairing cider with food that provides a good amount of funk and fat—think oily black anchovies, chicken, and pork sausage. Acidic cider and rich food, he says, are the perfect ying and yang, each working to express each other's undertones, and alchemizing for an ideal balance of flavor.
The appeal of Basque ciders and food is found in the reverence of raw ingredients and the simple fuss-free traditions of their production. Whether in the ancient cider houses of the Basque region or in a shimmering new bar in America, one fact remains universal: cider, like most things, tastes best when paired with good food and great company.
3 Ciders to Try Right Now:
Zapiain Sagardoa
Zapiain is citrusy on the on the nose and the palate. It's sour and crisp with strong acidity on the finish. Similar to light or medium white wine. It's an ideal pairing with fish such as branzino or cod.
Available through Rowan Imports
Shacksbury 2013 "The Basque"
"The Basque" has a slight effervescence due to the natural co2 that occurs from the natural fermentation process. Like all Basque ciders, it is unfiltered, producing a flavor that is slighty unbridled and redolent of wet hay. The apple flavor is very prominent. Compared to other Basque ciders, "The Basque" is considered to be softer and rounder, but still made in the style of bright and acidic.
Available through Shacksbury Ciders
Isategi
Isastegi has an effervescence that's immediately apparent in pouring. There is a strong minerality that comes through on the palate. The Isastegi reveals a subtle umami quality reminiscent of oysters, which makes this cider an ideal pairing for shellfish. Compared to the other Basque ciders, the Isastegi contains higher acids and more pronounced tannins.
Available through De Maison Imports