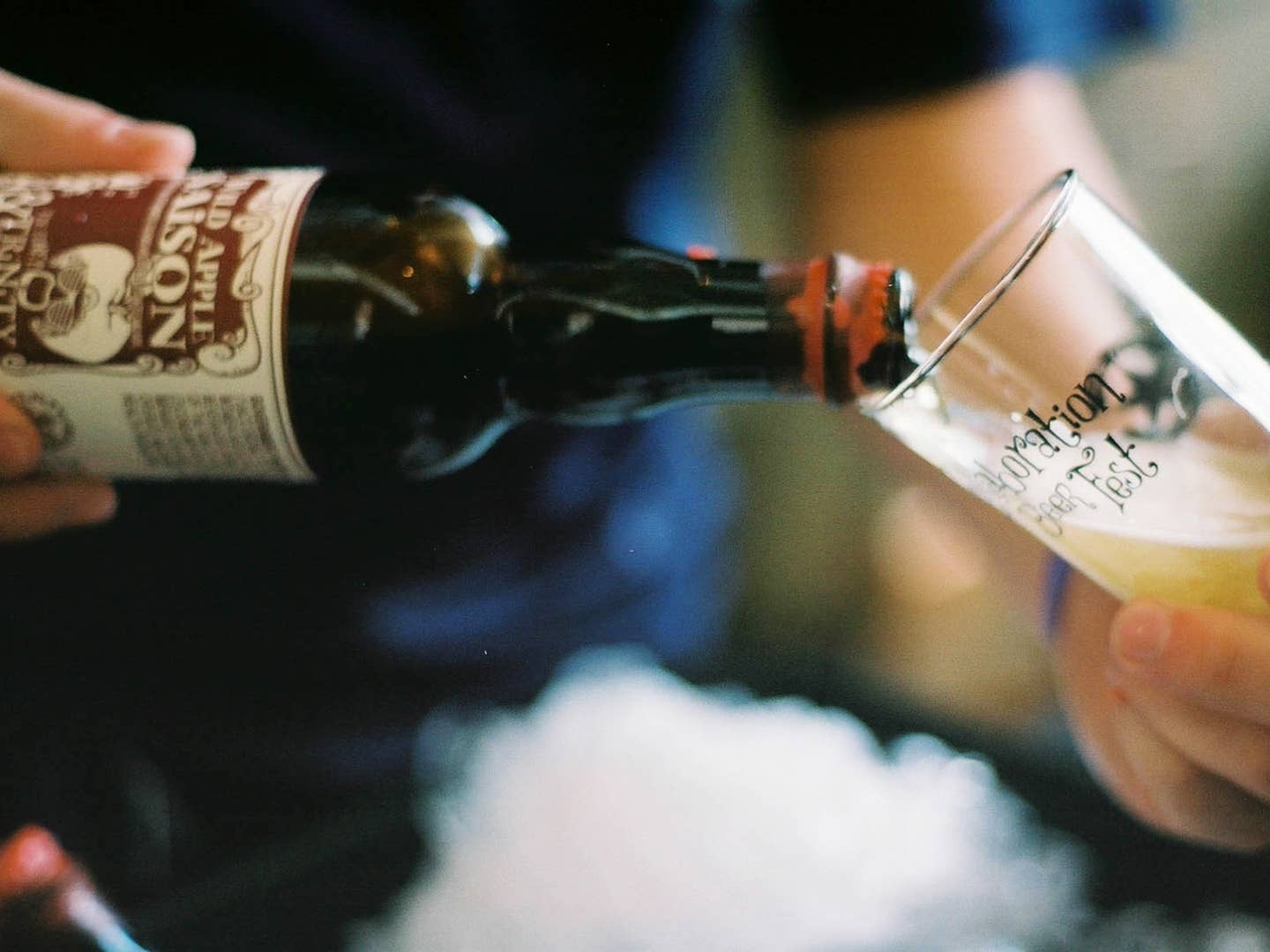 Drinks
I Make Beer With a Little Help from My Friends
Breweries across the country are proving teamwork really does make the dream work
Competition is fierce when it comes to making booze. In the wine industry, collaborations amongst vintners are few and far between. One would be just as hard pressed to find two coffee roasters willing to join forces to brew the perfect cup. And good luck finding a maker of vodka, whiskey, or rum who's clamoring to blend his or her sacred liquid with that of another distiller's. But craft beer breweries have been collaborating with one another on everything from recipes to bottle artwork for decades.
Perhaps the best expression of the love that brewers have for one another came last month at Denver's hugely successful, second-annual Collaboration Fest. A total of 111 breweries—96 of them from Colorado—came together to produce 75 collaborative beers: limited edition "one-offs" conceived and executed by two or more brands. The collaborative efforts ranged from the intriguing—like Midnight Mischief, the hoppy Schwarzbier from Epic Brewing Company and Devils Backbone—to the utterly bizarre, such as the Cherry Basil Blonde Ale from Strange Craft and Copper Kettle Brewing. The latter had the aroma of a Totino's pizza roll and the flavor of a Jolly Rancher, in the best way possible.
By the time the festival doors opened, though, the brewers seem less concerned with their brilliant creations than with partying with one another: reps and brewmasters alike basked in camaraderie, knocking glasses and drinking merrily amongst thousands of starstruck craft beer fans that had come from near and far.
The whole setup seemed to defy the laws of capitalism. Why would craft brewers – supposed business rivals vying for the same small slices of market share – willingly cooperate with one another to produce a bunch of unmarketable beers that will never be reproduced? Even if they were to distribute them, shared profits would hardly make these products lucrative. But craft brewing is, and always has been, about bucking the norm.
Brewers will be the first to tell you that "competitor" collaboration is not just encouraged—it's necessary for the survival of craft brewing. "With US-based Craft Brewers only making up 11% of all the beer sold in America," explains Scott Kerkmans, founder of Beer Conscious Training, an online prep course for industry exams, "every brewery should have a vested interest in supporting their fellow craft competitors. The more craft beer drinkers there are, the more there will be to support your brand, even if they drink your competitors' first." Higher visibility and sales benefit everyone.
One of the best examples of this phenomenon was the all-female brew that recently took place at Colorado's Horse and Dragon Brewing that resulted in a double red IPA called Foul Mouthed Red. "Although women were the original brewers (called 'brewsters'), people are still making a fuss over [us]," says Kim Collins, head brewer at Barrels and Bottles. "Probably because they do not see a lot of us." By joining forces, these talented female brewers are making themselves seen, forcing the industry to recognize what they're capable of.
Meanwhile, a smaller craft brewery can quickly amass some serious street cred by collaborating with larger, more established producers. In less than three years, TRVE Brewing of Denver, CO, has aligned itself with established west coast veterans like Ninkasi, Ska, and The Bruery. According to TRVE owner Nick Nunn, "For these people to say, 'we believe in what you are doing,' is huge for us. Especially when you're a new kid…[and] maybe you have some self-esteem issues."
But this strategy doesn't only benefit the little guy. Justin Patti, Mile High Field Brander for New Belgium—the third largest independent craft brewery in the country—acknowledges that consumers appreciate when a beloved brewery has "grown and become successful, but still has a great appreciation for artisans who have what it takes to succeed in the craft beer world." It's a nod to their roots.
This brand of collaboration isn't much different from collaboration in the punk rock or hardcore communities, in which bands release split albums for wider recognition: a fan buys the release for one band, and is inadvertently introduced to a new band in the process. Similarly, some rare, limited edition collaboration beers get consumers excited about a producer they may already be familiar with, while simultaneously introducing them to the work of another brewer. Of course, it helps that craft beer fans aren't afraid to try new things. As Kerkmans states, "Craft beer drinkers are incredibly category-loyal, but are not particularly brand-loyal…. The average craft beer drinker has no idea what brand he or she is going to buy when strolling into a liquor store."
There are more direct economic benefits to collaboration as well. Thomas Larsen, Head Brewer for Ska Brewing, knows firsthand that many craft breweries initially have trouble getting distributed by the larger companies. "In the beginning, we had to distribute ourselves. It didn't take long to realize we were in the same boat [as other small brewers] and could work with each other to further our mutual goals." Stone Brewing began distributing Ska's beers in Southern California this past June, while Ska has been distributing Stone's beers in Durango, CO, since 2003. "If we thought a brewer would do well here in Durango, we would bring them on," he explained. "Mostly because we wanted to drink the beer…but also to give other people a choice they didn't have before."
TRVE's Nunns boils down the ultimate purpose of collaboration in this closely knit, chummy industry: "It's two breweries of like minds coming together to spend some f***ing time together. We get to hang out with people we like to hang out with. I think that's the core of it." Ska's Larsen agrees. "It's an excuse to call friends and get together," he says.
Clearly, what all brewers share is an interest in creating something exhilarating through the execution of meticulous science. They are turned on by the very prospect of making great beer. So why wouldn't such a band of like-minded brothers and sisters want to get together and geek out?
Of course, collaboration beers give beer fans a great excuse to assemble, as well. Gather some pals together to sip upon "Collaboration Not Litigation," a widely available strong dark Belgian ale from Russian River and Avery Brewing that was first blended nine years ago when the two breweries, both with beers named "Salvation," decided to team up rather than duke it out in court. Or you can try the new Grätzer from New Belgium and 3 Floyds, an old-world Polish wheat beer that's been malted and kiln-dried with oak wood, when it hits your town. Some breweries, such as Stone and Dogfish Head Brewing even release an annual lineup of "collabeerations" with a constantly rotating list of stellar colleagues that are available in most larger retail stores. Pick up a collaboration beer and share it with someone you know – because getting drunk is fun, but it's always more fun with your friends.