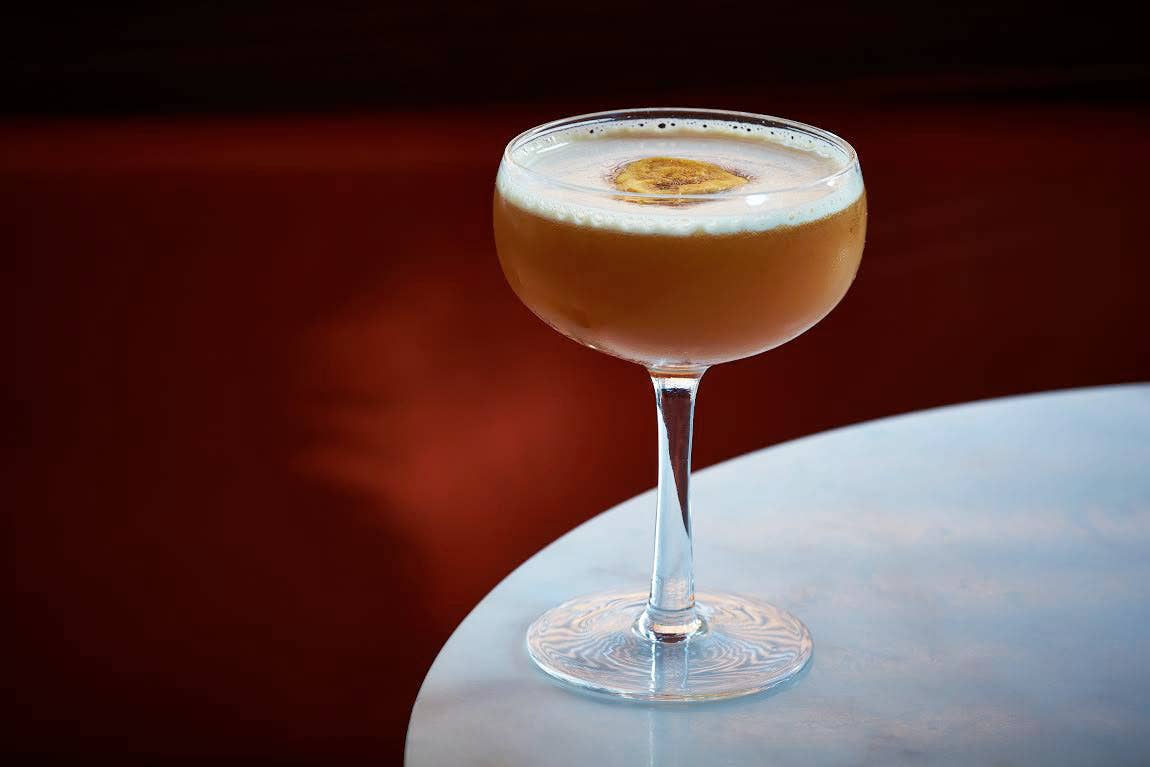 Drinks
No Bananas Today!
Meet the classiest banana cocktail you'll ever drink
It's hard to take a banana cocktail seriously. The banana daiquiri and its relatives are more likely to be spotted whirring in a poolside blender than shaken or stirred at a craft cocktail bar. So it was an unexpected treat, on an icy February evening, to find a banana cocktail on the menu at Wallflower in New York. The quietly refined West Village French restaurant is the drinks domain of co-owner and head bartender Xavier Herit.
A known cocktail tinkerer, Herit is skilled at coaxing unexpected ingredients into harmonious submission. A Scotch drink, for example, features allspice liqueur and pinot noir syrup; a jalapeño-infused mezcal cocktail is accented with corn purée and basil syrup. So the odds were strong that Herit's banana cocktail would offer a fresh take on the spring break standby.
"No Bananas Today!" It taunted me from the menu. But still, I hesitated. A consultation was required. Herit said the cocktail tasted like being on a beach in Jamaica; he was inspired to create it after tasting Hamilton Jamaican Black Rum. "It's a fantastic, dark rum made from molasses that has the strong smell of bananas," he says. "So I decided to make a riff on a banana daiquiri."
To complement the rum, Herit turned to Giffard's Banane du Bresil, a recently introduced banana liqueur. Instead of chemically synthesized banana flavor, the French product is based on a maceration of Brazillian bananas in alcohol, which is finished with oak-aged Cognac. The result was still not banana-y enough for Herit, so he added an intense, homemade banana syrup to the mix.
These ingredients meet in in ice-filled shaker, accompanied by lime juice, Angostura bitters, and spicy El Dorado 12 Year Old Rum. The crowning touch—the name—comes from "Yes! We Have No Bananas," a 1923 song whose lyrics were attributed to a banana shortage in Brazil at the time.
The drink reminded me of Bananas Foster, but without dessert-level sweetness. Brown sugar and caramel were layered over ripe banana, and cut through by tart lime. Despite the banana's presence, this was undoubtedly a serious cocktail. It had tropical flavor and big city sophistication. But after a round, I found that I wasn't immune to the call of the beachside bar. On the way home, I checked flights to Jamaica.