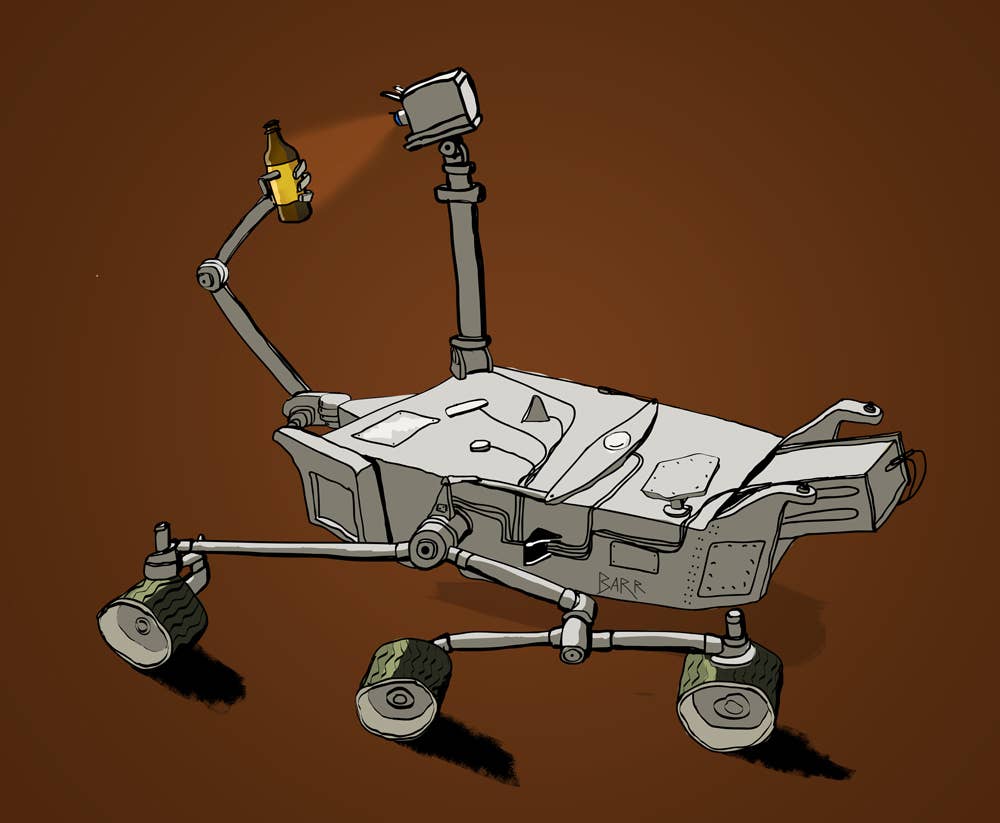 Drinks
The Brew: Bière de Mars
Clean, crisp farmhouse ales with historic origins in northeast France provide superb springtime refreshment
Spring has finally arrived in New York City; not long ago, I spent a lazy Sunday in the park near my apartment playing ladder golf with friends and picnicking in the sunshine. The almost-frozen Budweiser tallboys that someone had stashed in the cooler felt just right for the moment, but as I reached for one I felt my inner craft beer nerd wishing that I had something a little more flavorful, more alluring. I wanted a bière de Mars, a bracing, effervescent springtime ale that originated not in outer space but in nineteenth-century northeast France.
Translating literally to "March Beer," bière de Mars is native to Alsace, where cool, slow winter fermentation produces superbly clean ales for the spring, similar to the refreshing maibocks of neighboring Germany. The style is closely related to Belgian saisons and French bières de garde, but is typically lower in alcohol and somewhat drier than its more popular cousins. They're commonly amber to blondish in color with fresh hop aromas that can be floral, perfumed, or fruity. Some are brewed with earthy yeast strains that impart a crisp but barnyard-y finish.
Though bière de Mars is still brewed in Alsace today, many of my favorite beers made in this style are modern variations produced by American brewers. Of these, one of the most refreshing I've had is Martian Spring from Strangeways Brewing in Richmond, Virginia. Head brewer Mike Hiller uses a glut of American hops including Simcoe, Citra, and Centennial to produce an aromatic farmhouse ale with pungent citrus and tropical fruit notes. The beer's prickly carbonation creates a clean, snappy finish that would have been perfect with our haphazard picnic of spicy Calabrian salami, aged New York cheddar, and store-bought chips and guac. With some better planning we might have served it with a bright salad of fresh haricots verts and sharp green garlic, or alongside a baguette with some gooey young cheeses.
In sharp contrast to Martian Spring's refreshing fruitiness is Jolly Pumpkin's robust bière de Mars from Michigan, one of my other favorite spring brews. Taking more cues from Belgium than from France, this beer boasts aromas of tart cherries, musty grapes, and rich leather. Strong oaky flavors arise from several months spent in the barrel, where the brewery's signature blend of Brettanomyces yeast and souring bacteria creates a complex melee of funk and tartness. The delicate carbonation and pleasant astringency make it less suited for a sunlit picnic than for an intimate dinner party where roasted lamb with spring radishes might make an appearance.
One of the oldest American-style bières de Mars comes from Fort Collins, Colorado's New Belgium Brewing Company. Part of New Belgium's popular Lips of Faith series of limited specialty brews, the bright orange ale balances the sweetness of bready malts with a kick of tart citrus. Notes of lemon and herbs saturate the nose and palate while the finish is all bone-dry minerality, making the beer a great match for raw bar-style seafood or a fava bean and pecorino salad.
All of these beers have limited availability and required some extra legwork to find. But the hunt is worth it for their unique flavors, their refreshing qualities, and the fact that they're designed for this very seasonal moment. I'll be drinking them all springtime long.
Strangeways Martian Spring ($12), Jolly Pumpkin Bière de Mars ($14), and New Belgium Bière de Mars ($10) are available at specialty craft beer shops and bars. Search BeerMenus to find where they're available near you.
Justin Kennedy is a New York City-based food writer and all-around good drinker.