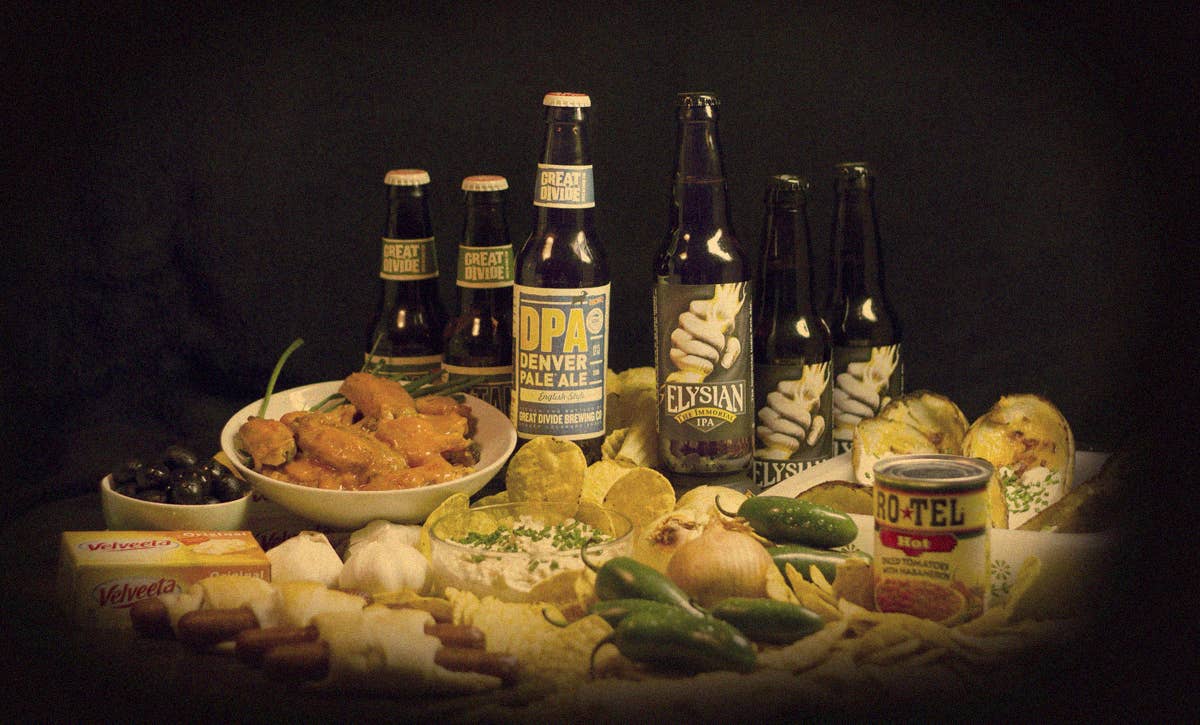 Drinks
The Brew: A Super Bowl Showdown with Denver's Great Divide and Seattle's Elysian
Your Super Bowl spread might be deliciously old-school and junky, but your home team beer doesn't have to be
I'm not a big NFL guy, but Super Bowl Sunday has always been an important day to me—I love any excuse to gather with friends in front of a TV, eat awesomely atrocious comfort food, and drink an amount of beer that might not normally be considered acceptable on a Sunday.
While I still cherish the same old trashy Super Bowl foods of my youth—monochromatic mounds of gooey nachos, piles of blistering Buffalo wings, and a giant bowl of French onion dip for enjoying with Ruffles potato chips—my taste in beer has shifted from the ubiquitous fizzy yellow stuff that's advertised during the game to more flavorful, robust brews. So in preparation for this Sunday's showdown between the Denver Broncos and the Seattle Seahawks (yes, I had to look it up), I tracked down a few of each team's hometown beers to imbibe during the game.
My favorite beers from Denver include Crooked Stave's tart and funky barrel-aged creations, but for a Super Bowl party these specialty brews are prohibitively expensive and more contemplative than crushable—not really the type of beverage you want to ponder while watching football players get battered into early-stage dementia. Instead, I'm planning to pick up a six-pack from Great Divide Brewing Co. Their aggressively bitter Titan IPA (7% abv) is my favorite, but if you want something lighter for game day, their malty, copper-hued Denver Pale Ale (DPA) makes for easy drinking at 5% abv. To boot, the label's blue and orange colors mimic those of the Broncos. Either of these beers would be great to wash down crispy potato skins with bacon and chives or plump little pigs in a blanket with mustard and American cheese.
Seattle has almost as many local brewpubs as it does coffee shops, but many of these craft beers don't distribute nationally. Hard to find but not impossible, Elysian, a mid-sized microbrewery in Seattle proper, makes a killer American interpretation of a British-style India pale ale called Immortal IPA, with a strong malt foundation and just a hint of hoppy bitterness; it's a perfect beer to stand up to the spiciness of Buffalo wings. If you can't find Elysian, a perfect backup is the legendary Redhook Brewery, just outside of Seattle. Their Extra Special Bitter is decent enough—mild and smooth with an inoffensive, highly quaffable spirit—and available at nearly every bodega in my (and probably your) hood.
Regardless of who you're rooting for on Sunday, at least you know you'll have winning beer options.
Great Divide's Denver Pale Ale and Elysian's Immortal IPA are available at specialty beer stores in most markets for about $12 a six-pack.