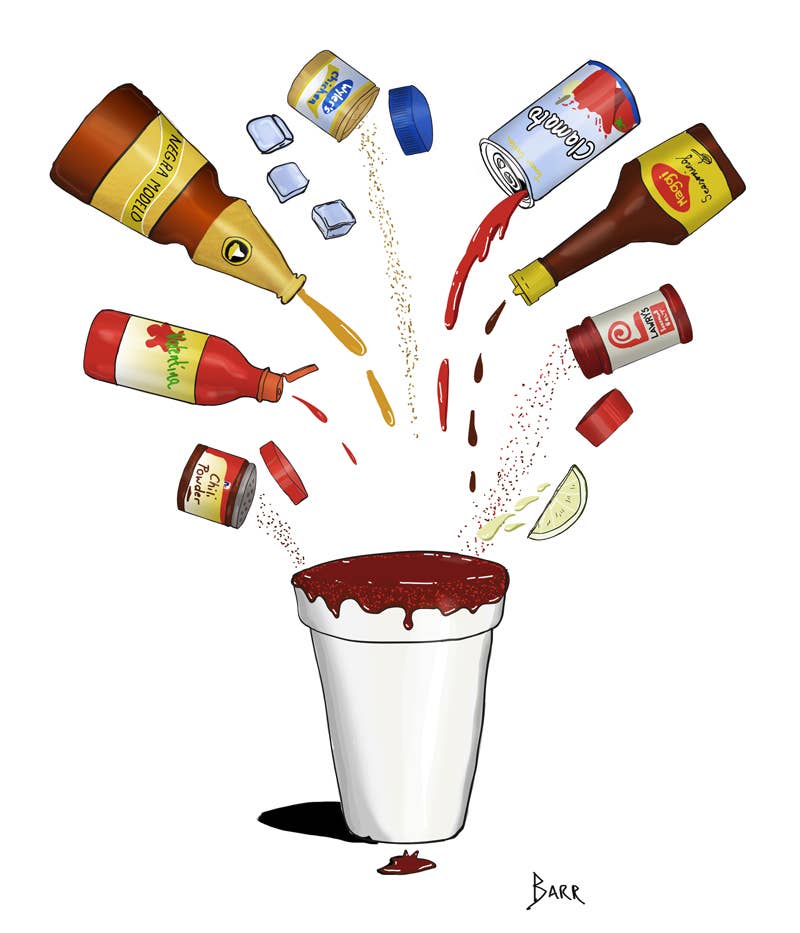 Drinks
The Brew: The Malleable, Marvelous Michelada
The basic michelada is a blank canvas for experimenting with an array of seasonings and beer styles
I've been into Bloody Marys for most of my adult life but somehow when it came to their less boozy, more refreshing cousin, the beer-based michelada, I was late to the party. In fact I had never tasted one until just a few years ago, when I discovered how awesome the savory, chameleon-like cocktail could be.
In Puebla I had my first truly great michelada. I watched with anticipation as the young girl making it took a gargantuan styrofoam cup and dipped it into what looked like a small pool of blood (it was actually a tamarind glaze that only looked like blood and tasted like spicy-sweet candy). She then spooned powdered beef bouillon and several dashes of umami-rich Maggi seasoning sauce into the bottom along with hot sauce and chile powder for heat and tomato juice for balancing acidity and sweetness. She filled the cup with ice and topped it with a frosty 32 oz bottle of Victoria lager. The concoction was tangy and spicy and hit all the right notes of refreshment and savoriness.
Now, when I make micheladas at home, I take cues from the bartender in Puebla: I add small spoonfuls of chicken bouillon and Lawry's seasoned salt into the bottom of a shaker pint with a few dashes of Maggi and about twice as much hot sauce. I squeeze in plenty of lime juice along with a shot or two of Clamato. I fill the cup with ice, top it off with beer, and give it all a steady whirl with a bar spoon.
I've experimented enough with the recipe to come to the conclusion that most of the ingredients are interchangeable or outright omissible—you can substitute soy or Worchestershire sauce for the Maggi, for example, or leave out the bouillon altogether if you don't have any on hand. The choice of hot sauce is important—lately I've favored the Mexican brand Valentina because it's savory, well-rounded, and available at my local bodega. I wouldn't scoff at adding Spicy V8 or store-bought Bloody Mary mix to a michelada, but the briny, tangy funk of Clamato brings the drink to the next level.
When it comes to beer, golden Mexican pilsners like Victoria and Tecate seem to be the go-to for most people, Mexicans and Americans alike, and they work well enough. Personally, especially when paired with clamato instead of tomato juice, I prefer something darker such as Negra Modelo—its roasty malts add a pleasant depth of flavor to the drink.
I've also experimented with nontraditional beer styles. For a smoky rendition, I've used a smoked lager like Aecht Schlenkerla from Germany or Jack's Abby's Smoke & Dagger from Massachusetts; the smoked beer's smoldering campfire essence complements Mexican snack foods such as grilled carne asada tacos and charred elote perfectly. I've also dabbled with IPAs for a bright, floral michelada. West Coast-style standbys like Bell's Two Hearted or Lagunitas IPA work best and are assertive enough to impart distinct citrus and tropical fruit notes. The bitterness of the hops amplifies the cocktail's spicy components which, depending on your spice tolerance, may or may not be a good thing.
If you find this all too fussy, consider a simpler michelada like the one I had recently at Café Central, a bohemian night club in Oaxaca City. There, they simplify and streamline the process into four easy steps: Crack open an ice-cold can of Tecate, slick the rim with lime juice, dust it with salt and chile powder, and serve.