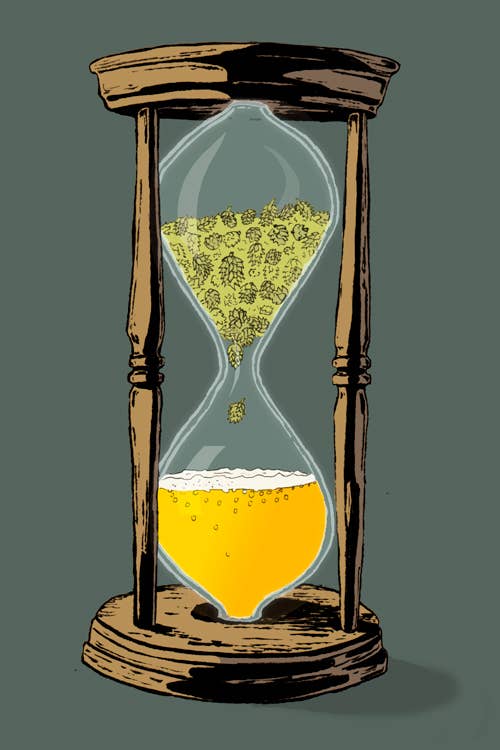 Drinks
The Brew: The Ephemeral Pleasures of Wet Hop Beer
With October comes the arrival of über-fresh wet hop seasonal brews
October is a great month to be a beer drinker. Not because of the hyper-rich pumpkin-spiced ales that crowd the market, but because the month heralds the arrival of über-fresh wet hop seasonal brews, made with hops used within 24 hours of being plucked from the fields, a process that captures the volatile oils and sticky resins that almost instantly begin to fade after harvest. (Think of the difference between using fresh herbs in a dish and dried ones.)
These aromatically awesome brews are delicious fruits of the annual American hop harvest, a crop found mainly at Oregon's Willamette Valley, but also in parts of Washington State, sections of Michigan, and upstate New York. During the harvest, the vast majority of hops are dried and then processed into tiny, shelf-stable pellets that brewers use throughout the year in everything from light-bodied pilsners to spicy, fruity IPAs. But a small percentage of the harvest is used for wet hop beers.
Their ephemeral nature means wet hop beers display over-the-top aromas of fresh-cut grass, springtime gardens, and ripe citrus. One my favorites is also one of the oldest available: Sierra Nevada's Northern Hemisphere Harvest Ale, a wet hop beer first made in 1996 and brewed every harvest season since then. The brewery uses two kinds of hops, Centennial and Cascade, both known for their floral, grapefruity qualities. In tandem, they produce a beer that, despite its assertive hoppiness, is surprisingly delicate. It's a beverage best consumed as quickly after bottling as possible; the fresh hop flavors dissipate within a matter of weeks.
This year, Sierra Nevada released a second wet hop seasonal called DevESTATEtion Ale, a happy accident resulting from the brewery's failed barley crop this year—too much rain yielded lower-quality, protein-rich barley that couldn't be used for the annual Estate beer, an ale typically made from ingredients grown exclusively on-premise at the brewery. Instead of cutting their losses, Sierra Nevada redesigned the beer as a yin to Estate's yang, a polar-opposite black IPA (a relatively new category of rich and robust hoppy ales). DevESTATEtion gets its autumnal, forest-floor spice from dark roasted malts and a streak of lightness from piney estate-grown Chinook and Cascade wet hops. It makes a great pairing for rustic fall dishes—think a wild mushroom ragout, something that, like the beer itself, is dark and earthy, but brightened with fresh green flavors.