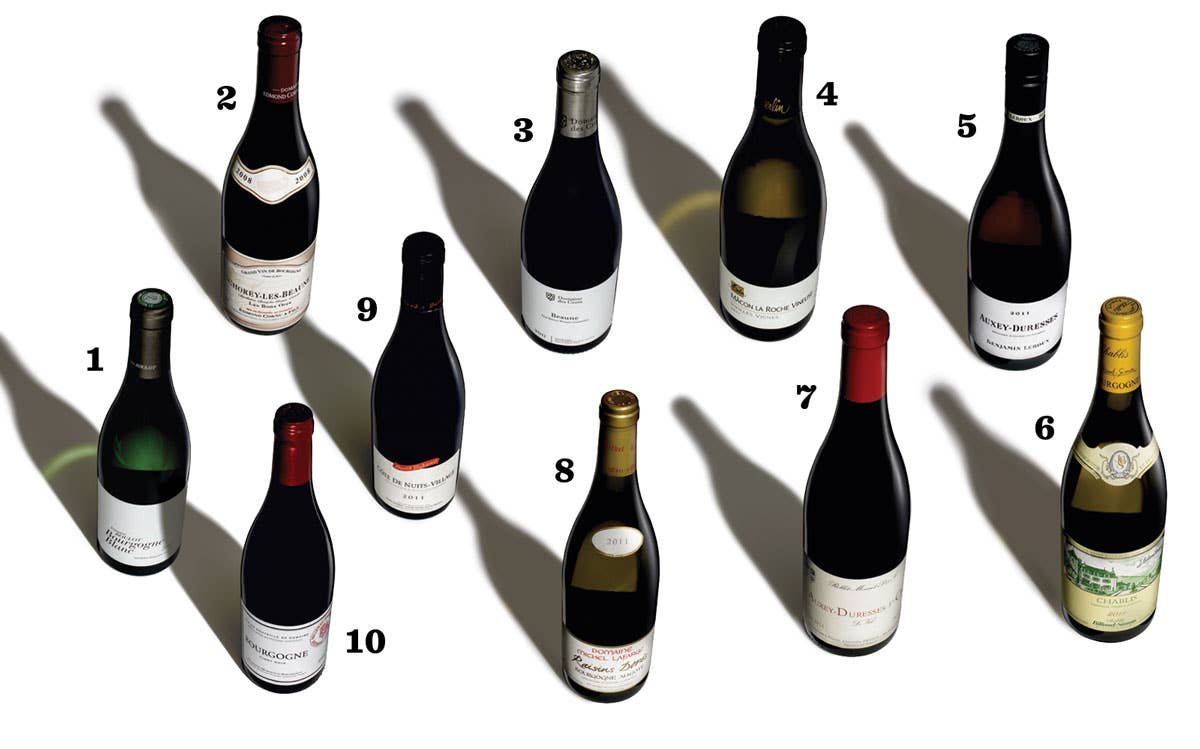 Drinks
The Real Burgundy
In the fabled French wine region, great bottles can be had at a fraction of the cost of the grands crus—if you know where to look
Just before last season's harvest, I took a bike trip with some fellow sommeliers along the Côte d'Or, the limestone escarpment where the grapes for the greatest Burgundy wines are grown. We were pedaling through Puligny past one fantastic cru, or vineyard, after another when Montrachet came into view. I was so starstruck by this plot of land, considered by many to be the world's greatest white wine vineyard, that I hit my front brakes and was tossed over the handlebars. It was painful, but I was proud of my bruises; they connected me to a legendary region.
Tucked in France's eastern reaches, about two and half hours from Paris by train, Burgundy is considered the motherland of great pinot noir and chardonnay. The Romans are credited with bringing viticulture to the area in the early centuries A.D., though eventually the Catholic Church took over. Local abbeys and monasteries drove up the quality of grape growing and winemaking. Setting up in the towns at the base of the slope, they helped to demarcate Burgundy's planting sites and define the terroir, or sense of place, for which each would become known. Their legacy is a crazy quilt of diversity. The Côte d'Or is just a fraction of a region that also includes Chablis to the north and the Mâconnais, the Côte Chalonnaise, and Beaujolais to the south. But there are nearly 1,200 vineyards in just over 30 miles of narrow terrain. Grouped into more than 60 controlled areas, or appellations, Côte d'Or vineyards are classified in a hierarchy that runs from the lauded grands crus and nearly as revered premiers crus to village vines with less desirable clay soils and the catch-all regional designation.
It's taken for granted that the best grapes are grown in grands crus—vineyards like the two-acre La Romanée, which produces just 12 barrels annually, its bottles fetching thousands of dollars each. But Burgundy isn't only about rarefied wine. At its heart are myriad villages, populated by families who have been honing their craft for generations. With that kind of village culture, you can get village bargains. Some of the most thrilling burgundies are humble labels that happen to be made by top producers. Such wines can be had at wonderfully gentle prices—if you venture off the beaten path. That's why we were on bicycles. The slow climb allowed us to linger over the lay of the land so we could begin to understand why the best sites (which yield the priciest wines) lie where they do and also to appreciate the great values possible from neighboring towns, lesser-known appellations, and even lesser-known grapes.
In the chardonnay-dominant appellation of Meursault, we rode past the vineyards planted in dark, uniform earth on the gentle inclines close to the main roads and eponymous town. As we huffed up the east-facing hill to Bouchères and Genevrières and other Meursault premiers crus, the road grew steep and the soils revealed their mineral complexity: calcium-rich limestone and rocks red with iron. Jean-Marc Roulot, one of Burgundy's greatest producers of white wine, makes his top chardonnays from these premiers crus. He also crafts a beautiful introductory level bourgogne blanc from grapes sourced from his village-level vineyards. Made with the same care as his best Meursault, it has a similar elegance, with a green apple snappiness, but costs far less.
Farther uphill, we ventured into the appellation of Auxey-Duresses. Though it doesn't get the attention of its prestigious neighbor, sleepy Auxey-Duresses offers fabulous values. Here, the young winemaker Benjamin Leroux makes a white with lip-smacking citrus notes and a long, creamy finish that's as beautiful as a fine Meursault ' but priced at just $30.
For pinot lovers, there are bargains here too. Near the town of Auxey-Duresses is the vineyard Le Val. An obscure premier cru, it isn't considered truly prime Burgundian real estate. But the vines that the winery of Domaine Roblet-Monnot tends in this vineyard are pushing 60 years of age and, in their maturity, they yield intensely concentrated grapes. The resulting meaty wine is a $48 stunner.
More happy revelations came in the nearby appellation of Volnay. Domaine Marquis d'Angerville produces a bourgogne rouge using grapes from its older Volnay village vines. A mouthful of berries and herbs with a bristling acidity, it offers a glimpse into the greatness of the estate's regal premier cru wine at a fraction of the price. From Domaine Michel Lafarge, another lauded red producer, we sampled a surprise white: aligoté. An underdog to chardonnay, it nevertheless proved a lush, citric beauty.
My knee ached as we coasted back downslope past the fruit-laden vines, but I still felt lucky for what I'd learned. Yes, the first taste of a beautifully aged grand cru burgundy can stop the world around you. But bottles like that are rare, even for sommeliers, so it was with unvanquished enthusiasm that I sought out these discoveries among the vine rows. They're the ones I could afford to pull the cork on and show off, along with my war wounds, to thirsty friends back home.
1 Domaine Roulot Bourgogne Blanc 2011 ($35) Wet stone, green apple, and lemon aromas lead to a laserlike acidity in this white wine made with grapes from excellent Puligny-Montrachet and Meursault vineyards, labeled under a humble regional designation.
3 Domaine des Croix Beaune 2011 ($48) Bright cherry and raspberry aromas give way to a delicately oaked profile with a brisk acidity on the finish in this village-level red wine, which includes some juice from premier cru sites to buoy its value and texture.
4 Domaine Olivier Merlin Mâcon La Roche Vineuse Vieilles Vignes 2011 ($30) With its crisp mineral profile, justripe stone-fruit flavor, and gentle oak, this chardonnay from Mâcon, south of the Côte d'Or, offers great value compared with its northern neighbors.
5 Benjamin Leroux Auxey-Duresses 2011 ($30) Lemon-lime acidity leading to a slightly creamy oak finish of tremendous length gives this chardonnay from the village of Auxey-Duresses the quality to match the wines of the prestigious Meursault appellation just down the slope.
6 Billaud-Simon Chablis 2011 ($25) In this crisp chardonnay, bright grapefruit and green apple flavors are supported by the intense chalky minerality typical of wines from cooler northern Chablis.
9 David Duband Côte de Nuits-Villages 2011 ($30) Red cherry and brambly red currant flavors are balanced by ample acidity and subtle oak in this red wine made with grapes sourced from the commune of Brochon, right next to the heralded pinot village of Gevrey-Chambertin.
10 Domaine Marquis d'Angerville Bourgogne Pinot Noir 2011 ($40) Juicy strawberry and cranberry character is enhanced by delicate herbal tones and electric acidity in this old-vine wine from Volnay that belies its modest bourgogne rouge label.