Recipes
Indian Stir-Fried Roti (Baghari Masala Roti)
Serves

serves 2-4 People

Cook

20 minutes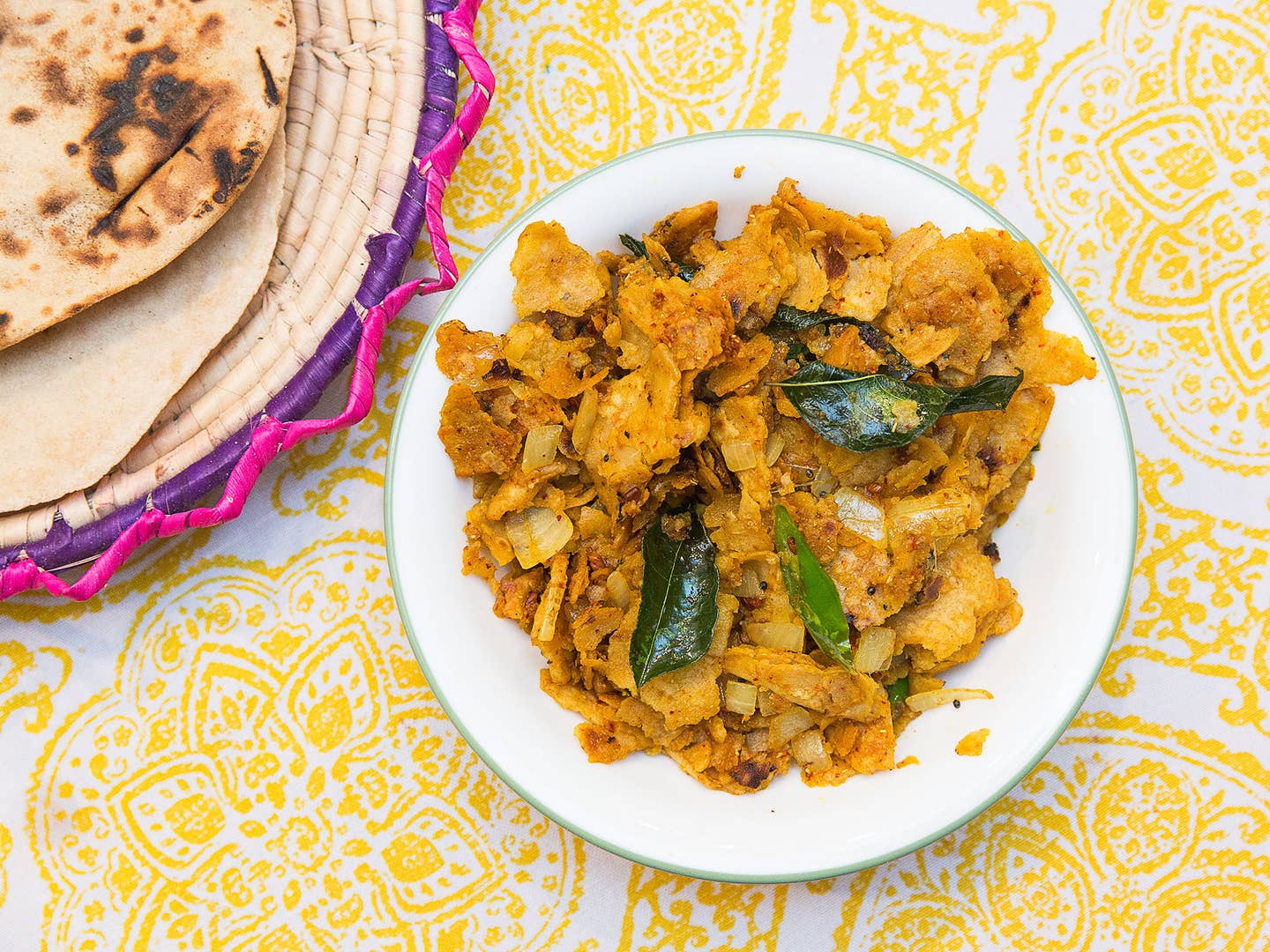 Yamini Joshi of the League of Kitchens doesn't let her leftover roti go to waste. She fries it up with chiles, onions, and spices to make Baghari masala roti, a savory snack similar to Mexican chillaquiles, Jewish matzobrei, and Sri Lankan kothu roti.
Ingredients
4 6-inch roti (5 oz.), roughly torn into 2-inch pieces
1 tsp. kosher salt
1⁄2 tsp. ground cayenne
2 tbsp. mustard oil or canola oil
1⁄2 tsp. brown mustard seeds
1⁄2 tsp. whole fenugreek seeds
1 pinch asafetida (hing)
1 tsp. ground coriander
3⁄4 tsp. ground turmeric
1⁄2 small yellow onion, diced (¾ cup)
5 fresh curry leaves
1 green Indian or Thai chile, cut in 3 pieces, plus more to serve
Chutney or raita, to serve
Instructions
Step 1
In a medium bowl, combine the roti, salt, and cayenne. Add enough cold water to lightly moisten the roti, about 2 tablespoons. Set aside.
Step 2
In a large skillet heat the oil over medium-high heat until smoking. Add the mustard seeds, fenugreek, and asafetida and cook, shaking the pan, for a few seconds. Stir in the coriander and turmeric and cook a few seconds more. Add the onion, curry leaves, and chile, then lower the heat to medium. Cook, stirring occasionally, until the onion is soft and translucent (do not brown), 4-5 minutes. Add the roti mixture and toss well to coat in the spiced oil. Cook, stirring occasionally, until the roti is crisped and browned in some places, 6-7 minutes.
Step 3
Remove from heat and serve immediately with chutney, raita, or additional fresh chiles if desired.