12 Excellent Champagnes to Pop on New Year's Eve, at Any Budget
Bubbly on New Year's Eve? Groundbreaking, we know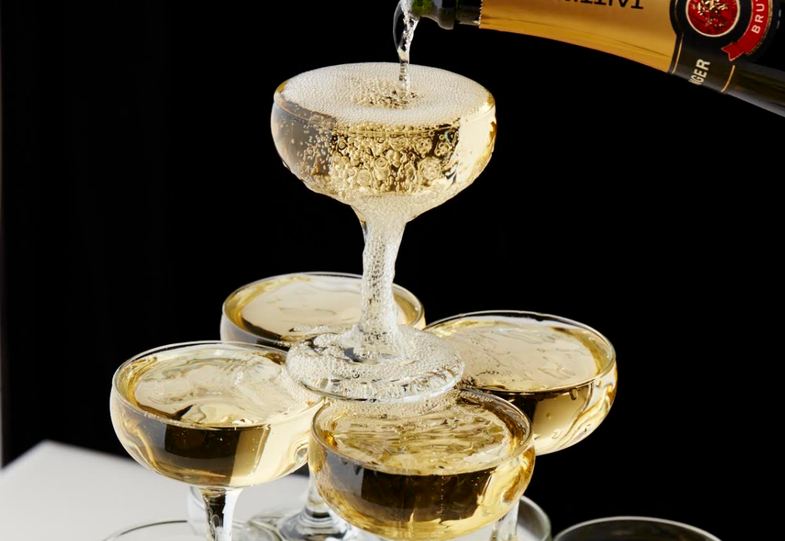 If there's one thing synonymous with New Year's Eve (Times Square's suffocating crowds aside), it's Champagne, without question. And, of course, a great bottle is a host's best friend. No time to prep drinks? Champagne. Going the extra mile? Champagne cocktails. Missing a centerpiece? Find a pretty vessel and throw a few bottles on ice, et voilà—a functional gathering place for guests to serve themselves while you worry about more pressing matters, like taking a breather and socializing, glass of your own in hand.
There's really no shortage of excellent Champagnes across the budget spectrum, so the only difficult part about France's finely effervescent gift to humankind is figuring out which bottle is right for you (and deciding how to put your personal spin on sharing it). New York Champagne Week and CitySip founder Blaine Ashley is a major proponent of strategic pairing.
"I hostess often at my humble abode as well as attend a lot of events and parties," says Ashley. "My rule of thumb is to always have a bottle of bubbly along with something to complement the food being served. If it's a cocktail party, I'm likely to opt for two sparklings: one bottle from a grower dear to me, or my own Champagne (Champagne Lombard Bulle de Rêve) alongside a quaffable, quality Crémant d'Alsace rosé or Crémant du Jura." Ashley also recommends quality glassware: "I always love whipping out my Jamesse Prestige Grand Champagne glasses."
RECOMMENDED: The Best New Bottles and Spirits of 2017
Jean-Remi Barbier of legacy brand Champagne Pommery, an avid saberer, offers a few tips for the ultimate party trick: "First, remove the label from the head of your bottle and bury the neck of your bottle in ice for about 10 minutes. It's very important to have the neck extremely chilled. Then, hold the bottle by the bottom, placing your thumb in the hole…the key is to hit the right point by just sliding your saber delicately. It's not about forcing. Lastly, make sure to not hit anything or anyone, of course. If there is a risk but you want to make the show, attach the 'muselet' (wire cap) to the bottle with a string or a napkin." Barbier recounts his most creative sabering endeavors: "You can use lot of things to saber; the funniest I've used have been my iPhone and a ski!" Start small, though, if you're a beginner. A standard knife will do just fine.
Without further ado, here are 12 excellent Champagnes to serve (and drink) this New Year's Eve.
It comes as no surprise that the #1 Champagne in France—and #3 worldwide—also happens to be the master of special edition bottles. Champagne Nicolas Feuillatte's 2017 collection of special editions, particularly its Star Shower Tin, make for great gifts or keepsakes; the tin contains the house's Brut Réserve, a gorgeous wine with interesting savory spice on the nose and a strong yet delicate body of honeyed white fruits.
Moët's iconic Impérial Brut Champagne is a staple. It's approachable both in palate and price point, featuring subtle complexities around notes of vibrant fruit and buttery brioche. Its bubbles are ultra-fine, and after over 100 years of practice (this particular Champagne was created by the house in 1869), it's safe to say that it's quite near perfection, especially at such a reasonable cost (and the festive holiday wrapping doesn't hurt, either).
Pommery's Brut Royal, a staple in the house's range, earned 90 points from Wine Spectator; this is an exquisite fruit-forward wine with a long, rich finish and full of bright berry notes throughout. If you're looking for something a bit less traditional in terms of presentation, Pommery offers several different (yet equally darling) mini bottles within their POP line, including an extra dry and a rosé. The bottles also double as whimsical party favors or photo props.
In appearance alone, Mumm's brand new Grand Cordon bottle is fit for a celebratory occasion. (The wine itself is great too, so consider this one a double threat). Acclaimed artist and industrial designer Ross Lovegrove is behind the newly-unveiled look of the award-winning $45 blend of pinot noir, chardonnay, pinot and pinot meunier, a golden-hued masterpiece with rich fruit and vanilla notes on the nose and a palate of toasty caramel leading into an enveloping, lingering finish.
This incredibly reasonably priced Champagne is the frontrunner for the hidden gem of this list—typically, blanc de blancs (exclusively white grape) and blanc de noirs (exclusively black grape) Champagnes are considered to be of higher quality and rarity than a blend, thus calling for higher price points. However, small grower brands like Autréau de Champillon have the ability to control their own costs and are at times capable of offering a premium product at more attractive pricing brackets than larger houses. Autréau's Brut Blanc de Blancs Grand Cru is 100-percent chardonnay, boasting strong citrus and floral notes over a buttery base, great for sipping on its own or alongside any seafood dish.
This brut Champagne is absolutely extraordinary; made up of 40% chardonnay and 60% pinot noir and pinot meunier grapes, Champagne Taittinger's Brut La Française's striking balance is everything you'd want in a celebratory bottle of bubbly. Fruit, floral elements, and vanilla are prominent; pair with anything and everything.
Blaine Ashley's own Champagne, which launched in collaboration with Champagne Lombard on Global Champagne Day in October 2016, is a "total steal at $59 retail," says Ashley. "The name (Bulle de Rêve, or 'dream bubble') was inspired by the neighborhood I lived in when I started New York Champagne Week: dreamy Irving Place in Gramercy." This wine is a 100% blanc de noirs 2011 Premier Cru Extra Brut; Ashley suggests serving extra chilled in a white wine glass versus a traditional Champagne glass for optimal tasting.
If there were any appropriate time to drink liquid velvet, it'd surely be New Year's Eve…and that's where Charles Heidsieck Brut Réserve comes in. This wine is unbelievably elegant, especially for one that comes in for under 100 bucks. It's complex and distinctive, thanks to the blend's DNA of 40% reserve wines, which together make way for creamy pastry and ripe red fruit notes, ending strong with a long nutty vanilla finish.
Champagne Laurent-Perrier created this bold, beautiful rosé back in 1968, and it's since become a staple for both the house and the world's bubbly aficionados alike thanks to its distinctive flavor profile of deep berries and its ability to stand up to heavy dishes like osso buco, pâtés and rillettes, rich cheeses, and roasted meats. If you're going the rosé route this year, this is your best bet (bonus: it's currently available in a holiday set with two presentation-worthy glasses).
Since 1811, Perrier-Jouët has produced some of the world's most celebrated Champagnes; among them, their iconic Belle Époque vintages, always delicate and rife with distinctive floral notes. The 2007 is stunning in its full-bodied freshness, pale gold color, and honeysuckle nose, following with a prominent almond milk note on the palate. This Champagne is also available as gift set with two flutes at same price point with the option of personalized engraving.
Officially the most regal of the roundup, Louis Roederer Cristal's roots date back to 1876 when it was created especially for Tsar Alexander II, heavy crystal bottle and all (hence the name). The 2009 vintage reflects the sunny summer after which its grapes were harvested with a beautifully bright body, though darker undertones weave in and out; it is hallmarked by tasting notes of honeysuckle, cacao, candied fruit, black licorice, and slight baking spice. Louis Roederer Cristal 2009 is a luxurious enigma fit for the refined palate.
This Champagne house is known for its luxe, non-traditional metal bottles, and the liquid inside is every bit as luxurious as its outward appearance might indicate. And while its relatively recent owner, none other than hip-hop mogul Jay-Z, touts a big name, Champagne Armand de Brignac is run by a surprisingly small team of 18 people with over three centuries of combined experience. This is a wine that is worth every bit of the hype that surrounds it. Opt for the demi-sec—or medium dry, in simpler terms, meaning sweeter than a brut—it's the only prestige cuvée demi-sec in the world, making it a fantastic choice for ringing in the new year or any special occasion that follows.