The Best Espresso Machines for Barista-Quality Coffee
Plus, the difference between steam, pump, air, and lever machines.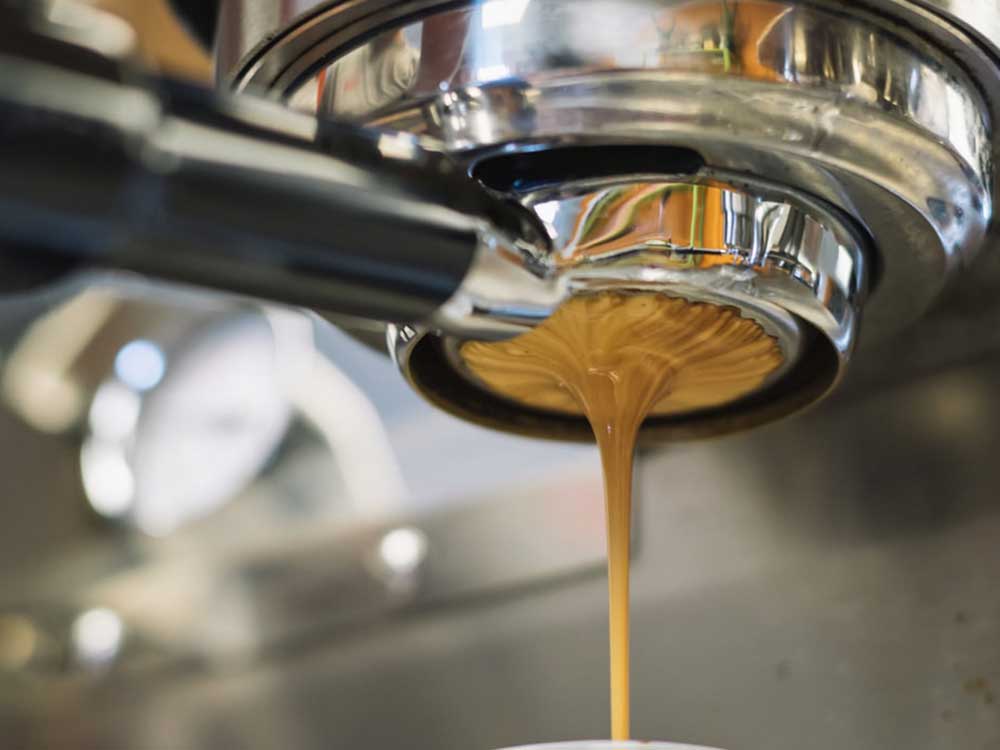 We may earn revenue from the products available on this page and participate in affiliate programs.
Among all the fancy, niche gadgetry to stock a kitchen with, an espresso machine might seem like a luxury meant for bean savants and latte snobs—not to mention those willing to fork up the cash and the counter space for a highly specific, often temperamental, one-hit wonder gadget. After all, even the best espresso machine isn't much of a multitasker (unless, say, you like to alternate between an Americano, doppio, and cappuccino on a very regular basis). Espresso, which is what you call the brewing method and the resulting caffeine shot, is distinct from other coffee preparations because it must be brewed under a certain level of pressure (9 bars, equivalent to 640 pounds).
You don't need to be an avowed enthusiast to fully appreciate an at-home espresso machine these days, thanks to quality options at many price points and sizes. Whether only the most sophisticated, high tech, barista-vetted device will satisfy, or if your only parameter for a caffeine fix is something utterly foolproof and straightforward enough to operate half asleep, read on for the best espresso machine for all sorts of caffeination predilections.
Our Top Picks
After getting acquainted with the myriad parts and functions that comprise the complex and quite impressive engineering involved in masking espresso, you're ready to shop around for the best espresso machine for your budget, skill level, and space constraints. Breville is generally the gold standard of home espresso makers and popular among baristas, chefs and other industry folk. If you're looking for a professional-grade machine and are ready to spend well into four figures for the experience (and you have the space to store it), you'll want to consider the brands you probably recognize from your coffee shop, like La Marzocco or Slayer Espresso. Just beginning your relationship with espresso? We've got you covered with affordable and simple entry-level options.
1. BEST OVERALL: Breville Bambino Plus Espresso Machine, $500
Breville is famous for its luxe kitchen appliances and the Australian brand's coffee gear in particular has always stood out in the crowded world of kitchen gadgetry. A few years ago, the brand added an ultra-compact machine to their range of espresso makers: the Bambino Plus model has a 64-ounce water reservoir, draws flawless shots of espresso, and steams milk just as well as its pricier big brothers. This model lets you opt for a single or double espresso, and choose your preferred milk format (steamy, frothy, or very frothy). At nearly 11 pounds (without water), the Bambino has the heft necessary for pulling shots like a pro, and yet it has a petite footprint that will warm your efficiency apartment-dwelling heart, leaving plenty of room on the counter (and in the budget) for a stack of pretty new mugs and a reliable matching grinder. If you're upgrading from a $50 French press and 5K seems like a hell of an investment for a coffee maker, a Breville model like the Bambino Plus is a savvy in-between: La Marzocco's team love to see people buying high quality, more affordable machines like the Breville models, understanding that those are the folks who, in 5 or 10 years, will consider upgrading to their machines.
2. BEST BANG FOR THE BUCK: Capresso Ultima Pro Pump Espresso Machine, $200
Sometimes, less is more with kitchen gadgetry. Such is the case for the Capresso Ultima, which has streamlined options for double espresso, steam (for frothing milk, via the attached steam wand), and hot water, and you can adjust the brew volume for a less or more potent espresso than the default 1.5-ounce setting serves up. A relatively small water filter means you'll need to change the water more frequently, though that's not necessarily a bad thing, since a fresher water supply makes for fresher espresso. The Capresso Ultima gets bonus points for the coffee-measuring spoon and spare coffee filter storage space tucked beneath the lid.
3. UPGRADE PICK: Breville Barista Touch, $1000
More powerful than the Bambino Plus, Breville's Barista Touch model has lots to offer both aspiring and seasoned espresso fans. Passionate beginners will dig the convenient touchscreen controls complete with easy to follow tutorials, and a mix of quality and convenience features, like a top-notch grinder that's built in and an adjustable automatic milk froth setting. Advanced controls and even an optional manual mode makes this a great choice for more-experienced users and people who want to get creative.
4. BEST SPLURGE ESPRESSO MACHINE: La Marzocco Linea Mini Espresso Machine, $5400
Described by industry vets as the "iPhone" of espresso machines, for its ubiquity, consistency, and high price tag, the 91-year old Italian brand knows a thing or two about making great espresso drinks. La Marzocco is widely used by coffee shops and restaurants and it is easy to get them serviced and find replacement parts. For the best results, La Marzocco suggests giving their machines a thorough daily cleaning. The Linea Mini can be plumbed directly into your home's water system, or it can brew out of a refillable reservoir. La Marzocco's standard portafilters that come with the machine are fitted with removable spouts designed to pop off for easier cleaning, but they can be nearly impossible to snap the little widgets back on, so (much like the iPhone's famously annoying headphone jack converter), they're easy to loose. While it is possible to pull shots without the spouts, doing so makes for a somewhat splashier, less streamlined brew. (La Marzocco has recently started selling portafilters with screw-on spouts to remedy this issue.)
5. BEST MANUAL MACHINE: ROK Manual Espresso Maker, $199
For those with more of a history-hewing "if it ain't broke…" approach, or if you crave full control (and have enough espresso-pulling experience to manage that control), a bold and stylish ROK might be the move. The hand crank, Italian lever-powered machine is basically indestructible, hence the generous decade-long warranty, and its fully manual, electricity-free design doubles as an upper-body workout. And, if you're into this kind of thing: its industrial aesthetic and engine-grade aluminum construction are just the stuff steampunk dreams are made of.
6. BEST AIR PRESS DEVICE: AeroPress Coffee and Espresso Maker, $30
The Aeropress is tiny and lightweight enough to tuck into your suitcase or camp pack and it gets top marks for ease of cleanup. It's not technically an espresso maker, since it's capable of only .35 and .75 bars of pressure (just 25-50 poundsThough the soothing ritual of brewing) far below the typical 9 bars of pressure (equivalent to 640 pounds of pressure) that true espresso-making requires. The resulting caffeine won't be as concentrated, potent, or crowned in crema like an authentic espresso, but you will get a significantly more concentrated and balanced coffee experience than pour-overs or French presses. (For more on manual coffee making, check out "Our Guide to the Basics of Unplugged Coffee Making.")
7. MOST CUSTOMIZABLE: Breville Barista Pro, $800
A bit of espresso-making knowledge and fledging technique comes in handy for this high-performing automatic Breville model, featuring 30 grind sizes and five temperatures to select from. There's also a steam wand and four filter baskets (two for whole beans, two for pre-ground java). With less pre-programmed functions than the Barista Touch, you can get more creative and nuanced with your sippable masterpieces.
8. BEST NESPRESSO MACHINE: Nespresso Essenza Mini, $150
Maybe you're looking for a blessedly easy, durable model simply to ascertain if DIY latte artistry is actually going to enter your weekday morning routine for the long haul. Consider taking it slow with your espresso courtship with a Nespresso machine, like the compact, chic Essenza Mini. Though it's small in stature, perfect for minuscule kitchens, it's surprisingly strong for its slender footprint and very straightforward to use. The Essenza Mini makes many of the same espresso-driven drinks as bigger and pricier Nespresso models, sans snazzy features you might be fine doing without, like Bluetooth integration. Plus, it's easier to clean than its flashier counterparts. That said, its all-plastic exterior and unlined drip tray, while not dealbreakers, leave some things to be desired.
9. BEST FOR THE CONNOISSEUR: Slayer Single Group Espresso Machine, $9450
Seattle-based Slayer was started in 2007 by Jason Prefontaine, a Canadian with a background in coffee roasting and espresso machine maintenance, and has since made a name for itself by reverse-engineering the quirks of espresso-making that Old World manufacturers have accepted as fixed, and by incorporating those developments into its luxurious machines. Slayer's patent-pending "dry steam" tech transforms milk into a velvety froth without diluting it with excessive water, while the company's machines feature a needle-valve mechanism which pre-blooms the grinds in the portafilter with water for an adjustable length of time before pulling a shot, gracefully balanced in sweetness and acidity. Slayer's heft and styling is a nod to American-made vintage muscle cars; like La Marzocco, Slayer's primary market is the café and restaurant industry, but serious coffee obsessives have locked onto both brands as aspirational lifestyle buys and status symbols. All of Slayer's machines must be plumbed into a water line, so you'll want to choose a home for it and stick with it—but at 110 pounds, you wouldn't want to move it around much anyhow. These machines are built with the pleasure of operation as well the quality of the resulting coffee in mind; the brand's happiest customers are the gearhead types who enjoy taking care of routine maintenance themselves.
10. BEST STOVETOP ESPRESSO MAKER/BEST POUR OVER: Bialetti Moka Express, $35
Many different Italian brands produce iterations of the spiffy, hourglass-shaped classic Moka pot, though Bialetti designs are the most ubiquitous and widely available nowadays. Technically, it's not an espresso maker due to the lack of necessary pressure to call it such, but a Moka pot does produce more potent coffee than its fellow pour-over counterparts and drip options.
Tips for Buying and Using an Espresso Machine
Be realistic about how self-sufficient versus hands-on a machine you really need, and what you want out of your espresso maker. As a general rule of thumb, the more autonomous the machine, the less room for error—and also less opportunity for customization (which couldn't matter less for most espresso beginners). More advanced enthusiasts (or those aspiring to sharpen their barista skills) might feel limited creatively by a machine that doesn't allow a ton of human input.
Expect some ongoing maintenance for any crème de la crème machines. If you find yourself fortunate enough to own a top tier espresso machine, you'll not likely be keen on replacing the whole shebang when something goes wrong. Much like a luxury sports car or watch, these machines need regular maintenance and they work best in the hands of a well-trained operator. On the plus side: top-of-the-line espresso manufacturers have begun offering education programs and subscription packages to ease the customer into their purchase.
How you grind your beans is (almost) as important as the espresso machine you're using. A coffee grinder is, indeed, a one-trick pony, true. But freshly ground coffee does taste noticeably better than pre-milled—and let's be honest: just the smell of just-ground coffee first thing in the morning could be enough of a selling point. Check out this SAVEUR-vetted list of the best espresso gear, including grinders, like the Hario Skerton Ceramic Coffee Mill.
Features to Consider When Buying an Espresso Machine
So, what makes for the absolute best espresso machine? It's pretty subjective on a couple counts: budget, counter space, and level of java prowess are all important to consider. Once you've figured out your budget and general needs versus nice-to-haves, it's time to get acquainted with espresso making anatomy to understand what parts perform which functions. To really be able to decode what any machine's features actually do, start by getting a grasp on the key components that go into making espresso, and why they matter.
Types of Espresso Machines:
The first major choice to make: what type of espresso machine makes the most sense for your level of barista know-how, caffeine format preferences, and how much time you'll realistically devote to DIY espresso making? There are pros and cons to each option, and they really vary in terms of techiness, versatility, and practicality:
STEAM: Using only steam pressure to push water through finely ground coffee beans is a low-tech, time-tested way of producing espresso-like drinks; because steam-powered machines max out at 1 to 1.5 bars of pressure, they're not technically espresso makers, since the ideal pressure is 9 bars. The most familiar type of steam-powered device is the moka pot, like the popular Bialetti Moka Express. There are slightly more tech-enabled electric moka pots available as well. By far the most affordable options in the espresso landscape, steam espresso makers are quick and easy to use thanks to their simplicity, and particularly low maintenance, too, though you run the risk of unpalatable over-extraction (which makes for a thin and bitter flavor).
PUMP: Most espresso machines are powered by an electric pump, which pushes pre-heated water into a brew chamber and then a bed of ground coffee and ensures consistent high pressure of 8 to 9 bars. Since arriving on the market in the 1960s, pump-powered devices have become the most ubiquitous type of espresso machines and encompass three primary categories: semi-automatic, automatic, and super-automatic, with variations within each category, from the number of water boilers to the pump type to the techier addition of computerized programming options.
AIR: An air pressured device is a particularly easy, cost-effective means of making espresso-esque coffee at home, given that its pressure capabilities are far weaker than the standard 9 bars needed for espresso making. But an air-powered device, like the popular AeroPress, requires no electricity and is very compact, which might be attractive for frequent travelers, apartment dwellers, or if you've got a chronically cramped kitchen counter. The minimalist set-up requires only very finely ground coffee, a small amount of hot water, and a very rapid plunge or press.
LEVER: Lever-driven machines require physical strength to pull a shot, and are either manual or spring-loaded. Manual lever machines allow (or require, depending how you look at it) more user control of the time and what flow rate at which pre-heated water saturates the coffee grounds, and how much pressure is applied. Spring-loaded models extract espresso at a uniform timeframe and pressure level: when the spring's tension is released, the lever pops up the piston, which pushes water down onto coffee grounds.
Manual vs. Automatic
A manual espresso machine uses air pressure, manual lever, or spring-loaded lever force. It allows you to get more intimate with your caffeine fix and, as the name indicates, will require more elbow grease than more technologically adept semi-automatic and automatic models. Manual machines are also quite sensitive to stale beans, subpar grinding, or temperature fluctuations. Think of it as the driving stick-shift version of espresso making: manual makers have their own distinct blend of old-school charm and history, and offer more control than semi-automatic and automatic machines, but they're not newbie-friendly, take more time to get the hang of (expect a couple busts/failed pulls while learning the ropes)—you'll have to really work for that shot. Semi-automatic machines date back to the 1940s, invented by Italian company Gaggia and offering a more convenient and intuitive way to whip up espresso than the industry standard at the time, a piston-style brewer.
Shot or Double Shot
A double shot, otherwise known as a doppio, is usually made with anywhere from 14 to 20 grams of ground coffee, while a shot, or single shot, tends to contain 7 grams of ground coffee. However, a double shot isn't all standardized, and interpretations vary quite a bit: it's usually anywhere from 1 to 2 ounces, and is prepared with a bean-to-water ratio between 1:1 and 1:3, depending on how many grams of grounds are utilized.
Portafilter
A portafilter is the piece that holds the filter-lined basket that holds the coffee grounds and then gets locked into the group head when a shot is being pulled (aka the extraction process). Usually, portafilters have handles for convenience, plus spouts underneath that pour espresso into a cup. A fancier machine will sport a chrome-coated copper or brass portafilter with wood, bakelite, or plastic handles, while cheaper ones are typically composed of lesser metals like aluminum or steel.
One-Touch Function
Machines that tout any one-touch wizardry (like one-touch brewing) are either automatic or super-automatic designs. These provide more of a full-service shot preparing experience than their semi-automatic counterparts, which require some necessary prep work, since you'll have to grind and tamp the coffee to properly fit into a machine's portafilter, and control the extraction time. Automatic machines take care of the optimal timing for you, which is helpful for multitasking, whether that means getting dressed while your espresso brews at home or frying eggs for the family. Super-automatic models have all of the bells and whistles of an automatic machine, plus they'll handle the grinding process, too, usually via a built-in, top-of-the-line burr grinder, and then measuring, filling, and tamping the fresh grounds into the portafilter. The full-service appeal of a super-automatic machine is useful at home or in an office, but all that built-in help limits creativity and control for seasoned espresso pros, which is why they're less common in cafes but are perfectly servicable for many home-brewers.
Pre-Built Grinder
Once you start grinding your own beans fresh, it is hard to go back to the packaged, powdery stuff. Steer clear of blade grinders that function just like little blenders—the blade mechanism makes for an irregular grind and creates friction and heats the beans, which can adversely affect their flavor. Electric burr grinders tend to have a pricier entry point, but make for a better grind—and less expensive manual models can be found. While the manual version takes a bit more effort to operate than a push-button type, they are much quieter and more compact. (If you know you're looking for a stand-alone grinder, check out "The Best Coffee Grinders for Maximizing the Flavor of Your Beans.")
Heating System
An espresso maker's heating time relates to the machine size, so smaller models intended for home kitchens usually heat in a few short minutes, while professional grade, commercial machines may take a half hour to reach their optimal temperature due to larger boilers and more parts that need to heat up.
Single Boiler
Commonly found in lever-powered espresso machines, a single boiler for heating water is pretty old-school, straightforward, yet sensitive, since the water must cool down before it reaches the coffee, and controlling the water temperature and when that water makes contact with the grounds can be inconsistent.
Steam Wand
Milk gets frothed to perfection via a steam wand, which is a speedy process when done via an auto-frother attached to a pump-powered machine, and takes longer if you're manually steaming the milk.
Drip Tray
The inevitable spills and splatters in the espresso making process will end up in the drip tray, whether that's espresso overflow, hot water, or a particularly buoyant blob of milk froth. It'll catch all manner of mess in a grating-covered area beneath various liquid-dispensing parts of an espresso machine, like the groups (where shots are extracted from), steam wand, and hot water dispenser. These are typically made of metal or plastic, though metal is more durable and typically found in higher quality machines.
Water Reservoir
The water reservoir or tank stores the other essential ingredient for espresso making besides finely ground coffee beans, and typically hold 38 or 20 ounces of H2O. The reservoir's size will determine how many shots can be pulled before refilling, so keep that in mind when deciding how much counter space you're down to delegate to your espresso endeavors. A more compact model with a smaller water reservoir will require more frequent replenishing between shots, while a bulkier footprint hogs more real estate in the kitchen but doesn't get thirsty as often as tinier machines.
Ask the Experts
How long will my espresso machine last?
Espresso machines typically last for 8 to 10 years, as long as you take good care of them.
How do I clean and maintain my espresso machine?
Careful cleaning and regular maintenance can extend a machine's lifespan. Wipe down the steam wand frequently to prevent dry milk and bacterial buildup; flush the group head often, since old grounds cause stale flavors; and continually clean portafilters, filter basket, and drip tray.