Recipes
The World's Best French Fries
Suzy Palatin's superlative Belgian-style frites.
Serves

serves 4-6

Cook

2 hours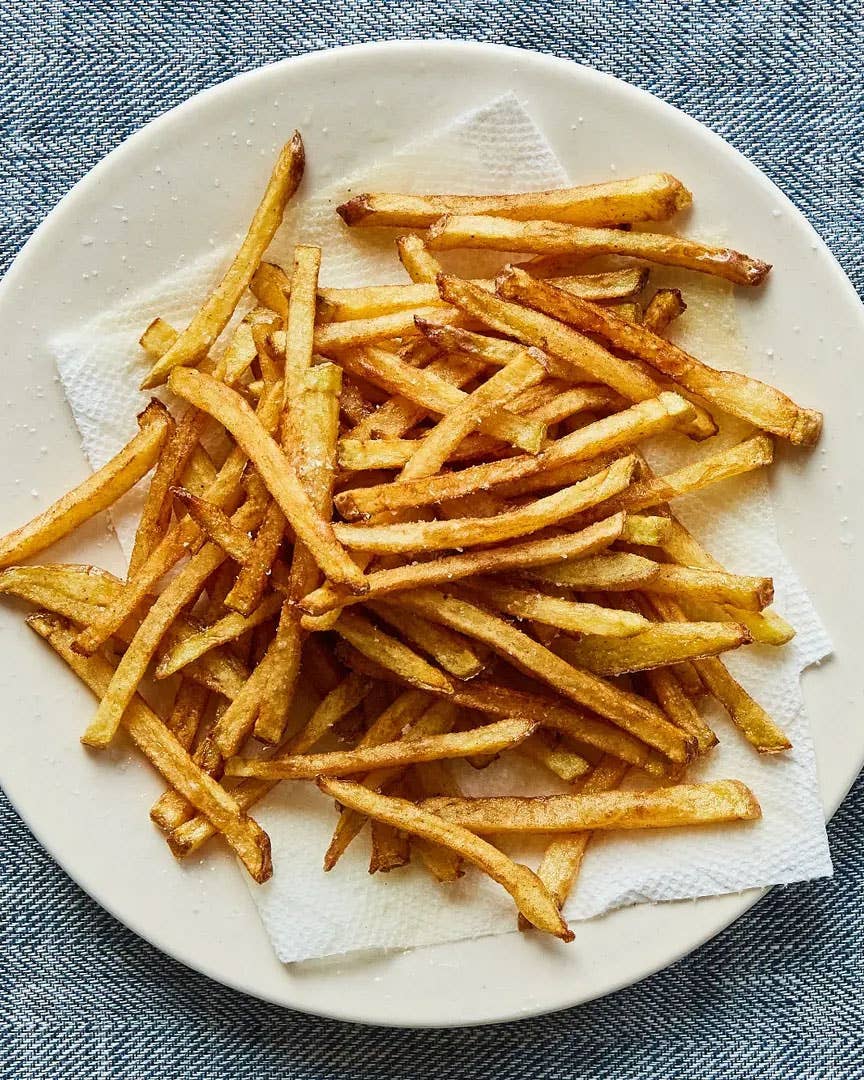 Guadeloupe-born actress and cookbook author Suzy Palatin adapted the traditional Belgian method of making frites to land on this superlative potato recipe, which she serves to her chef friends at dinner parties in Paris. The technique involves a double fry—the first to cook the frites through, the second to turn them golden brown. The 20-minute rest in between ensures that the french fries are as dry as possible before a second bath—worth the additional step when the extra crispy fries are paired with creamy aioli or sauce Andalouse as Belgians do.
Ingredients
2 lb. Yukon gold potatoes
Vegetable oil, for frying
Fine sea salt
Instructions
Step 1
Cut the potatoes lengthwise into ⅓-inch matchsticks and transfer to a large bowl of cold water. Using your fingers, agitate the potatoes until the water turns cloudy, then drain the water and refill the bowl with more cold water. Repeat this process until the water is clear after agitating.
Step 2
Onto a thick layer of paper towels, scatter the potatoes in one layer to dry, about 10 minutes.
Step 3
Line a large baking sheet with paper towels. Into a large Dutch oven set over medium-high heat, pour the oil to a depth of 4 inches and attach a deep-fry thermometer. When the temperature reads 340°F, add one-quarter of the potatoes to the oil and cook, stirring occasionally, until almost tender and lightly browned, about 7 minutes. Using a slotted spoon, transfer the fries to the baking sheet. Repeat with the remaining 3 batches of potatoes. After the last batch is transfered, turn off the heat and cool the fries for 20 minutes.
Step 4
Turn the heat back to medium-high, replenish the oil if needed to reach a depth of 4 inches, and line another baking sheet with paper towels. When the thermometer reads 340°F, add half of the fries back to the oil, and cook until dark golden brown and crisp, 8–10 minutes.
Step 5
Using a slotted spoon, transfer the fries to the empty baking sheet and season generously with salt while hot. Repeat with the remaining batch and serve immediately.