Techniques
The Best Ice Cream Maker, Scoop, and Other Tools for Your Home Sundae Bar
You don't need professional equipment to make great ice cream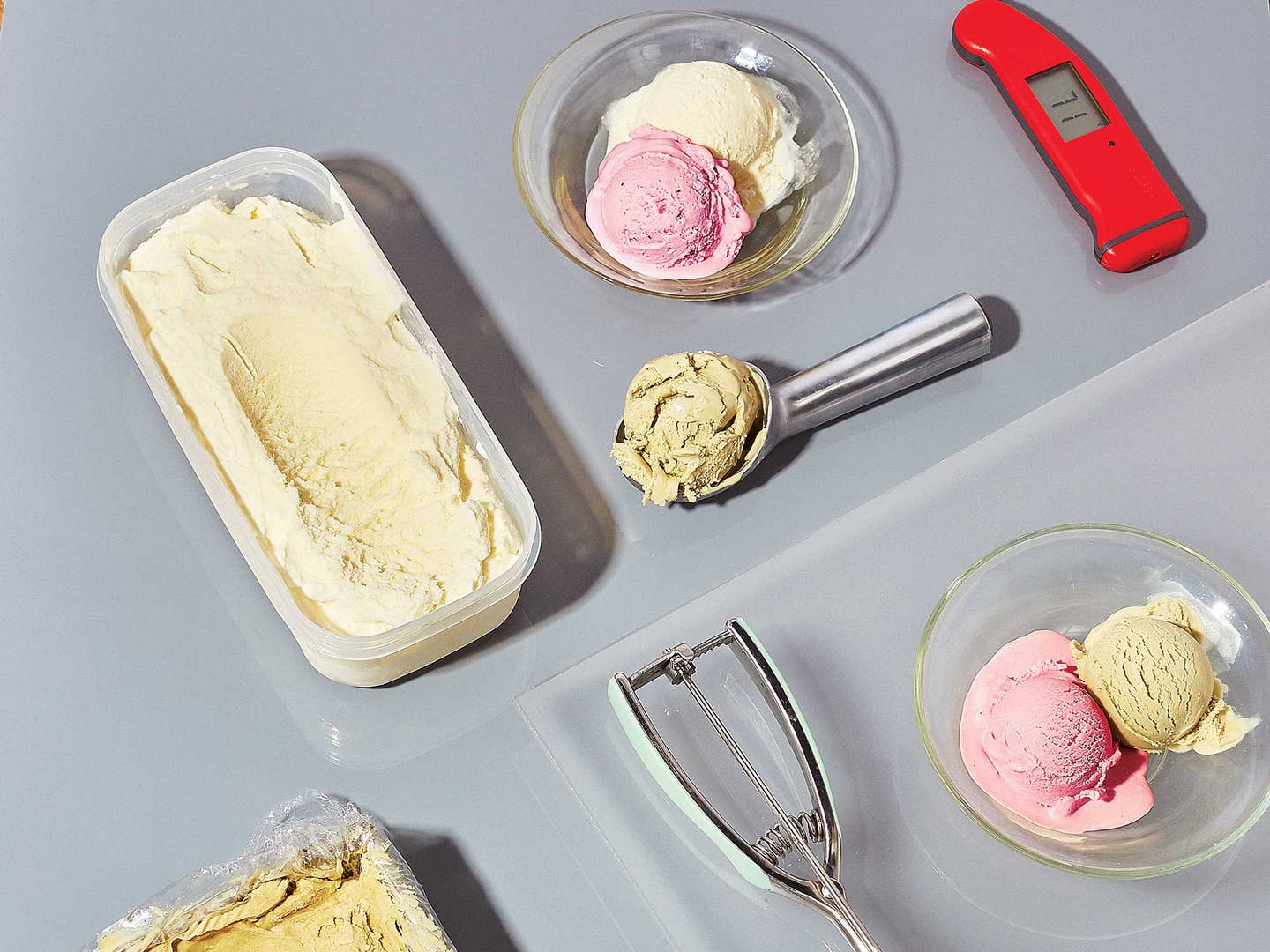 Frozen dessert technology has come a long way since the days when Emperor Nero would send Roman slaves into the mountains to harvest blocks of ice, shave it down, and sweeten it with honey. In 1843, Nancy Johnson of Philadelphia patented the first ice cream freezer, but it required relentless hand-cranking and relied on rock salt to lower the temperature of the ice. Today, affordable entry-level ice cream makers can churn out a noticeably superior product compared with mass industrial brands, and are as simple to operate as a blender.
Yes, an ice cream maker is an investment in money and counter space, but if you're a true ice cream lover, it's a small price to pay for the good homemade stuff. Here are my recommendations—honed from years of home ice cream churning—for the best machines and other tools for your personal sundae bar.
Almost all ice cream machines function the same: They rapidly chill a base while agitating it to incorporate air. This keeps the ice crystals that are forming inside as small as possible. Which machine you need largely depends on how much ice cream you plan to make.
Cuisinart's entry-level is compact, foolproof, and makes an excellently textured product. The downside is prep time. Its freezing power comes from a gel-filled bowl that must be frozen 8 hours in advance of churning and refrozen after each 1- or 2-quart churn.
Breville's Smart Scoop has a built-in cooling element so you can spin batches back to back (though, for best results, pre-cool base in the churning chamber for five minutes between projects). It also churns at a slower speed and whips less air into the base for a subtly denser and creamier result.
Disher-style scoops are popular for their quick-release sweeper arms, but the old-school aluminum kind, like Zeroll makes, is still the best for the job. Its edge is perfectly angled to cut through ice cream (twist, don't dig), and with no moving parts it can never break. And did you know the handle is full of a conductive fluid that transfers heat from your hand for easier scooping?
Yes, containers matter! For storage, you want a long and shallow plastic container, which freezes ice cream fast, essential for preventing iciness. Rubbermaid's 5-cup Dry Food containers are stackable, completely odorless, and conveniently fit a quart of ice cream.
If you're making a thicker, custard-style batch of ice cream, you run the risk of overcooking your eggs, curdling the base while adding unwelcome eggy flavors. A quality thermometer (the Thermapen is best-in-class for accuracy, speed, and readability) will help you locate the ice-cream-custard sweet spot: 170 degrees. It'll also tell you when your chilled ice cream is ready to churn, no guesswork required.