The Best Chef Knives Do It All
Choosing the right knife is about how much you plan to use it, price, and durability.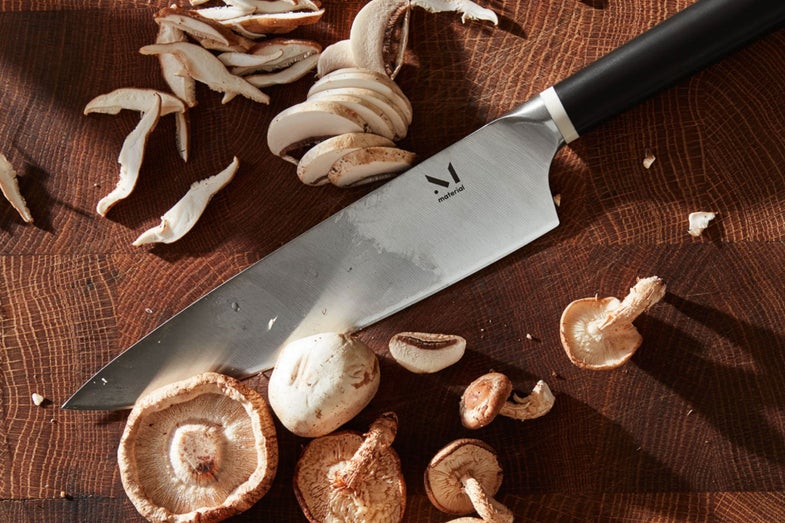 We may earn revenue from the products available on this page and participate in affiliate programs.
Our Top Picks
Blade length: 8 inches | Brand: Shun | Handle material: Birch pakkawood
Pros
---
Smooth birch pakkawood handle
Beautiful damascus-style blade texture
Holds its edge longer than others in the category
Cons
---
Thin blade edge could nick with heavy use
Why we chose it: An excellent all-purpose knife that's as beautiful as it is functional.
This knife is a true gem in the kitchen. Useful for chopping larger vegetables like butternut squash, which requires length and leverage to cut through, and for evenly slicing delicate items like fish. The blade's "hornet's nest" pattern helps it stand out in a crowd, and the high-carbon, high-chromium stainless steel edges are hand-sharpened to 16 degrees for durability and easy maintenance. Details like an embossed end cap on the handle cement this knife's position as an all-around kitchen star.
Blade material: Forged stainless steel | Handle material: Synthetic
Pros
---
Well-balanced
Versatile in the kitchen
Keeps its edge longer than thinner blades
Cons
---
A bit heftier than other blades
Why we chose it: Wüsthof is a solid, trusted brand that consistently produces long-lasting knives with good balance and blades.
A Wüsthof chefs knife is an excellent investment for a cook who wants to invest in one reliable knife to do it all in the kitchen. It has a hefty feel with a bolster (the thick junction between the handle and blade) that helps counterbalance the knife. It's great for mincing and dicing, chopping, cutting through tough vegetables, butchering chickens, and pretty much any task you throw at it in the kitchen.
Blade material: Stainless steel | Handle material: Rosewood  
Pros
---
Lightweight
Durable
Affordable
Cons
---
Rosewood handle requires extra maintenance
Why we chose it: Victorinox is a another storied brand, using Swiss steel in its lightweight blades that are functional and versatile.
Looking for a knife to take with you on trips, to other kitchens, or simply just use to the extent of its abilities without worrying too much about price? This Victorinox knife will do everything you need and more, for a very affordable price. Swiss steel is durable and stiff, making it ideal for tough kitchen tasks, while its rosewood handle gives it a little bit of an upscale appearance.
Blade material: Stainless steel | Handle material: Reinforced laminated material
Pros
---
Ideal for a variety of kitchen tasks
Lightweight
Shape is ideal for pulling motion, great for butchering and thinly slicing
Cons
---
Thin blade can be damaged more easily
Short handle leaves little wiggle room
Requires more maintenance
Why we chose it: In the Japanese knife category, Tojiro's Gyuto knife is a great, affordable option made from beautiful steel.
For enthusiasts of Japenese steel who aren't looking to break the bank, Tojiro's 8-inch gyuto is an ideal compromise, featuring the super-durable, hard steel at a lower price. The handle is Western-style, with an ergonomic shape designed to prevent tiring.
Blade material: Stainless steel | Handle material: Laminate
Pros
---
Three attractive handle colors to choose from
This knife's full tang makes it well-balanced
Ergonomic round handle
Why we chose it: Material took the best features of Western and Japanese knives to create an easy-to-use hybrid that's perfect for those who aren't quite sure what they're looking for in a knife.
Material layers high-carbon and corrosion-resistant stainless Japanese steel for a blend of durability, sharpness, and a pleasing weight. After heat treating and then cryogenic freezing, the knife's blade becomes harder and less flexible, keeping its edge longer than knives made of softer steel. At the price point, it's a great place to start building your stable of knives, particularly if you're not sure which style suits you best.
Blade material: Matrix powder steel | Handle material: Matrix powder steel   
Pros
---
Extremely sharp
Smooth ceramic coating from blade to handle
Aesthetically pleasing in silver, matte black, and gold
Cons
---
No bolster or tang can make it feel mildly unbalanced
Why we chose it: A newcomer to the scene, Hast's knives are both aesthetically pleasing and supremely sharp.
I have truly never encountered a knife this sharp straight out of the box. It is lightweight, easy to handle, and the powder-coated metal handle is very comfortable in the hand. This knife is a do-it-all kind of item with a blade that's flexible enough to maneuver around bones, but stiff enough to easily slice through tough vegetables. The minimal design is a delightful bonus for those whose kitchens lean into the current trends of minimalism.
How We Chose These Products
Throughout her career, Ellen Fort has used a variety of knives, both in professional kitchens and at home. She's tested a large swath of new products on the market to determine which chef knives are the cream of the crop. Input from knife experts helped form opinions and gave insight into some of the determining factors when choosing a knife.
Features to Keep in Mind When Shopping for Chef Knives
Size
Chef knives typically range from 6 to 12 inches. "Most people end up right in the middle with an 8-inch chef knife," says Josh Donald of San Francisco's Bernal Cutlery. Home cooks should consider their storage space, countertops, and cutting board size, and what they'll be using their knife for. When Matt Horn, pitmaster of Oakland's Horn BBQ, isn't using his 12-inch slicer at the restaurant, he prefers a smaller blade. "My favorite knife is the Wüsthof 6-inch chef knife," says Horn. "It has a nice feel to it, a nice weight, and it's extremely versatile. I find myself really relying on that knife." 
Balance
Balance is key in a chefs knife, keeping equilibrium between the handle and the blade and allowing more control of the knife. An unbalanced knife is unwieldy and makes certain kitchen tasks like fine dicing and chopping more difficult.
Weight
Weight is a matter of preference for most cooks. I like a knife with a bit of weight behind it, a sturdy blade that feels like it can really hack through a rutabega, chop chicken bones, or easily dice a butternut squash. Lighter knives have their place in the kitchen too, favored for easily slicing through vegetables and fish without the need for a lot of weight behind the blade.
Ask the Experts
Q: What is a chef knife used for?
A chefs knife is typically 6 to 10 inches long, and is used for almost any task in the kitchen, from finely mincing garlic to butchering meat. 
Q: How often should I sharpen my knife?
It truly depends on how often you use your knife. If you're cooking most nights, then you should sharpen your knife twice a month. This can be accomplished by sharpening it at home with sharpening stones or home sharpeners, or sending it to a professional knife service. (Many cutlery shops also offer this service, such as Bernal Cutlery in San Francisco, and Korin in New York.)
Q: What is a forged knife?
A forged knife is created from a single piece of steel that is shaped and hardened by hand, versus mass-produced knives that are stamped from large sheets of steel.
Q: Is a Santoku knife a chef knife?
A santoku knife is an all-purpose knife that is slightly shorter than a typical chefs knife. It also has a rounded tip and flatter edge that makes it better suited for cutting vegetables than, say, butchering a chicken or trimming a brisket. 
Q: How long does a chef knife last on average?
When cared for properly, a chef knife can last for decades. However, sharpening removes some of the metal from the blade each time, which can ultimately reduce the size of the blade. That implies some serious use and frequent sharpening that most home cooks won't require; the average chefs knife in a home kitchen could be passed down through generations. 
Q: Where should I keep my chef knives?
The main concerns in choosing storage for your chefs knife: safety for you and your knife. There are lots of options to achieve those goals, from a countertop knife block to a drawer dock to a magnetic knife holder on the wall. If you're traveling with your knife, an inexpensive knife guard like this one will protect the blade and prevent cuts. 
Our Take
Like so many kitchen tools, a knife is a very personal item. Liken it to the process of choosing a wand in Harry Potter—the knife really chooses you. But since most of us don't have the luxury of trying every knife on the market, we've identified a good selection that will suit a wide variety of preferences, budgets, and cooking styles. Ultimately, it's best to head to a store to test the weight and balance for yourself, but we know that there's a knife in this guide for you.