The Best Chef Knives for Every Type of Cook
After slicing our way through tons of carrots, tomatoes, and herbs, we've found our 7 favorites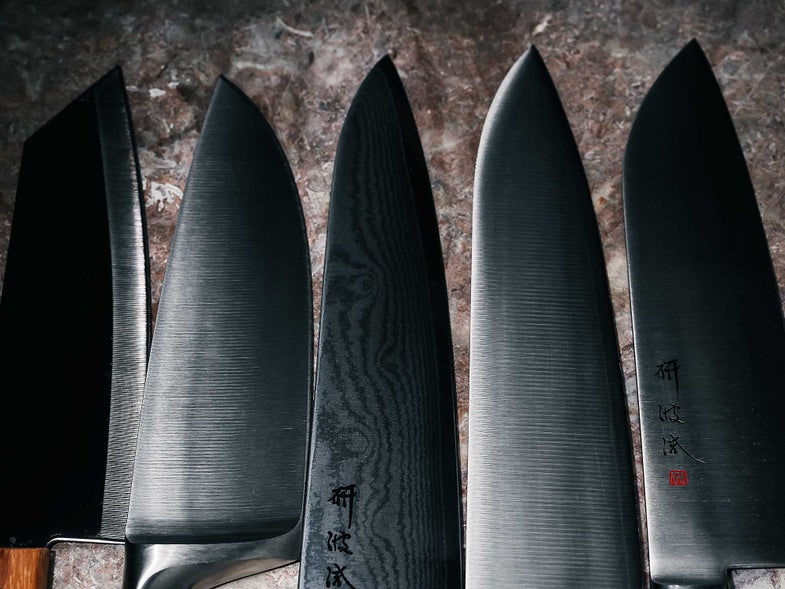 We do a lot of slicing and dicing here in the test kitchen; we have an impressive knife collection and haven't needed to shop for new knives in years. But I felt a little bit out of the loop about what was on the market for holiday shoppers this year, so I called in a few dozen samples from knife manufacturers and craftspeople around the world. Our brilliant intern, David Kaplan, sourced enough assorted produce to feed a vegetarian army and we set out to find our new favorite knives.
First, we used each of the factory-sharp knives to slice through a mountain of raw carrots. Then we tested each of the blades' ability to glide through ripe tomatoes. And finally, we milled through several bunches of parsley and basil. We judged them based on performance, comfort, stability, and aesthetics, and since we understand that choosing a knife involves a lot of personal preference, we tried to take into consideration a wide range of grips, hand sizes, and price points. Here are some of our favorites.
RECOMMENDED: The Absolute Best Kitchen Knives, According to Our Test Kitchen
The tomatoes and herbs went into a big pot of marinara for our staff lunches. David used some of the carrots to develop a killer carrot ginger soup recipe, then lugged the rest of them down the street to our neighbors at the Mainchance Homeless Shelter. Everybody wins!
All Purpose:
Budget Thai knife-maker Kiwi Brand is a staff favorite. Their blades are lightweight, they come in a range of Asian styles and shapes, and they hold a precise edge better than many premium brands. Best of all, they top out at $16.95. Many of Kiwi's knives are only available with simple wooden handles that will degrade with time, though the lightweight Thai chef knife is also available with a restaurant-approved textured plastic handle. The tall blade is similar to pricy Japanese santokus, so it is ideal for straight chopping, but it also has a bit of curve for easily rocking through herbs and minced garlic. The angled tip is handy for for delicate tasks that might feel clumsy with a traditional santokus.
The Japanese knife brand Shun recently launched this super-premium line through William Sonoma, and I'm a little bit in love. The attractive damascus patterning on the blade is layered over alternating microlayers of high-carbon stainless steel. The overlay provides a bit of texture, preventing foods from sticking during cutting while the layers purportedly wear at different rates, creating "micro serrations" that extend performance between sharpenings. The Hikari's edge has a slightly more curved edge than traditional santoku blades, providing a bit of rock when you need it. The rounded birch Pakkawood handle is smooth and comfortable for a wide range of grips.
Compact:
This handsome little knife from Wusthof is made in the classic European style: it's sharpened evenly on both sides, with a dramatically curved blade tapering to a fine point. The steel is thick and durable enough for some light butchering, but the compact size means this blade is still relatively lightweight. It is great for small hands and small kitchens, and it is sold as part of a 2-piece set with this sturdy and attractive paring knife.
This classic santoku from Korin—New York chefs' favorite cutlery supplier—is designed for working with both proteins and vegetables, so it is a fantastic all-purpose option. The thin, razor-sharp blade sweeps through food easily, though you will want to avoid using it for butchering around bones, which can chip the hardened steel. The 70/30 beveled edge is, by nature, sharper and more precise than symmetrically beveled blades, though they are not ambidextrous; be sure to specify when ordering if you need a left-handed knife. Folks with larger hands might find the size and shape of this handle awkward, but otherwise this is a very nimble and comfortable tool.
Large:
Wisconsin artisan knife-maker Isaiah Schroeder calls this "one of the best knives you can get for the money". Its classic, octagonal-shaped handle is designed for a range of grips, and the weight is perfectly balanced for a pinch-grip. The "confidence-inspiring" size and tall blade make for a knife that is comfortable and stable even in larger hands, and the gently tapered edge is useful for chopping and mincing.
For the steel wonks:
After test driving all our contenders, this was the knife I went out and bought for myself. With a thin profile, 70/30 bevel, and slight curve, Korin's high-carbon Suisin Gyutou is an excellent option for chefs looking for a compact blade with characteristics of both Japanese and Western-style knives. High-carbon steel is harder than stainless and stain-resistant alloys; with proper maintenance, it is better at holding a sharp edge, though it is much more sensitive to water and acidity. To prevent corrosion, protect your high carbon blades with camelia oil and wash and dry well immediately after using.
This American-made carbon steel chef's knife from the bladesmiths over at Town Cutler is a true knife nerd's knife. Its carbon steel blade requires a bit of babying—with use, its seductive, out-of-box mirror-finish will develop a greyish patina—but if you're willing to show your knife some love, it will reward you with a superfine and durable edge. The nickel bolster and brass fasteners are built to last, and the ergonomically-designed, stabilized wood handle is comfortable and secure in a variety of grips.