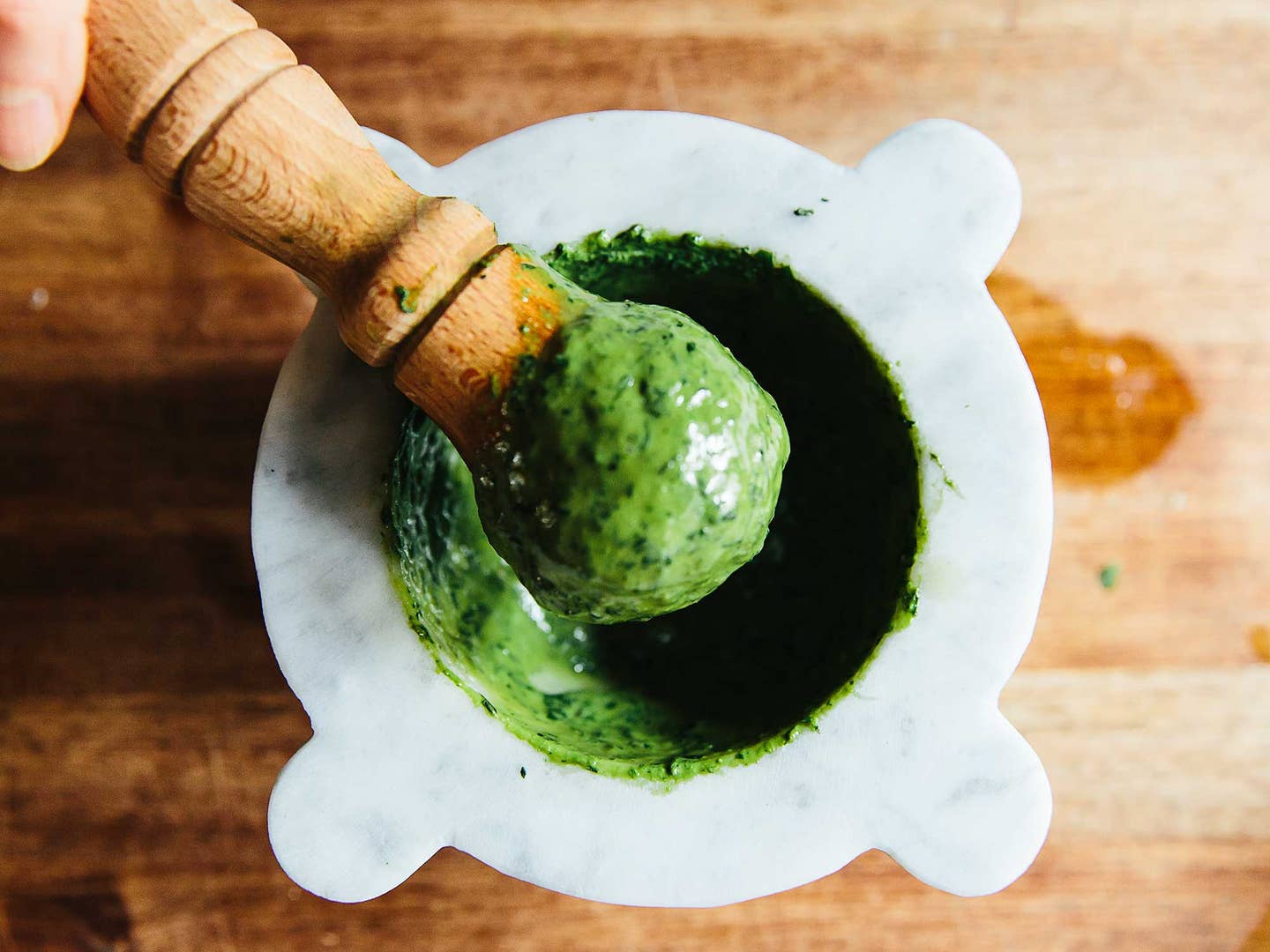 Techniques
The Italian Tool We Rely on to Make Perfect Pesto
Nothing's better for basil than a marble-and-wood mortar and pestle set
Carrara appears a city dominated by icy mountains. They loom above, menacing and craggy, and somewhere a drill is buzzing, a constant crash of metal against rock. Everything—the trees, the asphalt, the windshield—is covered in a fine, white chalk.
Up close, it becomes clear that the mountain faces are not actually blanketed in snow. This is raw marble veined with white and cream, dark gray, and blue, neat and jagged as slate shingles. Harvested just over the Ligurian border in northern Tuscany for thousands of years, marble has been the basis of the economy in this obscure corner of Italy since Roman times.
For centuries, it's been sculpted into putti, carved into columns, and chiseled into the shape of mortars, the bowls of which have been perpetually filled and refilled with basil, salt, oil, cheese, garlic, and nuts, then pounded with a wooden pestle (marble would be too heavy and violent against the basil).
WATCH: How To Make The Perfect Pesto
Somewhere on its path to global ubiquity, pesto became a catchall name for any random herby sauce thrown in a blender. Now Ligurians want it back
When our test kitchen was refining a recipe for Ligurian pesto, we kept noticing how much we preferred batches made with a marble mortar and a wooden pestle compared to stoneware or a molcajete . (A food processor doesn't even come close.) The sauce was gently muddled and smooth, but also perfectly inconsistent, pasta-coating but not quite pasty.