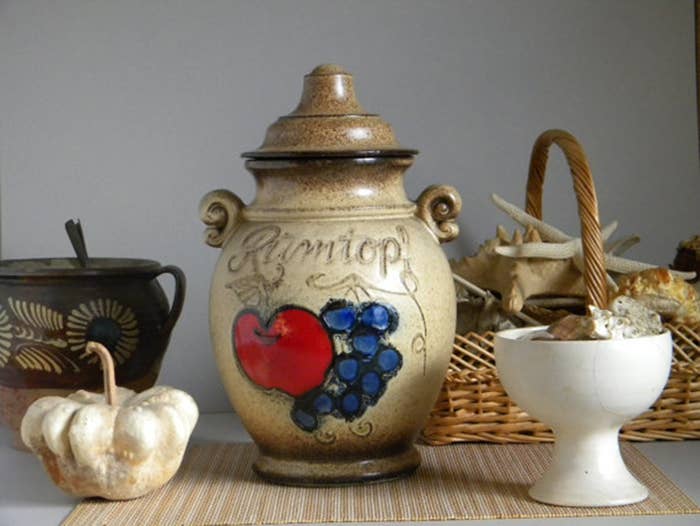 Shopping & Reviews
Buy These Amazing Vintage Rumtopf Crocks
These German ceramics—meant for housing a preserve of fruit in rum and sugar—deserve a special spot in your kitchen
A rumtopf—literally rum pot in German—is a clay crock that comes from German and Danish tradition. The crock, often adorned with decorative fruit or nature motifs, is filled with fruit, sugar, and rum, and is left to sit for at least four to six weeks, but sometimes much longer, with additions of fruit as the seasons progress. The result is boozy fruit preserved in a dark, lustrous liqueur that is great with puddings and ice cream, but especially spooned over spiced cakes around Christmas.
You can keep your rumtopf in any lidded jar, but there's something special about preserving it in an excellently preserved vintage crock. We've scoured the web for our favorites, but act fast—once these items sell out, they're gone.
This crock, made in West Germany in the 1980s, is a forest green color in a nice squat shape.
From the 1940s, this little pot is deep blue with white embossed details.
Made by the Scheurich Company in West Germany around the 1970s.
This blue and white rutompf crock features fruit reliefs and little handles.
This burnt umber-colored pot feels straight out of the mid-twentieth century.
Sure, you could use it as a cookie jar as the listing suggests, but that would mean you'd be missing out on all the dark, boozy fruit that awaits you a couple of months from now.
The somewhat abstract apple on the side of this one really makes it stand out from the typical German rumtopf design.
Wondering if pineapple works well in rumtopf? The painted motif on this one seems to suggest it does.