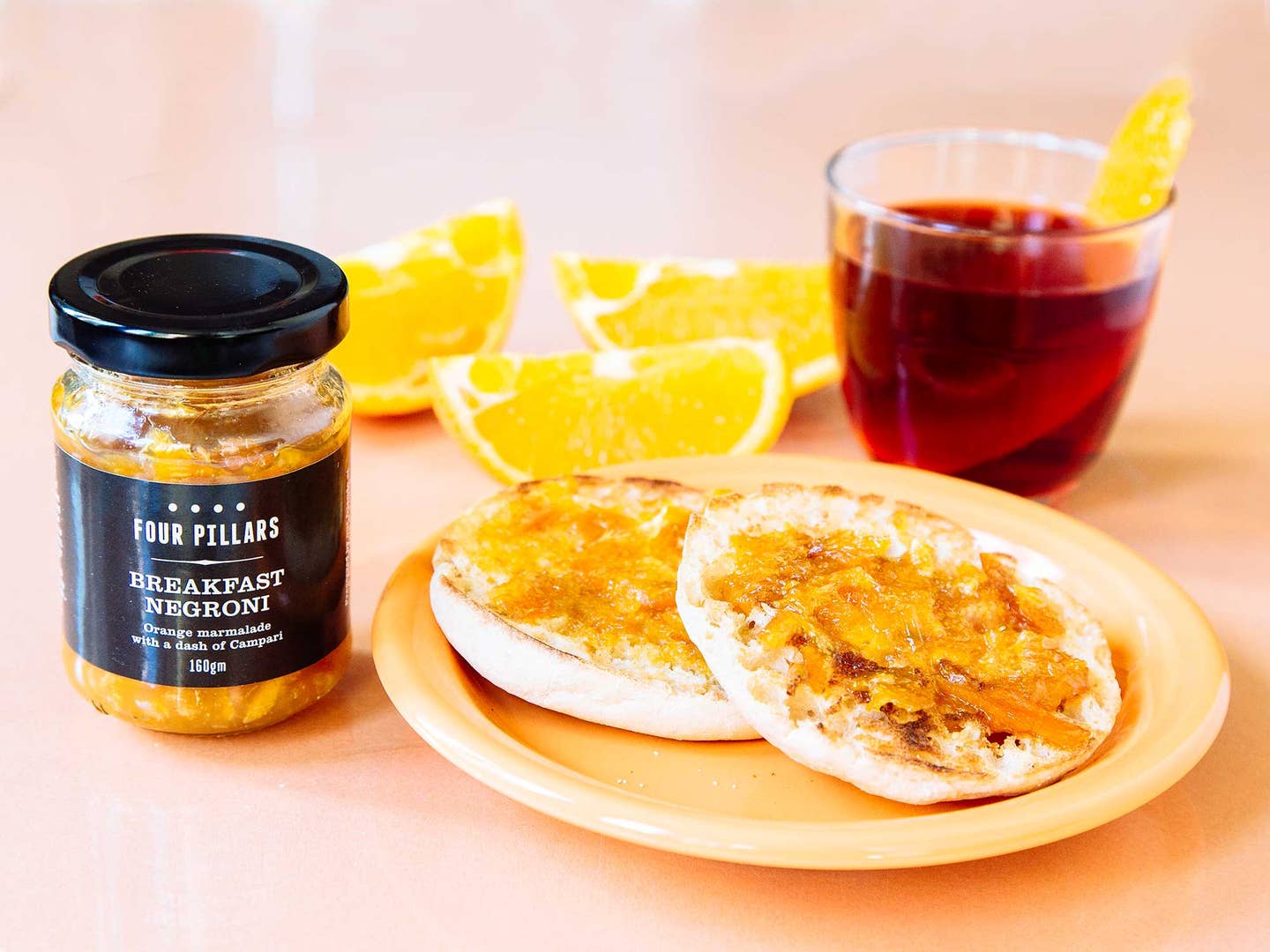 Drinks
This Marmalade is a Boozy Morning Spread for the Cocktail-Obsessed
Australia's Four Pillars Gin turns used oranges—steamed with gin and botanicals—into breakfast Negroni marmalade
There was a time in my life that I'd love waking up with some Campari and soda or even going out for a hair-of-the-dog Negroni at my brunch standby. If tequila was my Kryptonite, gin was the antidote. Here's what I learned from that habit: Campari has the best bottled version, which I recommend everyone keeping on hand for "emergencies," and Dante in Greenwich Village has the best Negronis in New York—their "Negroni Sessions" menu offers 12 versions, including an on-tap Negroni, a Negroni Coffee Swizzle, and a classic Sbagliato 'Mistaken Negroni'.
Yet, despite my unfaltering love for the equal-parts Florentine classic, these days I'm more likely to be chugging coconut water and calling in delivery than making it out of my apartment, let alone drinking, on a Saturday afternoon. So for those days that I still crave that old bittersweet, I've found a sweet but on-point breakfast Negroni marmalade to fill the void. Yes, you read that right: in a stroke of genius, Australia's Four Pillars Gin has been saving its soon-to-be-discarded, organic oranges—each batch of gin yields three kilograms of fruit that's been steeped in the gin and distilled with nine other botanicals—combining them with a splash of Campari, and transforming the whole thing into marmalade.
Launched in September of 2015, Four Pillars refers to itself a "nose-to-tail gin"—they feed leftover botanicals to rare, local black pigs, which are served at the Four Pillars Gin Pig dinners. In the spirit of zero-waste, they also use the undiluted, 94-percent proof "cut" as a cleaning product. Ready to start your mornings with some ethical booze byproduct? Purchase Four Pillars' breakfast Negroni marmalade ($9) here.