Recipes
Cashew Curry
The antidote to fiery Sri Lankan spreads lies in this tropical, creamy coconut side.
Serves

serves 4-6

Cook

8 hours 40 minutes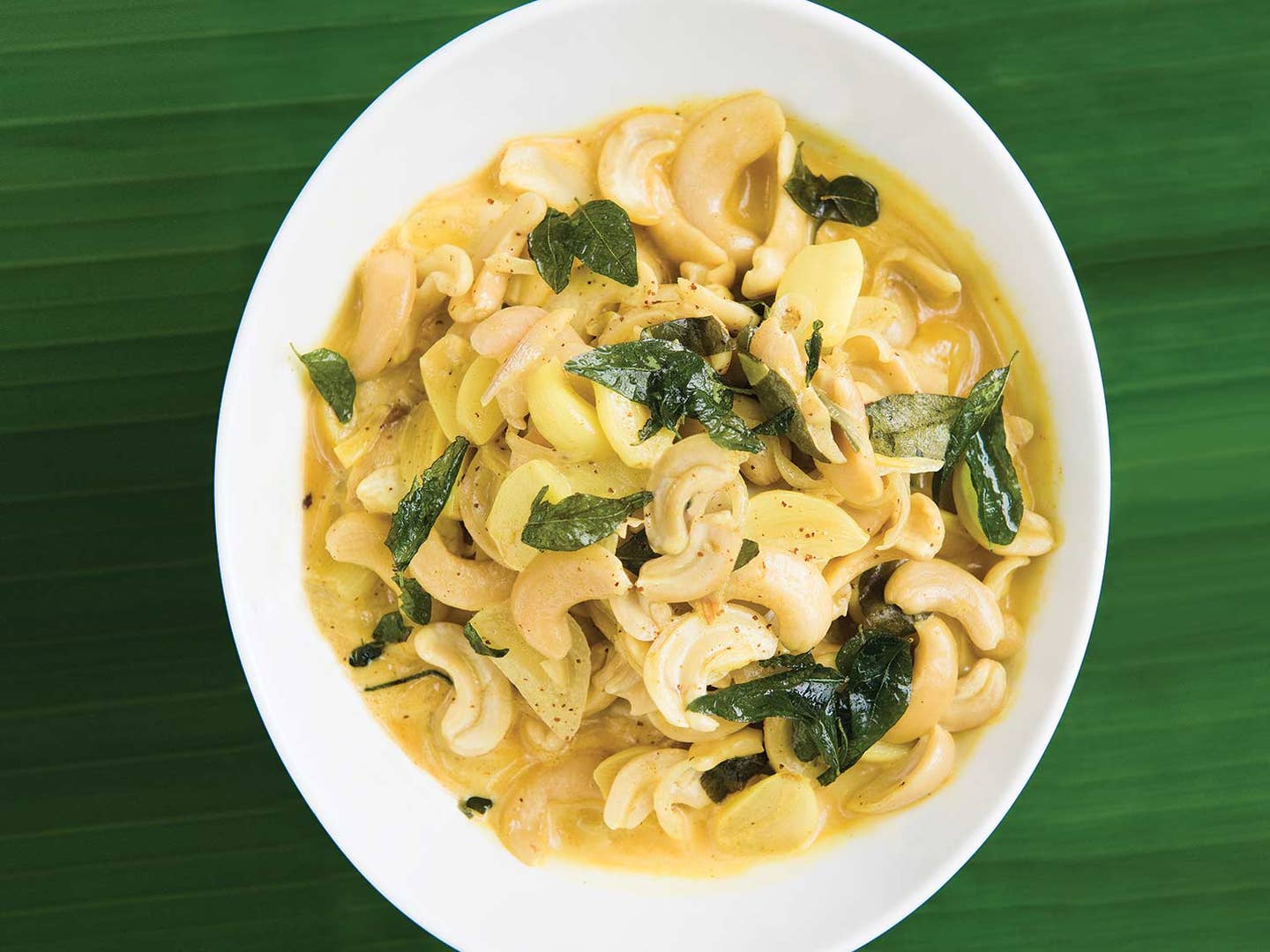 The colonizing Portuguese introduced cashews to Sri Lanka via Brazil in the 16th century. Today, the nuts are eaten in everything from curries to desserts. This rich yellow curry, adapted from chefs Jerome La'Brooy and Nishad Jaya­wardena of Asylum restaurant, is best served as an accompaniment. It can be made mild or spicy, depending on your hand with the chili powder and choice of curry powder. Soaking the cashews ahead of time gives them a tender, beanlike quality in the finished dish.
Ingredients
10 1⁄2 oz. raw unsalted cashews (2 cups plus 2 Tbsp.)
1 1⁄4 tsp. kosher salt, divided, plus more to taste
3 tbsp. coconut oil
1 large red onion, peeled and thinly sliced (2 cups)
2 sprigs fresh curry sprigs (about 16–20 leaves)
1 tbsp. yellow mustard seeds
1 tbsp. hot or mild curry powder
1 tsp. ground turmeric or ¼ oz. finely grated fresh turmeric root
1⁄2 tsp. red chile powder
1 1⁄2 cups coconut milk
Lime wedges, for garnish
Instructions
Step 1
To a large bowl, add the cashews, 1 teaspoon salt, and enough cool water to cover by about 2 inches. Let soak for at least 8 hours or overnight. Drain and set aside.
Step 2
In a large pot, heat the coconut oil over medium-high heat, until shimmering. Add the onion and a pinch of salt and cook, stirring occasionally, until softened and translucent, about 4 minutes. Add the curry leaves and mustard seeds and cook, stirring regularly, until the leaves become translucent and the mustard seeds begin to darken and audibly pop, 3–4 minutes. Stir in the reserved cashews, the curry powder, turmeric, and chile powder, then immediately add the coconut milk and ¼ teaspoon salt. Lower the heat and bring the mixture to a simmer, stirring to make sure everything is well combined. Cover the pan and cook, checking occasionally and adding a bit of water if the mixture is too thick, 20–30 minutes. Taste and adjust the seasoning if necessary, garnish with lime wedges, and serve.