The Malbec that Defies All Your Expectations
The wine that's breathing new life into Argentina's misunderstood national grape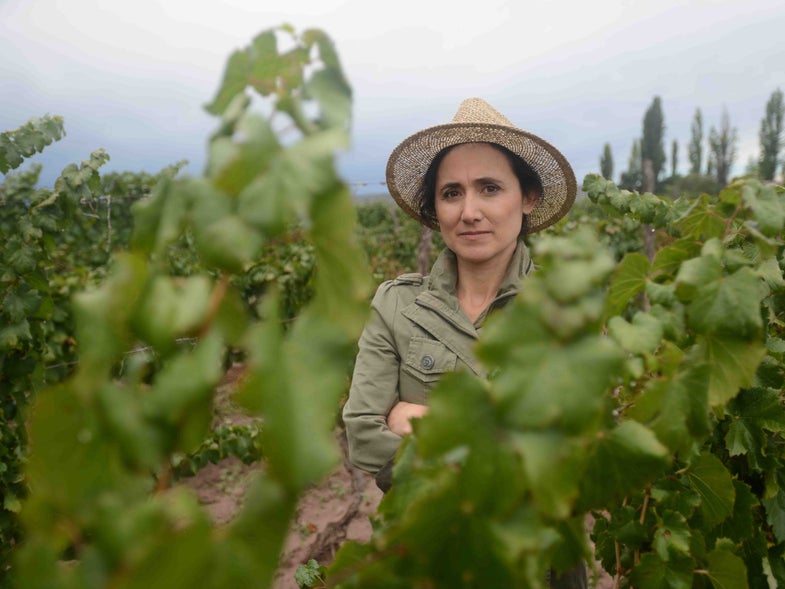 Malbec? Isn't that the charmless red on every by-the-glass happy hour menu? The one that tastes like thick, alcoholic water? Yes, actually. That's what can happen when a grape variety gets popular enough for mass-market consumption: It becomes wine's equivalent to supermarket sushi.
But not this malbec. Pour a glass of Catena Zapata Adrianna Vineyard Malbec 2010 and notice how the light glints off the deep violet. Hold it close and smell the black currants. Now take a sip. "I don't compare it to malbec from anywhere else," says Laura Catena, the managing director of Argentina's Catena Zapata winery. "It's more like northern Rhône. That elegant, minerally red fruit that's so sharp—I think of it as an acute angle. I haven't come across it anywhere else."
Malbec is a French import that was once a primary component of Bordeaux, and its descent into pinot grigio—like insipidness rankles nobody more than the Catenas, the first family of Argentine wine. "I once had a group of young dot-commers tell me that they weren't willing to spend more than twenty dollars on a bottle of malbec, even though they'll spend fortunes on California cabernet," says Catena, who works as an emergency-room doctor in San Francisco when she isn't running the winery in Mendoza. "Not only is malbec our national grape, but it has an extraordinary heritage starting in the 12th century. So, yes, it makes me mad."
The Adrianna would be the kind of wine to change the prevailing snobbish opinion, if only there were more of it. It's sourced from a single vineyard (named after Laura's sister) in Mendoza's Gualtallary district, at an elevation of almost a mile high in the Andes. The soil there is full of limestone, chalk, volcanic gravel, and milk-colored rocks the size of softballs, so drainage is extraordinary. That puts depth, flavor, and an ineffable character into the wine.
Alejandro Vigil, the Catena winemaker, wasn't sure how to handle the site when he first started working it more than a decade ago. Over the years, he has settled on a singular strategy. He harvests the 200-odd parcels in the vineyard gradually, over a month and a half. Then he blends together fruit that's barely achieved ripeness with the full-flavored, potent grapes at the other end of the spectrum. "That way, you have many different pictures," he says. "Not just a single snapshot."