Recipes
Celery Root, Carrot, and Potato Gratin
Simple-yet-satisfying root vegetables, under a blanket of melty cheese.
Serves

serves 8

Cook

1 hour 20 minutes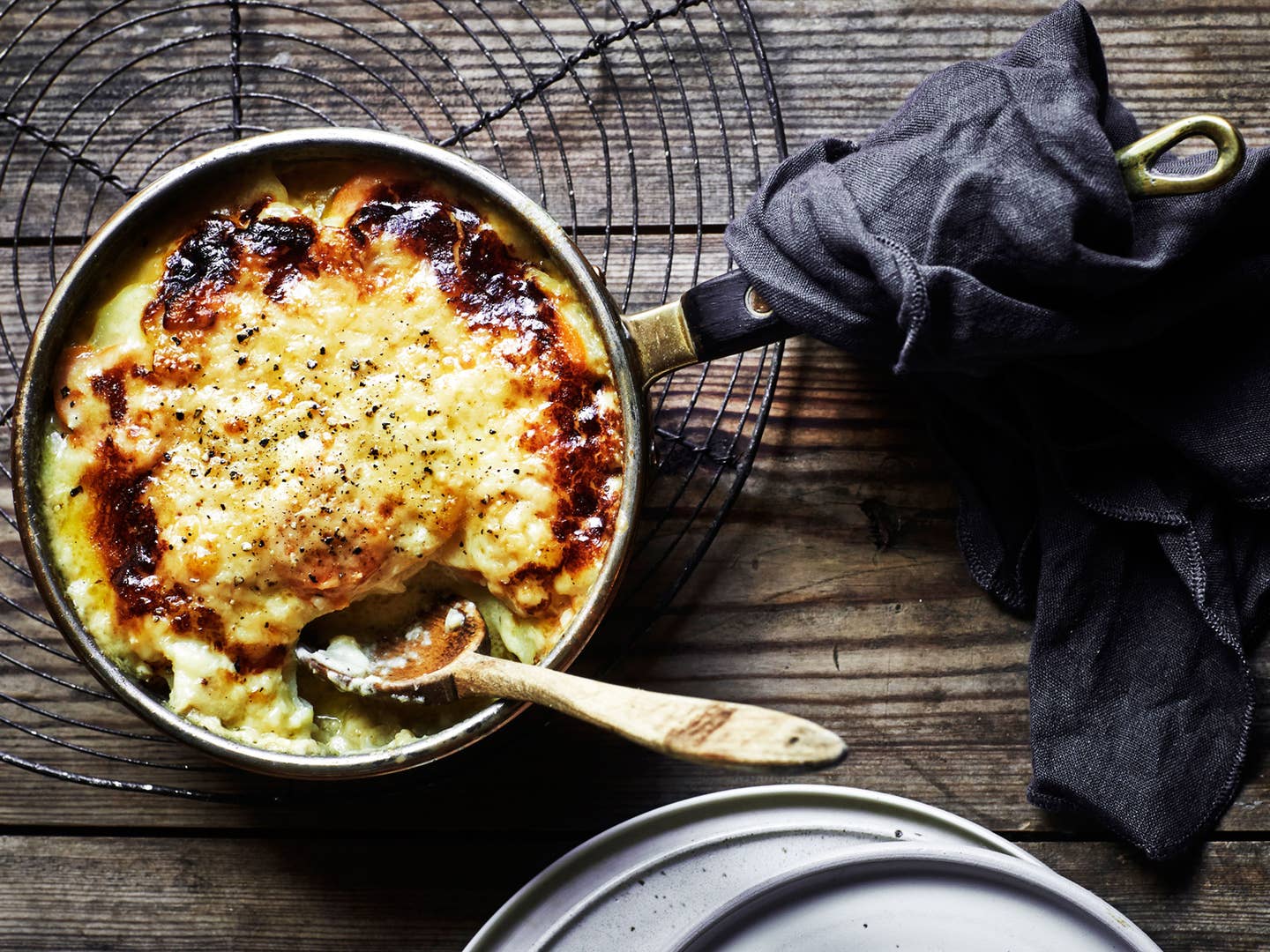 During the winter holidays, Paul Cunningham of Denmark's Henne Kirkeby Kro likes a comforting gratin. This version is simple but satisfying: Root vegetables are seasoned with thyme and fresh bay leaves, and then simmered in cream before getting baked under a layer of bubbling Gruyère and bread crumbs.
Ingredients
5 oz. Gruyère cheese, coarsely grated (1¼ cup)
2 cups plain bread crumbs, preferably homemade
2 cups heavy cream
4 large russet potatoes, peeled and sliced ¼ in. thick
4 large carrots, peeled and sliced into ¼-in.-thick coins
1 small celery root (1 lb.), peeled, halved, and sliced ¼ in. thick
1 large yellow onion, halved and thinly sliced
8 garlic cloves, coarsely chopped
2 tbsp. fresh thyme leaves
8 tbsp. unsalted butter
4 fresh bay leaves
1 tsp. kosher salt, plus more to taste
Freshly ground black pepper
Instructions
Step 1
In a medium bowl, toss the Gruyère and the bread crumbs to combine. Set aside.
Step 2
Position a rack in the center of the oven and preheat to 350°F. To a large Dutch oven over medium-high heat, add the cream, potatoes, carrots, celery root, onion, garlic, thyme, butter, bay leaves, and salt. When the liquid begins to boil, turn the heat to medium-low and cook, stirring occasionally, until the vegetables are tender but not yet breaking apart, about 18 minutes. Stir in additional salt and black pepper to taste.
Step 3
Sprinkle the breadcrumb-cheese mixture over the vegetables and bake until the gratin is bubbling in the center and the top is golden brown, about 30 minutes. Cool the gratin for at least 10 minutes before serving, to firm it up slightly.