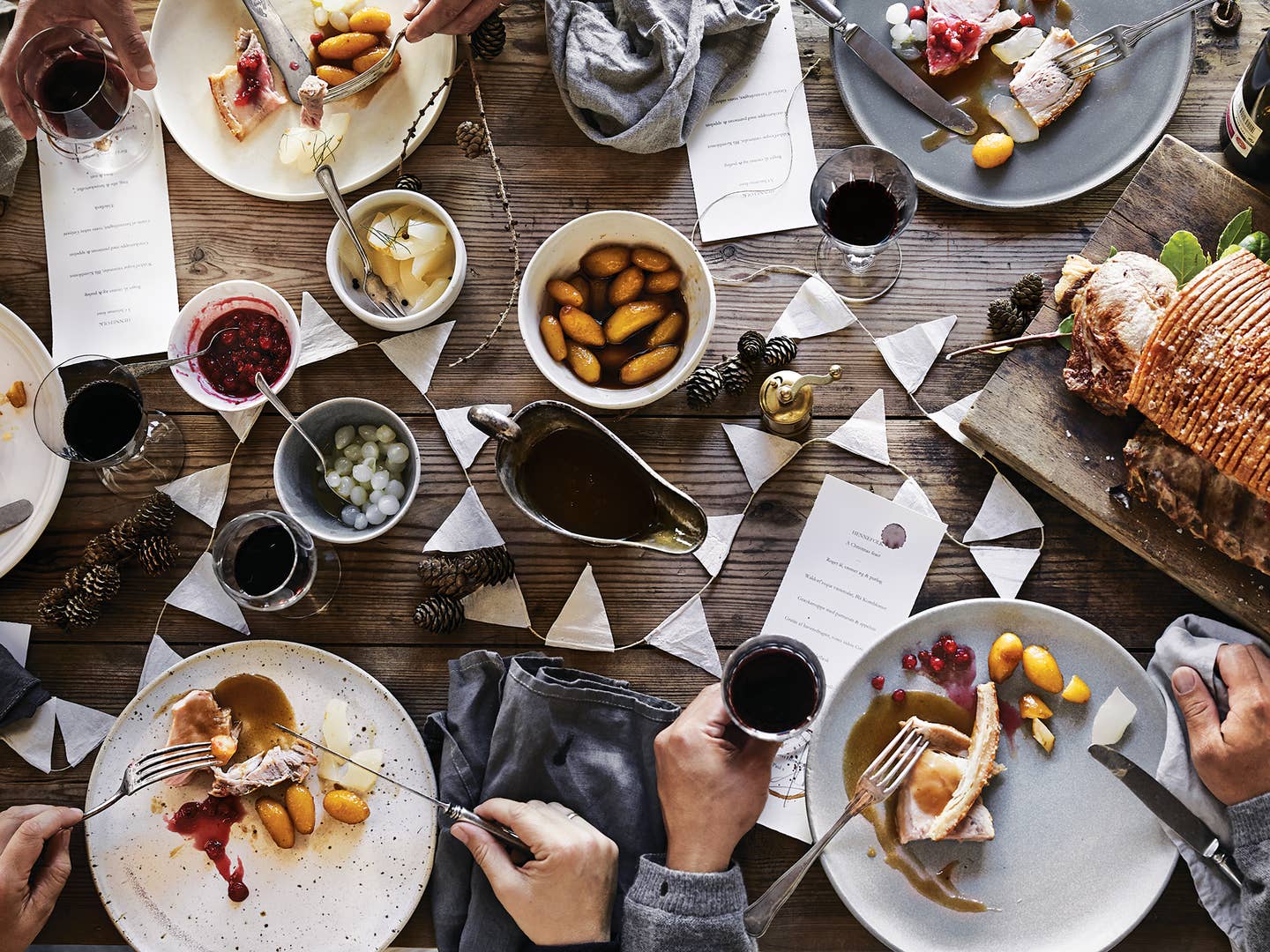 Recipes
An All-Night Danish Christmas Feast
In the snowy wilds of western Denmark, an English chef makes a Christmas meal that lasts until morning
For four years now I've been the chef at Henne Kirkeby Kro, a little thatched inn on Denmark's wild west coast. I'm well and truly besotted with the place. The inn has been quietly lying along the roadside for more than 200 years, nestled within a sleepy hamlet. Years ago there was a school, a merchant, a cobbler, and a church—today I reside in the old cobbler's cottage.
Life is full-on every year from Palm Sunday, when we throw open the doors, until things get rather bleak and we close in December. But I do fire up the stove for one last meal, a traditional Christmas dinner in honor of my glorious Hennefolk—my loyal, hardworking, beautiful staff who tread these boards all season. I love them dearly. Donning their Yuletide glad rags, and setting their hair, they relax and unwind. I look after the food.
We start with a once-a-year treat, wonderful sleek Danish eels, smoked over oak, served buttered and warm alongside creamy scrambled eggs from our farm. Clipped chives cut the richness. A little salad follows. Tiny leaves of baby gem, a creamy blue cheese from the island of Bornholm, hot toasted walnuts, celery, and green grapes provide a nostalgic, almost Waldorf-esque note. I serve it up against a steaming pot of roasted pumpkin and parmesan soup.
Our garden's finest carrots, winter potatoes, and perfumed celeriac are creamed and glazed with the last of our well-aged Gruyère. It's lush indeed. Then beautiful pork follows, from a farm called Grambogård on the Danish island of Fyn. Master Erik is my beloved butcher boy there, my meat-pusher for all of my 21 years in Denmark. Weeks before, I bring home pork that I salt and slowly smoke over oak, turning it into our wonderfully intense Henne bacon. Cut thick, pan-fried, and baked crisp over apples and onions, it's called Æbleflæsk, a classic Danish winter favorite.
I roast a pork loin, on the bone, over bay leaves and onions. The crackling, crisp, light, and extremely moreish, is balanced by sweet-salty butter caramel potatoes and the sharpness of our pickled red currants.
We round off the dinner by demolishing our leftovers from the cheese box and a huge bowl of butter-baked pears with ice-cold cream and lashings of our late summer honey warmed in a copper pan. With loving smiles and groaning full bellies, we dance and wash down the day's gluttony with iced schnapps and cold beers.
And just when they think it is all over, the after-hours hunger pangs begin to set in. There are no takeaway joints around here, no delicious diners or street-food trucks, so I retire once again to the kitchen. I secretly ordered a few little escalopes of veal in order to knock up a few wiener schnitzels if needed. I usually do this as an annual surefire hangover cure on New Year's Day.
My crisp-breaded, butter-fried late-night schnitzels are adorned with sharp, salt-brined anchovies, capers, lemon, and snowflakes of fiery fresh horseradish to spice things up. The party continues until the winter sun rises over our Henne home away from home.
(And the Breakfast Recipes to Soak It Up)