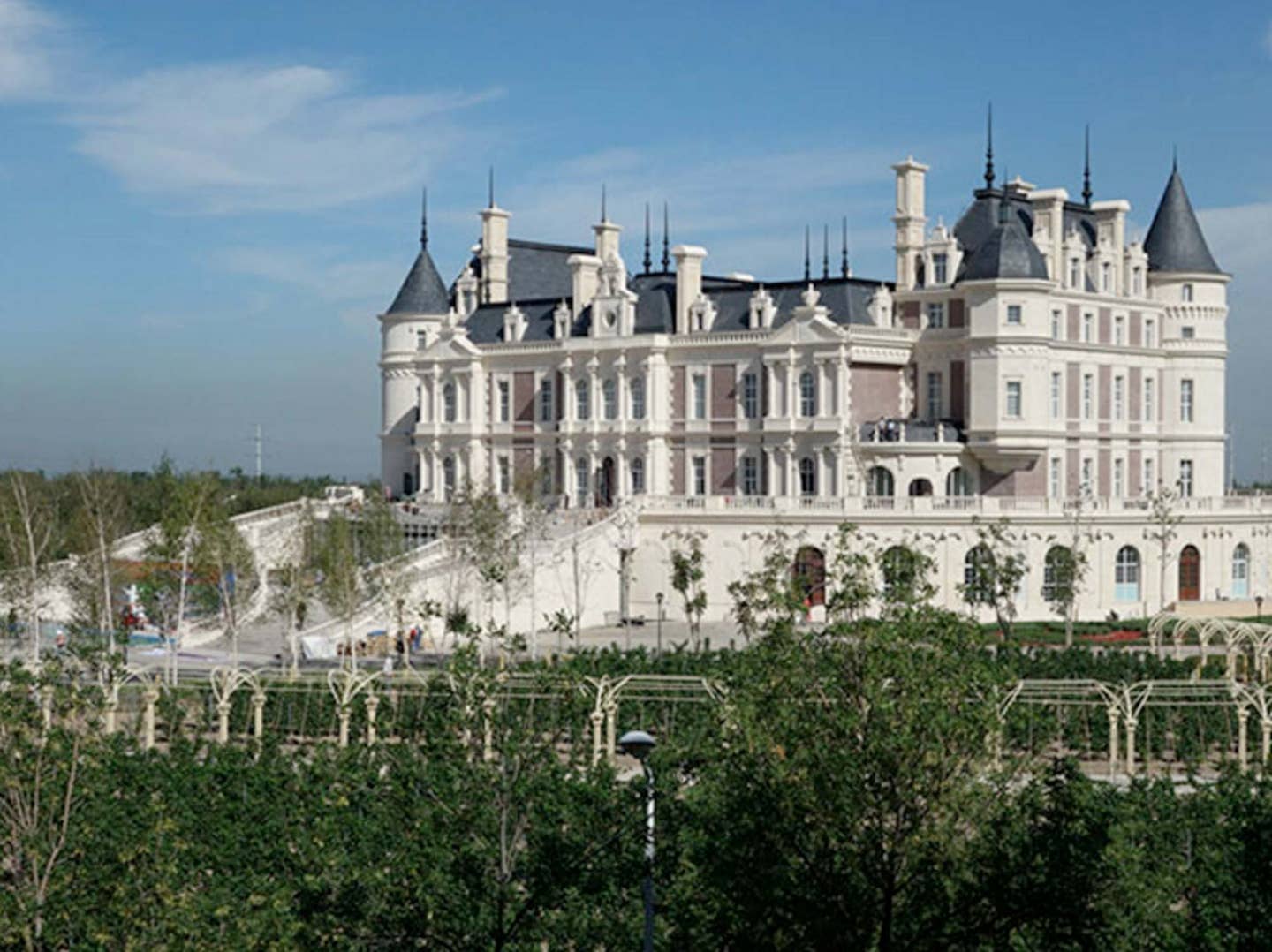 Drinks
China's Largest Wine Producer is Building a Booze-Centric Theme Park
It's part of a network of faux-historic chateaus that are more focused on pinot than princesses
The most renowned wines in the world often get their namesake from the regions they hail from: think Bordeaux, Chianti, and Champagne. So it's strange that we haven't heard of any Shandong. As Bloomberg reports, the Chinese province will soon be home to "Wine City," a sprawling, 1000-acre theme park of mock chateaux dedicated to the production of Chinese wine and brandy.
Nestled in the resort city of Yantai, Wine City is the brainchild of Changyu, the oldest winery in China, founded in 1892. It's hardly the first of the company's forays into European-style castles and wine—Changyu boasts an expansive network of wine-producing estates spanning the country from Xinjiang to Xi'An. But at $870 million, it's certainly the most ambitious to date.
Kitschy architecture aside, Changyu is leading the pack when it comes to improving the reputation (and quality) of Chinese wine. Enlisting the help of Italian winemaker and Disaronno exporter Augusto Reina, the producer has implemented cross-cultural exchange programs with Italian winemakers to trade tips and practices on every aspect of the process, from the viniculture to the state-of-the-art machinery. For his part, Reina gets equity stake, his own "chateau," and a bronze statue of himself.
At Wine City, there's already one completed chateau on the premises, with more buildings under construction and new structures set to break ground in the coming years. Changyu's website boasts that the winery at Yantai will be the largest single wine and brandy making factory in the world. Though they could be home to a slew of Disney characters, the castles are actually cleverly-disguised tourist attractions that will allow visitors to stroll through production facilities, immerse themselves in interactive wine displays, and of course, taste some of the goods. But the question remains: Will anybody show up?
Theoretically, Wine City could not have come at a more opportune time for China, the country that, according to Reuters, became the world's largest consumer of red wine in 2013 (white, associated with death and mourning, is not nearly as popular). And it's not just importing it either: last year, China became the world's second largest wine grower by area under cultivation, knocking France down to the number two spot. So it would seem like building a massive city overflowing in wine, on the basis of expected tourism, would be a smart investment.
But let's not forget: China is no stranger to failed investments in grand infrastructure projects. According to Wired, over the last 30 years, China has built hundreds of new cities in an attempt to convert some 250 million rural citizens into urban living—half-baked ventures that have resulted in a gaggle of uncompleted towns like Ordos Kangbashi, a city designed to be a mecca of politics, tourism, and the arts that long stood empty. Even on a smaller scale, the Asian superpower is notorious for erecting theme parks and shopping malls without sufficient demand: take a look at Thames Town, an imitation English town in Shanghai full of empty shops and roads, or the most notorious, the Disney-esque Wonderland, an abandoned theme park north of Beijing that once promised to be Asia's largest amusement park.
Luckily, there's some more hard data on the substantial appeal of wine among Chinese consumers and foreigners alike. So while you shouldn't book your plane tickets just yet, take note: Wine City could combine everything great about wine and Disney World.