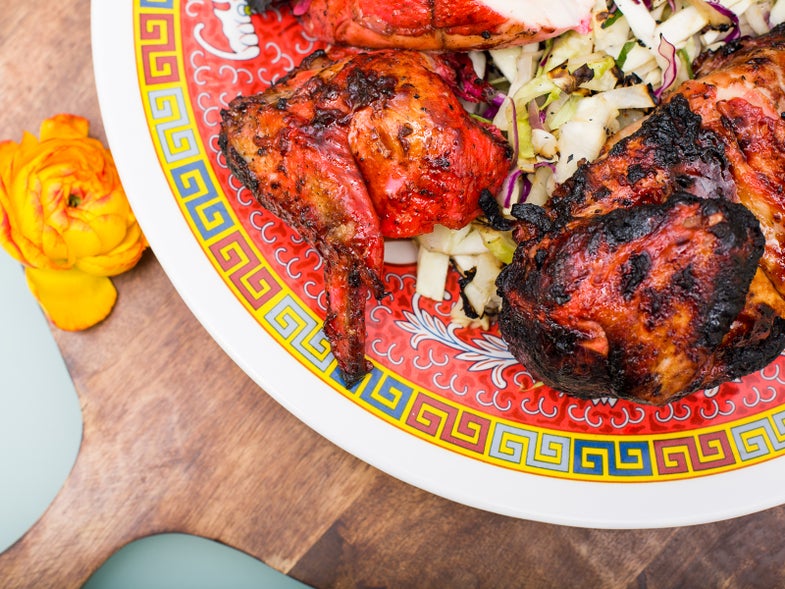 Char siu (meaning "fork roast") is typical in Chinese cuisine and normally gets its red hue from food coloring. In this rendition, beet powder, a natural alternative, lends the bright red color and adds a little sweetness. Cooking note: Allow 2 days for marinating.
Char Siu Chicken
Chinese barbecue, or char siu usually gets it's trademark hue from red food coloring; here beet powder is used as a natural alternative.
Time: 25 minutes
Ingredients
1⁄4 cup brown sugar
1⁄4 cup honey
1⁄4 cup ketchup
1⁄4 cup soy sauce
3 tbsp. homemade or store-bought beet powder
2 tbsp. rice vinegar
1 tbsp. hoisin sauce
1⁄2 tsp. Chinese five-spice powder
1 (4-lb.) chicken, halved lengthwise, backbone discarded
2 tbsp. canola oil
Kosher salt and freshly ground black pepper, to taste
Instructions
Mix sugar, honey, ketchup, soy sauce, beet powder, vinegar, hoisin, and Chinese five spice in a bowl. Toss marinade with chicken, cover, and refrigerate for 2 days.
Build a medium-heat fire in a charcoal grill, or heat a gas grill to medium. (Alternatively, heat a cast-iron grill pan over medium.) Remove chicken from marinade, rub with oil, and season with salt and pepper; grill skin-side down, turning once, until charred and cooked through, about 30–35 minutes, or until an instant-read thermometer inserted into thickest part of the thigh reads 165°. Transfer chicken to a cutting board and let rest 15 minutes before carving.