Make These Hot Cocktails to Drink Away the Cold
Five Chicago bartenders share their Windy City survival drinks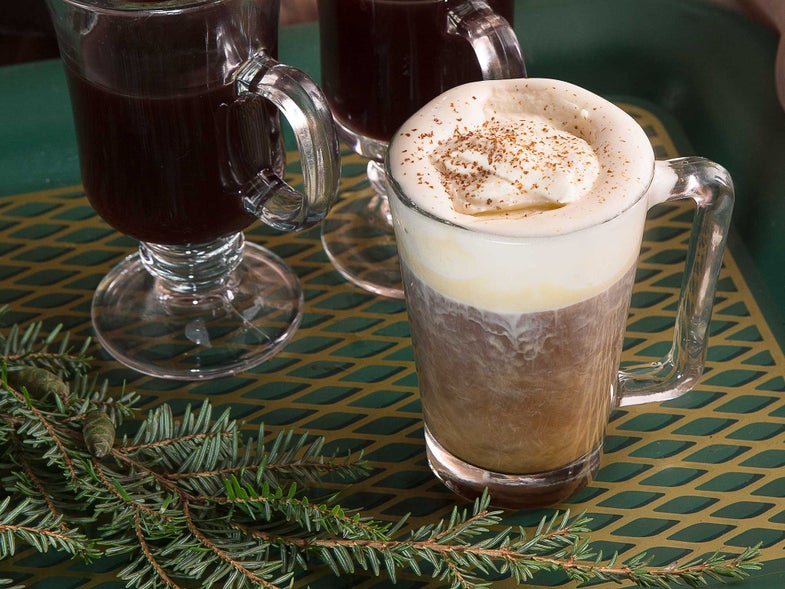 Winter in the Windy City is serious stuff. "A few years ago I had to work during a blizzard," says Rachael Thompson who makes drinks at the Violet Hour, the standard-bearing craft cocktail bar in Chicago's West Town. "It was so windy and the snow was so deep, I thought I was going to die and no one would find me until spring. But people still came to the bar—one of our customers arrived on cross-country skis." In Chicago, that kind of commitment to going out to get a proper drink no matter what is not misplaced. The harsher-than-average winter weather—sub-zero temperatures, snow, ice, and of course, wind—are not just challenges: They are the annual harbingers of the city's perfected, cozy hot cocktails.
"You'd be hard pressed to find a Chicago bartender who doesn't think hot cocktails are a winter essential," says Billy Sunday's Alex Bachman, who keeps a couple of samovars, boiling-water urns, going at his Logan Square bar. When the cold weather hits, he makes a beautifully balanced gløgg, a hot spiced wine, called Last of the Ancient Breed: a mix of Jamaican and St. Lucian rums with a dry red wine reduction flavored with quince, chamomile, and bitter cacao nibs to balance the fruitiness. The "spiced" part of his spiced wine doesn't come from any additions—the rums themselves add the kick of flavor.
Over at Henry's in River North, Drew Hamm puts a Caribbean spin on the Irish coffee with the Bearweather, made with both Jameson Irish whiskey and Flor de Cana 7-year rum, as well as a cinnamon syrup. And whether she is blizzard-bound or not, Thompson serves the Crescent City Tom & Jerry at the Violet Hour—a riff on the hot eggnog-like classic. She perks up the traditional rich base of egg batter and cognac with two New Orleans favorites: the anise-y liqueur Herbsaint and a coffee-chicory syrup, a nod to the coffee at Café du Monde.
The key to hot cocktails is to make sure they're actually hot-hot. "There's nothing worse than a lukewarm drink," says Robby Haynes of Analogue. "They need to come out piping." He gives mulled apple cider some extra kick with spicy Old Overholt rye whiskey and a zippy demerara syrup accented with vanilla bean, cardamom, and blade mace. "Everyone's first order is a hot cocktail after coming in from the cold. You've been blown down the sidewalk and your hands are freezing. You sit down, sip it slowly, and thaw out."
Get the recipe for Last of the Ancient Breed »
Get the recipe for Irish Coffee Riff »
Get the recipe for Cabin Fever »
Get the recipe for Hot & Heavy Grog »
Get the recipe for Crescent City Tom & Jerry »