Chicken with Cauliflower and Leeks in Red Wine Sauce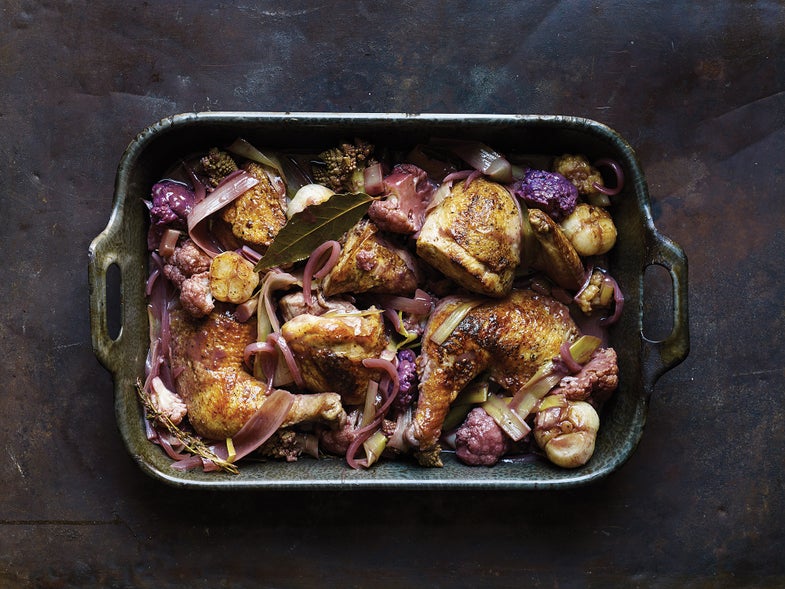 Faster than coq au vin but arguably more flavorful, this twist on the French original—adapted from chef Antoine Westermann's recipe—features sweet roasted garlic, bronzed chicken, and a glossy, aromatic red wine sauce.
Featured in: How the Chicken Became Our National Bird
Chicken with Cauliflower and Leeks in Red Wine Sauce
Pan-roasting—as opposed to slow-braising—renders the chicken skin golden and the meat tender and juicy for this dish with riesling cream sauce, chanterelles, and Swiss chard.
Time: 1 hour, 20 minutes
Ingredients
2 tbsp. unsalted butter
4 very small garlic heads, tops trimmed off
One 5-lb. chicken, cut into 6 or 8 pieces
Kosher salt
Freshly ground black pepper, plus 1 Tbsp. whole black peppercorns
3 tbsp. extra-virgin olive oil
2 tbsp. all-purpose flour
4 1⁄4 cups chicken stock, preferably homemade
4 1⁄4 cups côtes du rhône, or another dry red wine
2 fresh thyme sprigs, plus more for garnish
1 whole clove
1 bay leaf
1 celery stalk, diced
4 cups small (1-inch) cauliflower florets, preferably a mix of colors
1 small yellow onion, halved and thinly sliced
1 medium leek, halved lengthwise, rinsed, and cut into four long pieces
Instructions
Preheat the oven to 350°. In a small ovenproof skillet, melt 1 tablespoon butter. Once bubbling, add the garlic cut side down. Cook, turning occasionally, until browned, about 4 minutes. Transfer the skillet to the oven; cook until tender, about 25 minutes. Set aside (but do not turn off the oven).
Meanwhile, season the chicken generously all over with salt and freshly ground black pepper. Add the olive oil to a large cocotte or Dutch oven over medium-high heat. Once hot, add the chicken skin side down (work in batches as needed to avoid crowding); cook until golden brown, 8 to 10 minutes. Turn and cook 5 minutes on the remaining side.
Remove the chicken to a small baking sheet, and discard all but 1 tablespoon fat from the cocotte. Transfer the chicken to the oven and roast until a thermometer inserted into the center of the thickest piece reads 155°, about 15 minutes.
Heat the reserved fat in the cocotte over medium heat. Add 1 tablespoon flour and cook, whisking constantly, until golden-brown, about 2 minutes. Whisk in the chicken stock, scraping up any browned bits from the bottom of the pot. Add the wine, 2 thyme sprigs, the clove, bay leaf, black peppercorns, celery, cauliflower, and yellow onion; season with salt. Bring to a boil, then reduce to a simmer and cook 10 minutes. Add the leek and cook until tender, about 5 minutes.
Remove the vegetables with a slotted spoon and transfer to a platter; keep warm. In a small bowl, mash together the remaining 1 tablespoon each flour and butter with your fingers, then whisk them into the sauce. Bring to a rapid boil and cook until the sauce has reduced and is thick enough to coat the back of a spoon, about 15 minutes. Taste and adjust the seasoning as needed.
Return the vegetables to the cocotte. Place the chicken in the center or nestled throughout. Garnish with the garlic heads and more fresh thyme. Serve immediately.