Recipes
Chicken with Cauliflower and Leeks in Red Wine Sauce
Serves

serves 4

Cook

1 hour 20 minutes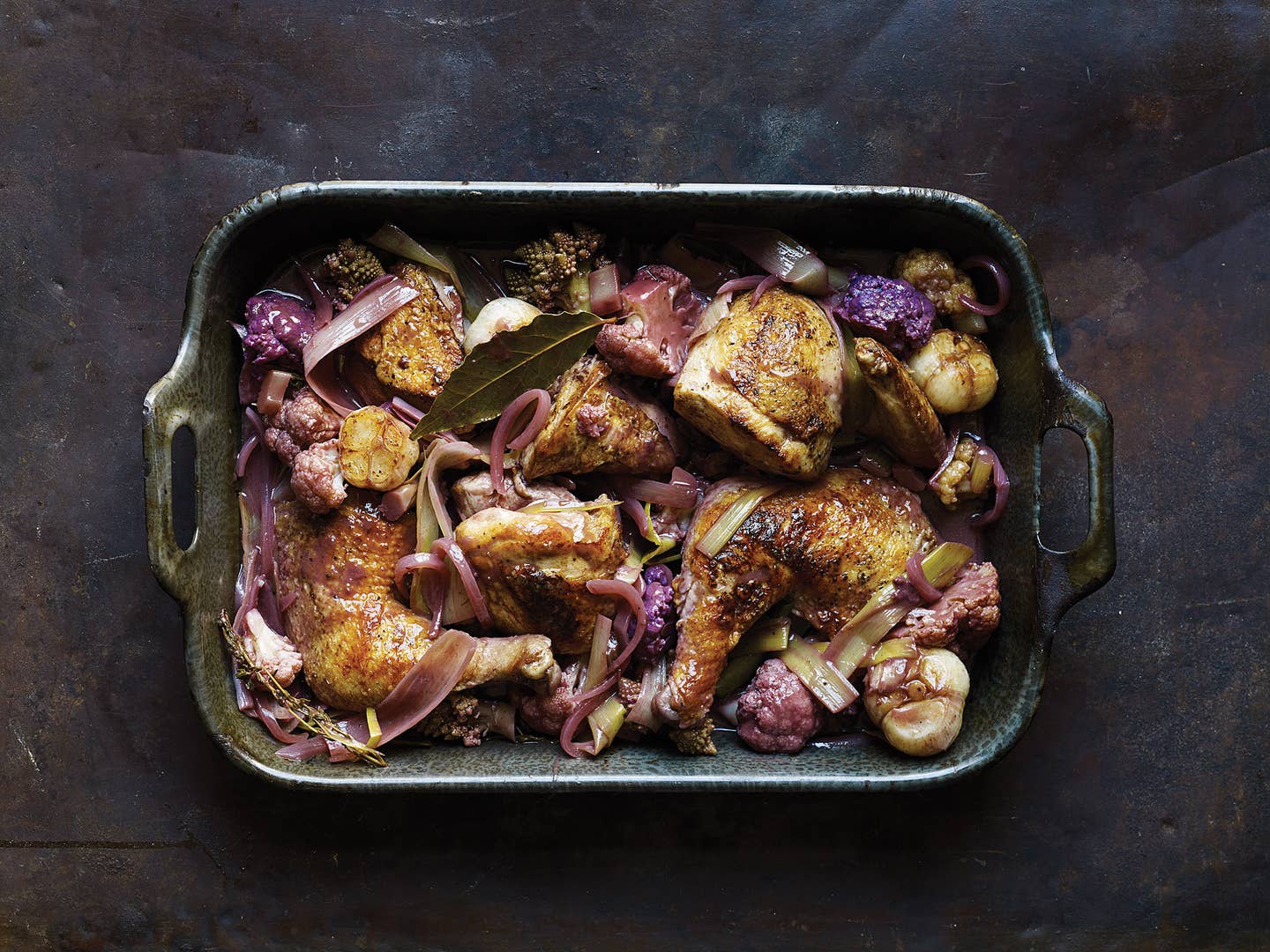 Faster than coq au vin but arguably more flavorful, this twist on the French original—adapted from chef Antoine Westermann's recipe—features sweet roasted garlic, bronzed chicken, and a glossy, aromatic red wine sauce.
Ingredients
2 tbsp. unsalted butter
4 very small garlic heads, tops trimmed off
One 5-lb. chicken, cut into 6 or 8 pieces
Kosher salt
Freshly ground black pepper, plus 1 Tbsp. whole black peppercorns
3 tbsp. extra-virgin olive oil
2 tbsp. all-purpose flour
4 1⁄4 cups chicken stock, preferably homemade
4 1⁄4 cups côtes du rhône, or another dry red wine
2 fresh thyme sprigs, plus more for garnish
1 whole clove
1 bay leaf
1 celery stalk, diced
4 cups small (1-inch) cauliflower florets, preferably a mix of colors
1 small yellow onion, halved and thinly sliced
1 medium leek, halved lengthwise, rinsed, and cut into four long pieces
Instructions
Step 1
Preheat the oven to 350°. In a small ovenproof skillet, melt 1 tablespoon butter. Once bubbling, add the garlic cut side down. Cook, turning occasionally, until browned, about 4 minutes. Transfer the skillet to the oven; cook until tender, about 25 minutes. Set aside (but do not turn off the oven).
Step 2
Meanwhile, season the chicken generously all over with salt and freshly ground black pepper. Add the olive oil to a large cocotte or Dutch oven over medium-high heat. Once hot, add the chicken skin side down (work in batches as needed to avoid crowding); cook until golden brown, 8 to 10 minutes. Turn and cook 5 minutes on the remaining side.
Step 3
Remove the chicken to a small baking sheet, and discard all but 1 tablespoon fat from the cocotte. Transfer the chicken to the oven and roast until a thermometer inserted into the center of the thickest piece reads 155°, about 15 minutes.
Step 4
Heat the reserved fat in the cocotte over medium heat. Add 1 tablespoon flour and cook, whisking constantly, until golden-brown, about 2 minutes. Whisk in the chicken stock, scraping up any browned bits from the bottom of the pot. Add the wine, 2 thyme sprigs, the clove, bay leaf, black peppercorns, celery, cauliflower, and yellow onion; season with salt. Bring to a boil, then reduce to a simmer and cook 10 minutes. Add the leek and cook until tender, about 5 minutes.
Step 5
Remove the vegetables with a slotted spoon and transfer to a platter; keep warm. In a small bowl, mash together the remaining 1 tablespoon each flour and butter with your fingers, then whisk them into the sauce. Bring to a rapid boil and cook until the sauce has reduced and is thick enough to coat the back of a spoon, about 15 minutes. Taste and adjust the seasoning as needed.
Step 6
Return the vegetables to the cocotte. Place the chicken in the center or nestled throughout. Garnish with the garlic heads and more fresh thyme. Serve immediately.