Valencian Chicken and Rabbit Paella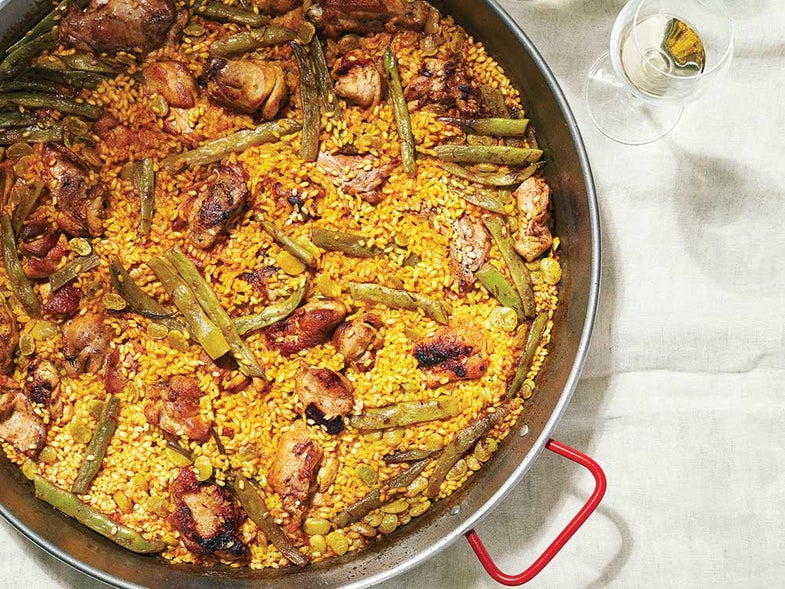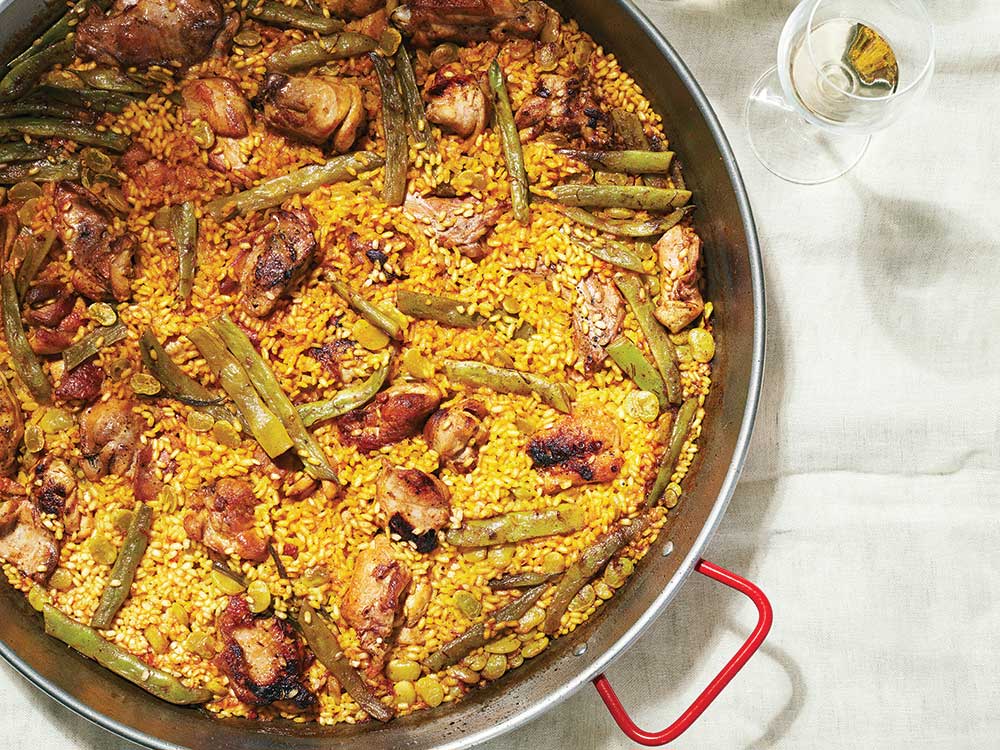 Born among the orchards, gardens, and groves around Valencia, the original paella draws on ingredients from the fields rather than the sea. Rabbit, chicken, and a few types of local beans form the heart of this rustic dish. Searing them in the pan, then simmering the meat and bones for 20 minutes before adding the rice, fortifies the stock for a more intensely flavored paella.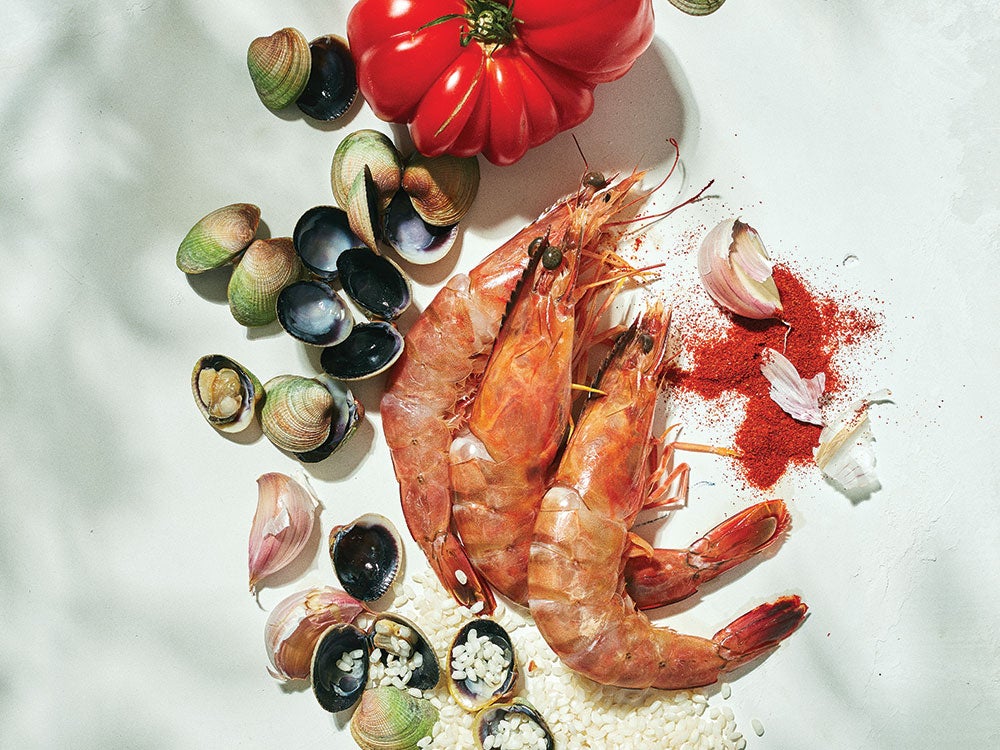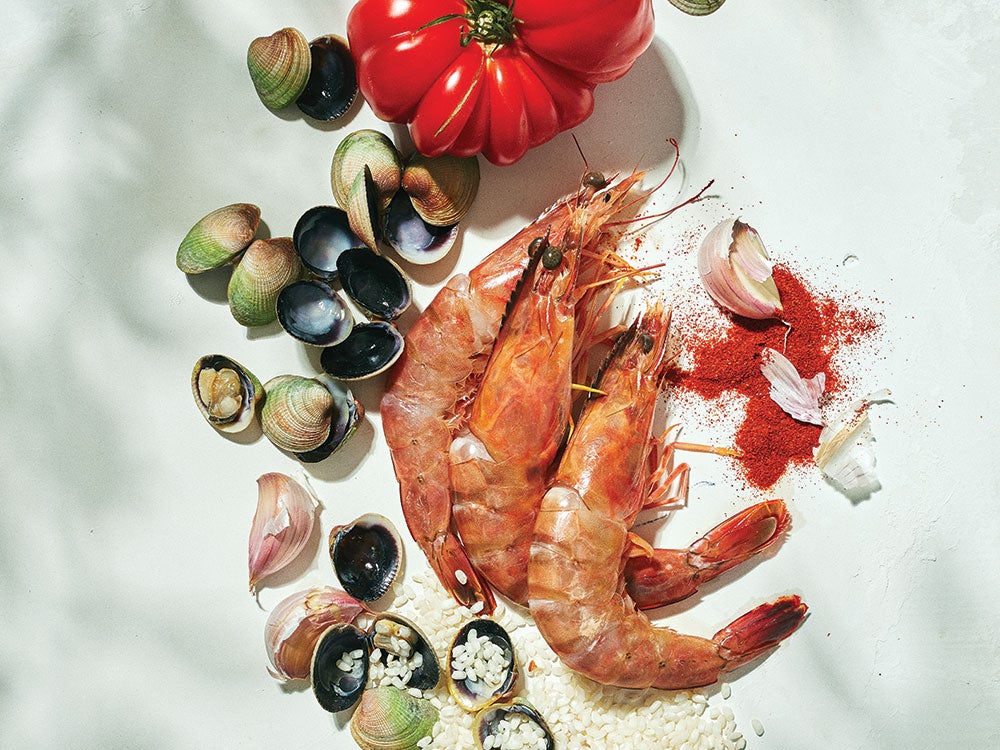 Your complete guide to mastering the Spanish essential and scoring perfect soccarat
Featured in: How to Make the Ultimate Paella
Paella Valenciana (Rabbit and Chicken Paella from Valencia)
The original paellas, like this one, draw from ingredients in the fields rather than the sea.
Time: 1 hour, 15 minutes
Ingredients
1 generous pinch saffron threads (loosely packed ¼ tsp.)
1 lb. bone-in chicken thighs and legs, most but not all of the skin removed, meat cut into 2- to 3-inch pieces
1 lb. cleaned rabbit on the bone, cut into 2- to 3-inch pieces
2 tsp. kosher salt
4 1⁄2 cups chicken stock
3 tbsp. extra-virgin olive oil
1⁄2 lb. flat green beans, trimmed and cut into 2- to 3-inch pieces
2 ripe medium tomatoes, seeded then grated on a box grater
1 garlic clove, minced
1 tsp. Spanish pimentón dulce (sweet paprika)
1⁄2 lb. shucked mature lima beans, fresh or frozen and thawed (about 2 cups)
1 fresh rosemary sprig
2 cups bomba rice or another short- or medium-grain Spanish rice
Instructions
In a small dry skillet, add the saffron over medium-high heat. Cook, shaking the pan occasionally, until the strands are brittle and darken slightly, 3–4 minutes. Remove to a small bowl and grind the saffron between fingers. Set aside.
Season the chicken and rabbit with 1 teaspoon salt. Combine the chicken stock with 4 cups water and set the meat and the stock mixture separately next to the stove.
In a 17- to 18-inch paella pan, heat the oil over medium-high heat. Once hot, add the chicken and rabbit pieces and cook, turning the pieces and rotating the pan as needed over the heat source, until the meat is deeply browned on all sides, about 15 minutes. Lower the heat to medium and add the green beans. Cook, stirring and turning the beans occasionally, until lightly browned, about 3 minutes. Add the tomato and garlic and cook, stirring frequently, 5 minutes. Stir in the pimentón, then immediately pour in the stock mixture. Add the lima beans and saffron.
Raise the heat to medium-high and bring the liquid to a boil; reduce to a gentle boil and let cook, rotating the pan occasionally over the heat source as needed, for 20 minutes. Taste the liquid and add up to 1 tsp. salt if needed. Return the heat to high and bring the liquid back to a strong boil. Add the rosemary sprig, then sprinkle the rice around the pan. Using a wooden spoon, make sure the rice is evenly distributed and all the grains are submerged (this should be the last time you stir the paella); cook for 10 minutes over high heat. Remove and discard the rosemary sprig. Lower the heat to low and simmer gently, rotating the pan over the heat source as needed, until the liquid is absorbed and the rice grains are just tender but still have an al dente bite to them, 10–15 minutes. (If all of the liquid has evaporated and the rice is still not done, drizzle some additional stock or water over the rice where needed and continue cooking for a few minutes more.) If needed, to develop soccarat, turn the heat back up to medium and cook, watching and smelling closely for burning, until the rice at the bottom of the pan browns and crisps slightly, 1–2 minutes. Remove from the heat.
Let the rice rest for 5 minutes before serving to allow the starches to firm up slightly. (If the top layer of rice seems a tad too firm, cover the pan with a few paper towels or a clean kitchen towel while it rests.)