Recipes
Pasta and Chickpea Soup
Feed a crowd with Jamie Oliver's simple and soothing pasta e ceci riff.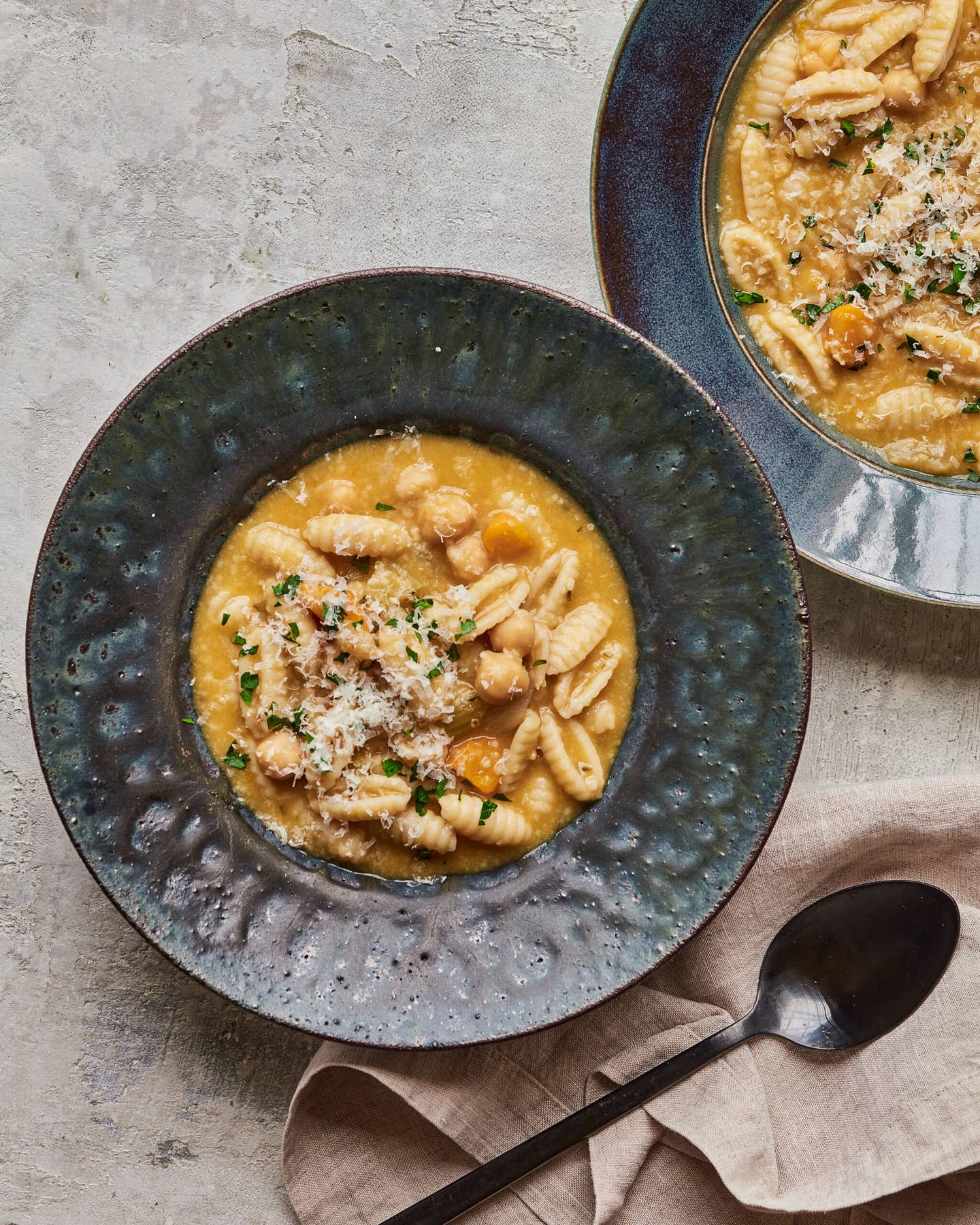 Food writer and chef Farideh Sadeghin started cooking in college, when she collected all of Jamie Oliver's cookbooks and often had friends over for entire meals based on the British chef's recipes. This soup, which she adapted from a pasta e ceci recipe in Jamie's Italy, is a meal in and of itself, full of lots of vegetables, chickpeas, and pasta. As the soup cooks, its ingredients absorb lots of the cooking liquid, transforming the dish into a thick and comforting stew. Feel free to thin with a bit of extra stock when reheating leftovers.
Ingredients
3 Tbsp. olive oil
2 stalks celery, coarsely chopped
1 carrot, coarsely chopped
1 small yellow onion, coarsely chopped
3 sprigs rosemary, finely chopped
6 cups vegetable stock
One 15-oz. can chickpeas, drained and rinsed
8 oz. cavatelli
Kosher salt and freshly ground black pepper
2 Tbsp. finely chopped parsley
Parmesan cheese, for serving
Instructions
Step 1
To a large pot set over medium-high heat, add the oil; when the oil is hot, add the celery, carrot, onion, and rosemary and cook, stirring occasionally, until the vegetables are softened, 8–10 minutes. Add the stock and chickpeas, bring to a simmer, and cook for 5 minutes. Using a slotted spoon or spider skimmer, transfer about half of the chickpea-vegetable mixture to a blender or food processor and puree until smooth. Return the puree to the pan, then add the cavatelli and continue cooking until the pasta is al dente, about 10 minutes. Season to taste with additional salt and pepper as needed, stir in the parsley, and garnish with parmesan cheese.