Recipes
Dusty Bliss Chocolate-Espresso Cookies
Serves

makes About 3 dozen cookies

Cook

1 hour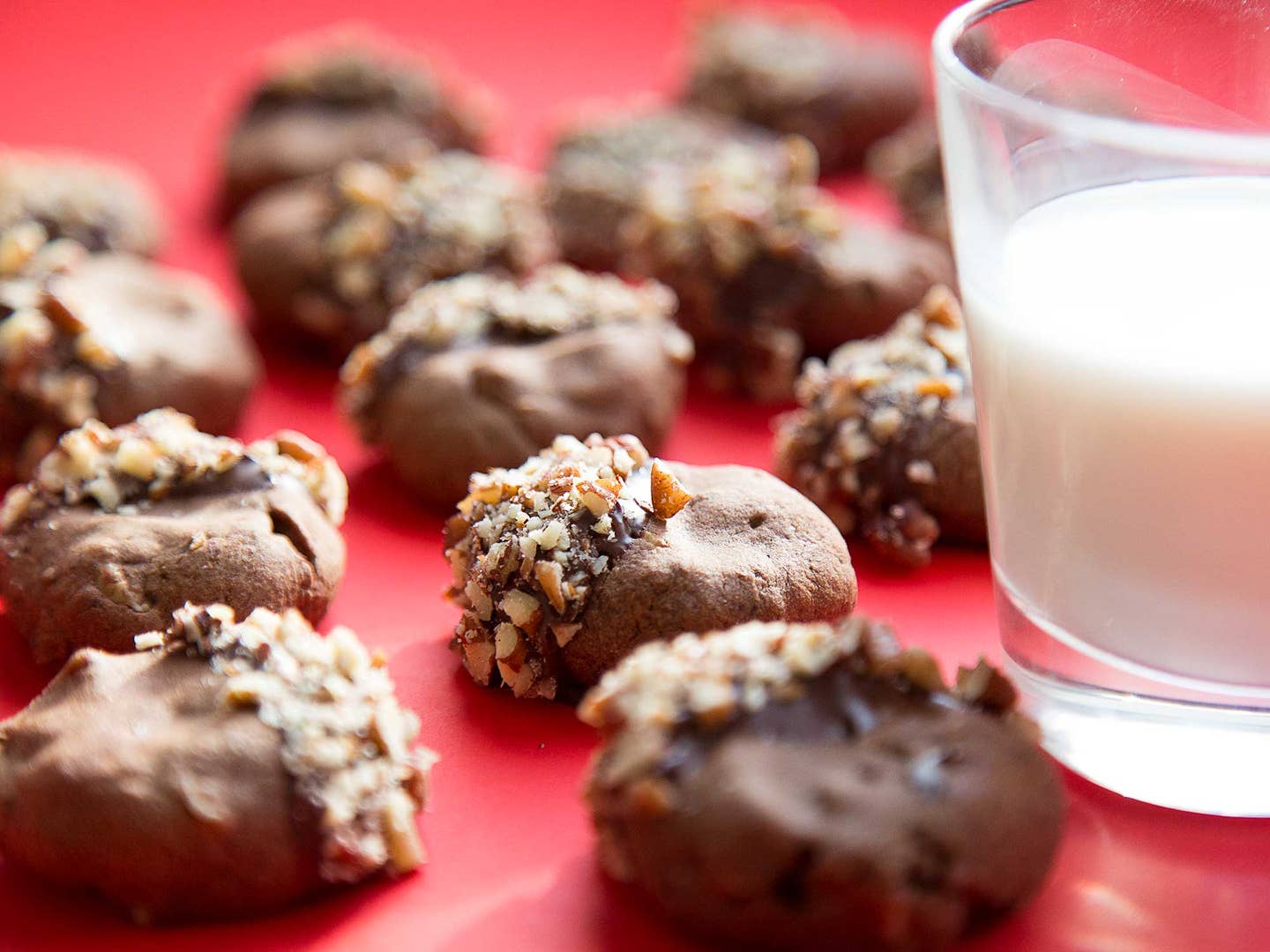 A sandy, melt-in-your mouth chocolate cookie with a coffee kick—and a dip in more chocolate for good measure.
Ingredients
3⁄4 cup sifted confectioners' sugar
1⁄4 cup instant espresso
12 tbsp. unsalted butter, softened
1 large egg
3 oz. bittersweet chocolate, melted
1 tsp. vanilla extract
2 cups (9 oz.) all-purpose flour
1 2⁄3 cups finely chopped pecans, divided
6 oz. semisweet chocolate, melted
Instructions
Step 1
Heat the oven to 375°. In a large bowl, beat the sugar with the espresso powder and butter on medium speed of a hand mixer until fluffy, about 3 minutes. Add the egg, beating well until smooth, then beat in the bittersweet chocolate and vanilla. Add the flour and beat on low speed until the dough just comes together, then stir in 1 cup pecans.
Step 2
Pinch off pieces of dough and roll into 1 1⁄2-inch balls then place on a parchment paper-lined baking sheet, spaced 2 inches apart. Press each cookie gently with the palm of your hand to flatten, then bake until set, about 10 minutes. Transfer the cookies to a rack and let cool completely.
Step 3
Pour the melted semisweet chocolate into a bowl. Dip each cookie halfway into the chocolate then dredge in the remaining 2⁄3 cup pecans. Transfer the dipped cookies to a sheet of parchment paper and let the melted chocolate set before serving.