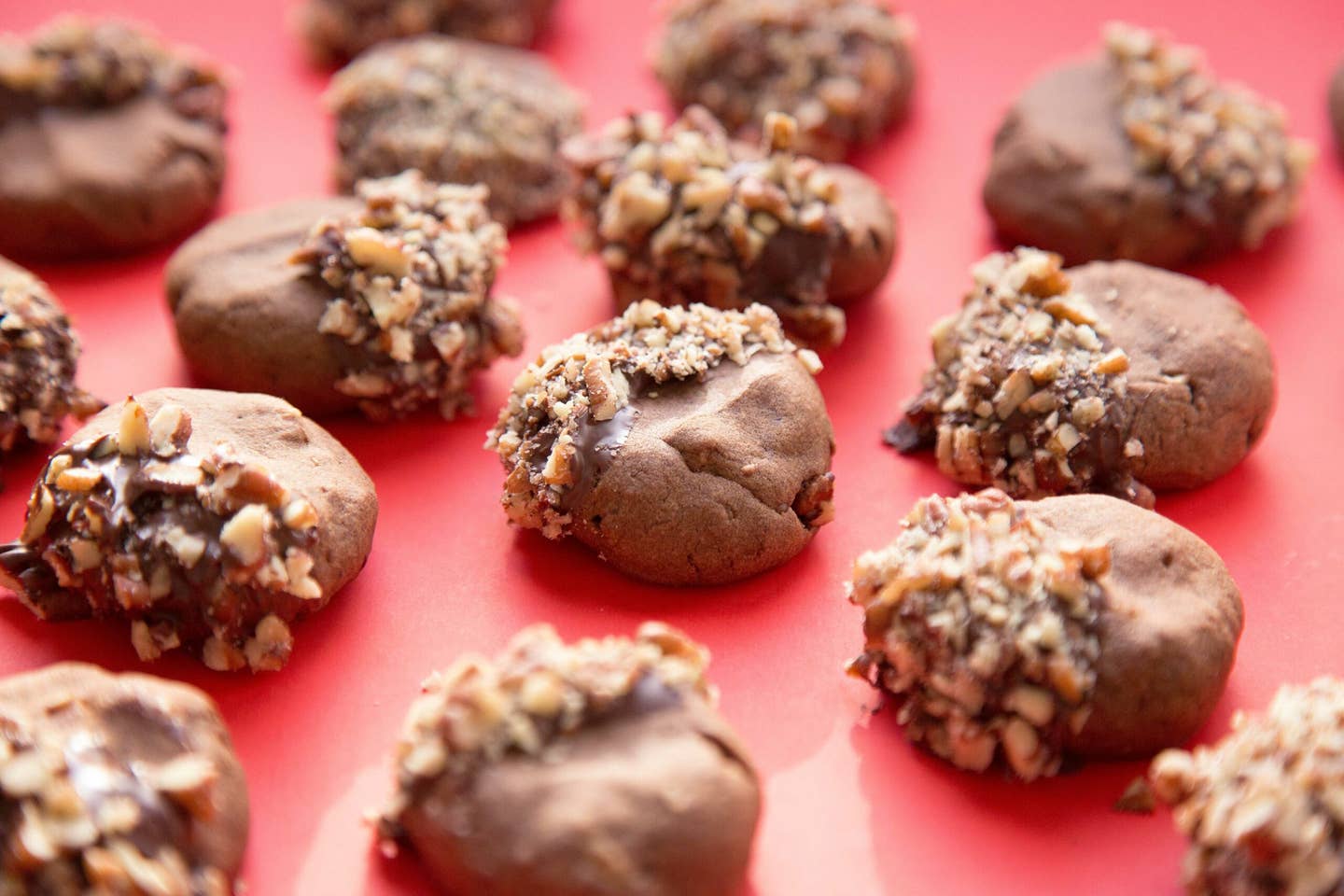 Recipes
Winter Survival Rations: Chocolate-Espresso Cookies
Copy chief Jacob Muselmann waxes rhapsodic on the perfect cold-weather pick-me-up
I know you'll be shocked, but I still have those holiday cookies around and right now I'm elbow-deep in them. How else to cope with mid-January, with all its runny noses, fading resolutions, and ugly, affordable coats?
Among the usual suspects are my favorite, the Dusty Bliss. Do you remember that Christmas, a few years ago, when you introduced them as "Mochachinos"? We all know that I would never say a word like that. What is my life, a '90s Friends episode? (If anything I was probably cast as Phoebe but turned down the role.)
But I swear, Ma, they were dubbed in love—those dots of espresso shortbread gloved in rich, dark chocolate and dipped in pecan crumbs have a velvety texture that just screams for coffee or several glugs of ice-cold milk. You yourself said the dipped chocolate is needed "so you can actually swallow them." To me it's a vintage chocolate beret studded in nut, or a fancy British lady hat—fanciful, and there's something oddly fun about a cookie that can make you choke.
Anyways, Ma, thanks for the recipe. You know that ever since I was but a nugget, your chocolate chip cookies were always met with a loud, hardy "yay!" and you'd always let me lick the rubber spatula. Dusty Bliss is more of an "adult cookie" in my eyes, for the fact that I now make them myself, for their grown-up bitterness, and for my discipline in not eating them all when I get home from the airport. Because cookies are special. And I've realized, over the years, cookies carry you through.
It seems like forever since I was home, sitting by our runt of a tree we put on a draped table to keep Christmas impressive and grand, talking and not talking for hours, comfy as can be. And now, for at least a few more chomps, I can still fish out a broken piece, close my eyes, and hear the home phone ring. It's the rubble of 2015, the stale taste of home—it's not what it used to be, but I can savor all the same.