Recipes
Grilled Cantaloupe with Peach Agrodolce
Serves

serves 6

Cook

20 minutes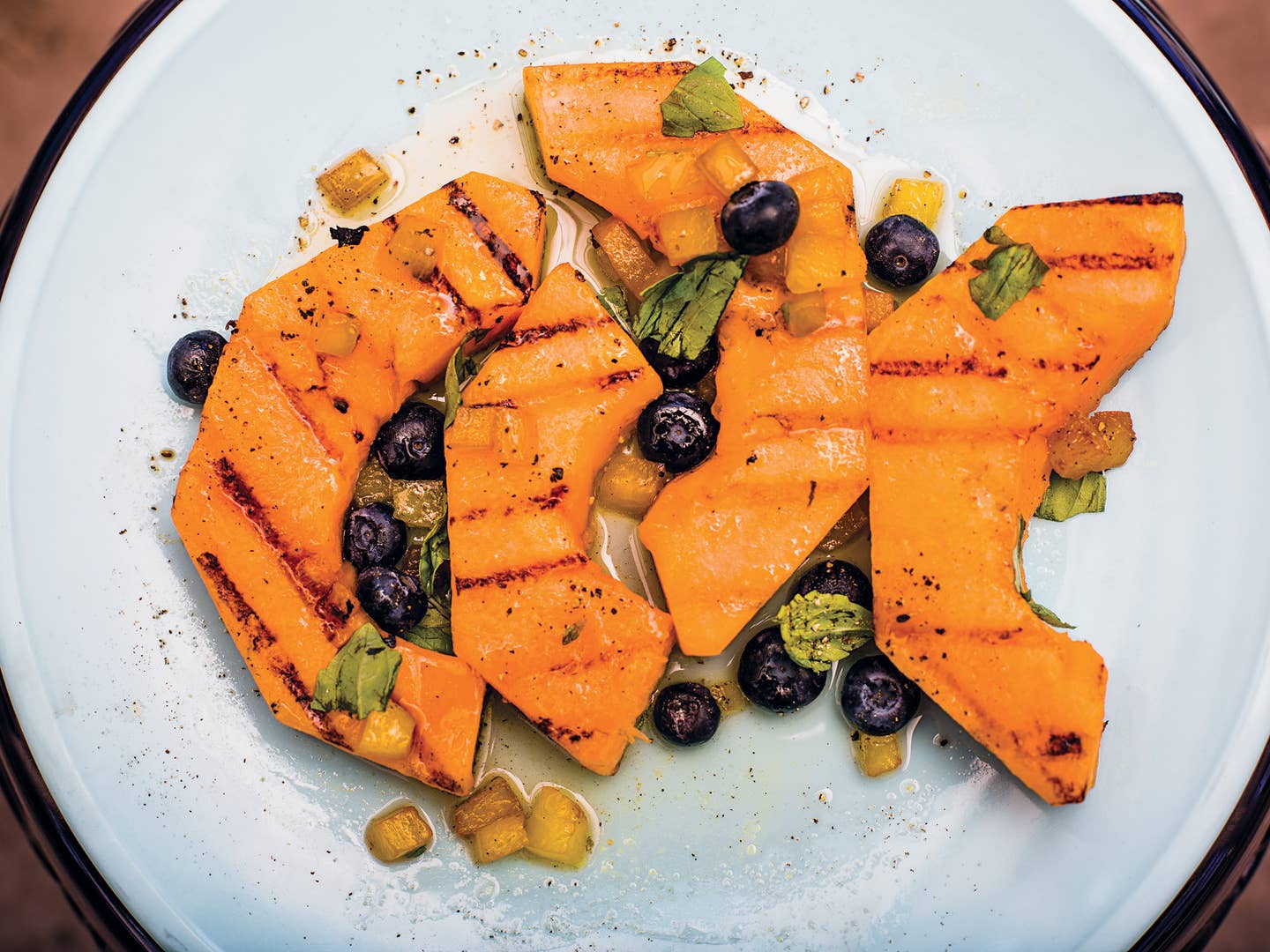 This elegant dessert from Underbelly's Chris Shepherd is dead-simple to make: Cantaloupe is grilled until it caramelizes and is then dressed with agrodolce, a sour-sweet Italian sauce made by reducing vinegar and sugar. The finished agrodolce will keep in the refrigerator for up to one week; use it on meats, grilled fruit, and ice cream.
Ingredients
For the Peach Agrodolce
1 cup sugar
1⁄4 cup apple cider vinegar
2 peaches, peeled, pitted and diced
For the Grilled Cantaloupe and Serving
1 large cantaloupe, peeled, halved, and seeded, cut into 1/2-inch-thick slices
1⁄4 cup olive oil
1 pint blueberries
Kosher salt and freshly ground black pepper, to taste
1⁄4 cup torn basil leaves, for garnish
Instructions
Step 1
Bring sugar, vinegar, and peaches to a simmer in a 2-qt. saucepan over medium; cook until peaches are softened and liquid is reduced by half, 10–12 minutes. Set agrodolce aside.
Step 2
Build a medium-heat fire in a charcoal grill, or heat a gas grill to medium. (Alternatively, heat a cast-iron grill pan over medium.) Toss cantaloupe with oil and, working in batches, grill, turning once, until charred all over, 10–12 minutes; transfer to a serving platter with blueberries. Drizzle with agrodolce, season with salt and pepper, and garnish with basil.