Recipes
Grilled Flank Steak with Coca-Cola-Pickled Onions
Serves

serves 4-6

Cook

15 minutes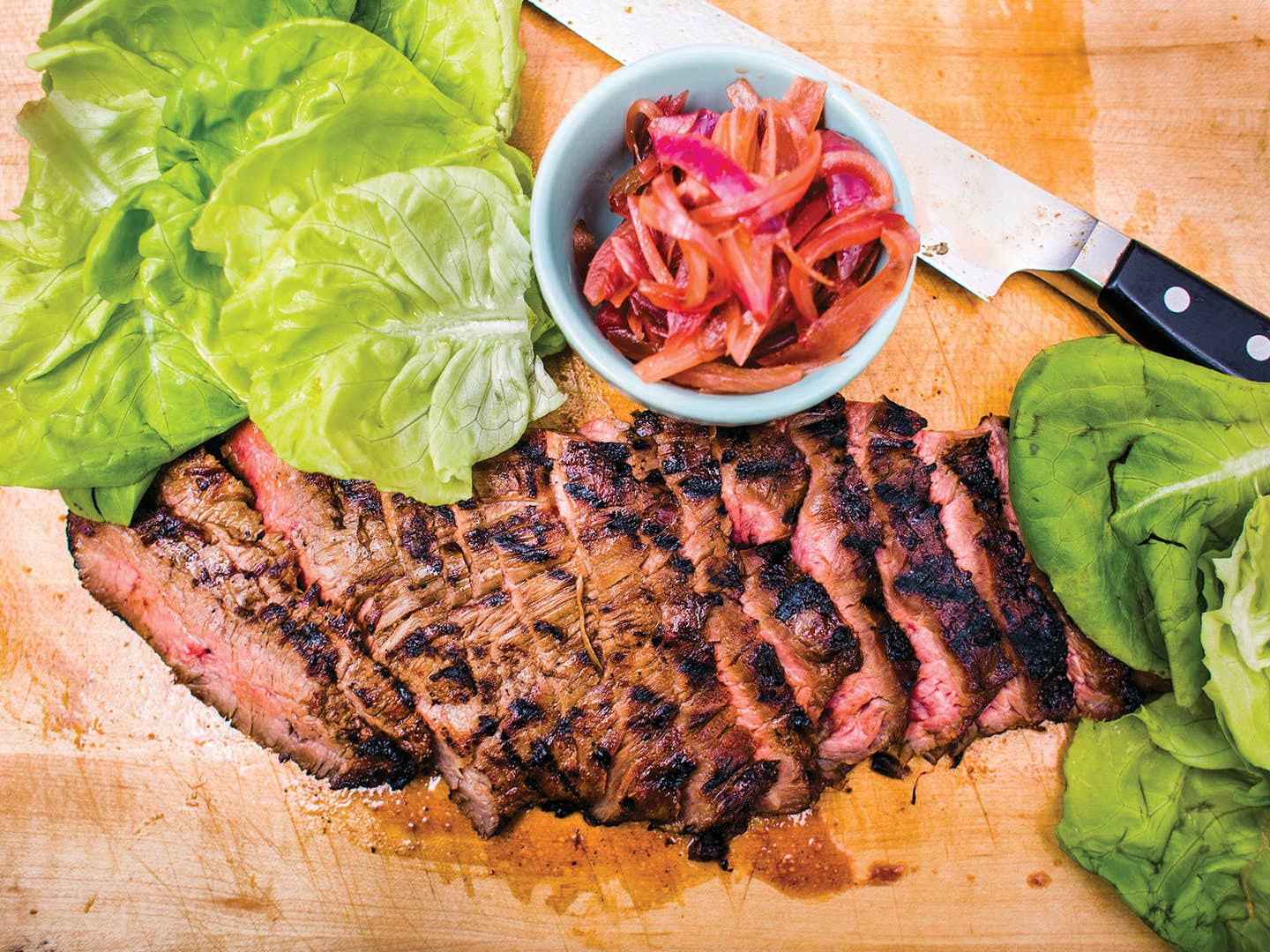 In Korea, lettuce is often used as a crisp wrapper for bulgogi (marinated beef). In this recipe from Chris Shepherd of Underbelly in Houston, sweeter pickled onions take the place of spicy kimchi. Cooking note: Allow at least 6 hours for marinating.
Ingredients
6 tbsp. gochujang (amazon.com)
3 tbsp. mirin
1 tbsp. plus 1/2 cup soy sauce
2 tsp. toasted sesame oil
4 cloves garlic, peeled
1 (1-inch) piece ginger, peeled and thinly sliced
1 (2-lb.) flank steak
2 tbsp. sambal oelek (amazon.com)
1 (12-oz.) can Coca-Cola
1⁄2 cup cider vinegar
2 tbsp. fresh lime juice
2 large red onions, thinly sliced
Kosher salt and freshly ground black pepper, to taste
2 heads butter lettuce, leaves separated
Instructions
Step 1
Pulse gochujang, mirin, 1 tbsp. soy sauce, the sesame oil, garlic, and ginger in a food processor until smooth. Transfer to a bowl with steak, cover, and refrigerate at least 6 hours or up to overnight.
Step 2
Simmer remaining soy sauce, the sambal oelek, and Coca-Cola in a 2-qt. saucepan over medium until reduced by 2⁄3, about 20 minutes. Remove from heat and stir in vinegar and lime juice; pour over onions in a sterilized 1-qt. glass jar with lid. Let sit uncovered 2 hours; cover and refrigerate until ready to use, or for up to 2 weeks.
Step 3
Build a medium-heat fire in a charcoal grill, or heat a gas grill to medium. (Alternatively, heat a cast-iron grill pan over medium.) Remove steak from marinade, pat dry with paper towels, and season with salt and pepper; grill, turning as needed, until slightly charred and cooked to desired doneness, 6–8 minutes for medium-rare or until an instant-read thermometer inserted into thickest part of the steak reads 125°. Let steak rest 10 minutes; thinly slice against the grain. To serve, wrap steak slices and pickled onions in lettuce leaves.