Recipes
The Best Pumpkin Pie
Stella Parks' no-fuss fall favorite.
Serves

makes one 9-inch pie

Cook

45 minutes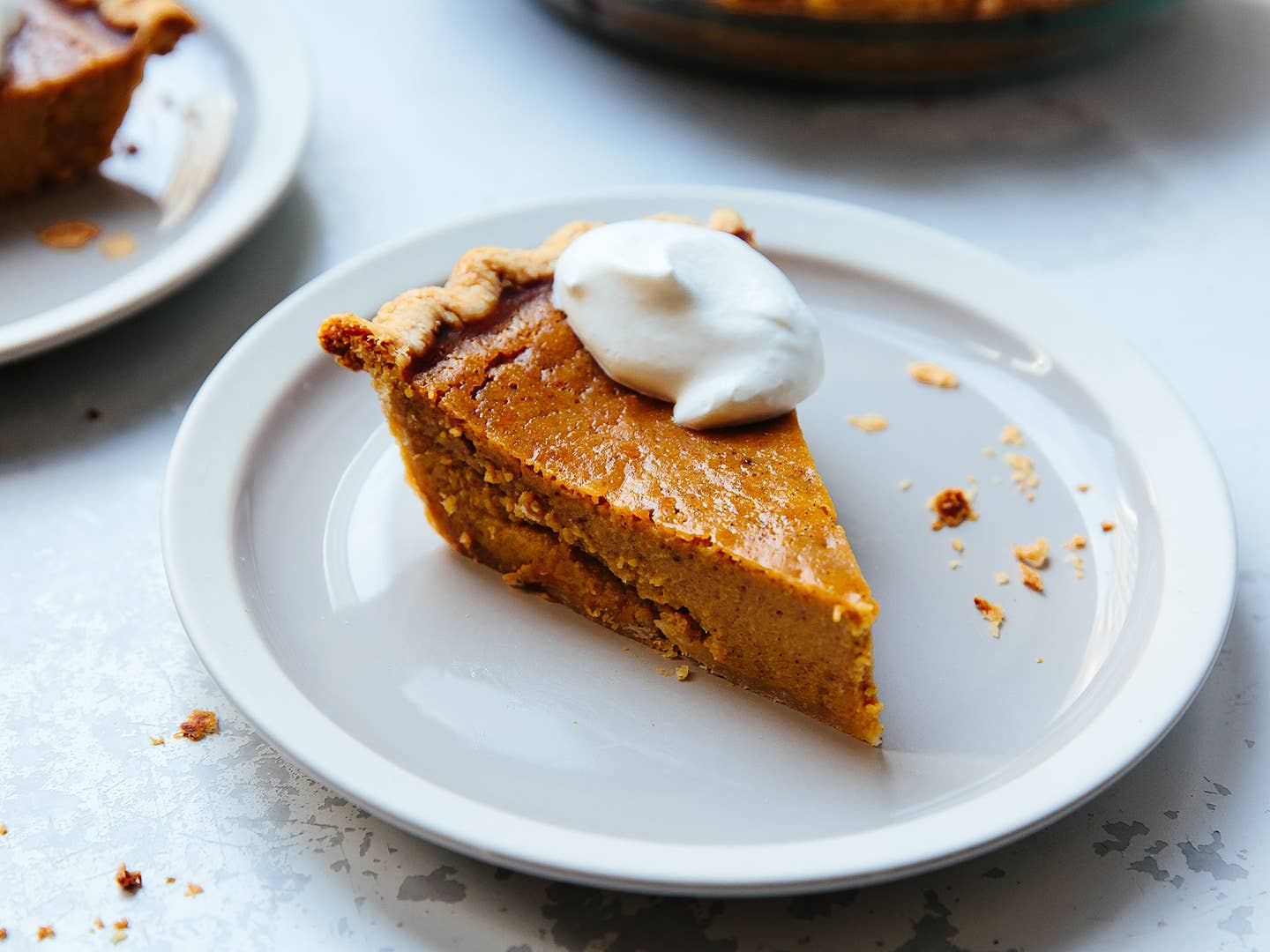 America's favorite pumpkin puree is actually made from squash, so why not turn to the earthy sweetness of fresh butternut squash? It's dead easy to prepare at home and tastes more vibrantly "pumpkin" than anything from a can. By that same token, homemade condensed milk is rich and creamy like no other. Baked together in a crisp and flaky All-Butter Pastry Crust, these DIY ingredients elevate a traditional pie into something more than the sum of its parts.
Stella Parks' tome on the art, science, and history of American desserts is a must-read for anyone with a sweet-tooth
Ingredients
1 whole medium butternut squash (about 7 inches long and 4 inches across at the base; at least 24 oz.)
2 cups (19 oz.) Quick Condensed Milk (or substitute canned)
1⁄2 cup (4 oz.) light brown sugar, packed
1 tbsp. vanilla extract or bourbon
1 1⁄2 tsp. ground ginger
1 1⁄2 tsp. ground cinnamon
1⁄4 tsp. grated nutmeg, plus more to garnish if desired
1⁄4 tsp. Diamond Crystal kosher salt (half as much if iodized)
1⁄8 tsp. ground cloves
2 tbsp. (1 oz.) unsalted butter, melted
3 whole large eggs, straight from the fridge
1 whole Fully blind-baked 9-inch all-butter pastry crust
2 cups whipped cream (optional)
1 cup (5 oz.) crushed toffee bits (optional)
Instructions
Step 1
Prepare the squash puree: Adjust oven rack to lower-middle position and preheat to 400°F. Split the squash lengthways, scoop out the seeds, and place cut side down on a foil-lined aluminum baking sheet. Roast until fork-tender, about 45 minutes. When the squash is cool enough to handle, use a large spoon to scrape out the pulp. Pulse in a food processor until smooth, or rub through a double-mesh sieve. Measure out 14 ounces (13⁄4 cups) squash puree. Use warm, or refrigerate in an airtight container for up to 1 week.
Step 2
Make the pie: Adjust oven rack to lower-middle position and preheat to 375°F. In a medium bowl, whisk the squash puree, condensed milk, brown sugar, vanilla, ginger, cinnamon, nutmeg, salt, cloves, butter, and eggs until smooth. Pour into the baked crust, place on an aluminum baking sheet, and bake until the custard has puffed into a gentle dome, about 25 minutes. Reduce oven temperature to 350°F and continue baking until the custard is firm around the edges but still wobbly in the very center, about 25 minutes more (200°F; 210°F if the probe touches the crust). Let cool at room temperature until the custard is set, about 2 hours. Cut the pie with a chef's knife. If you like, serve with dollops of whipped cream and a sprinkling of crushed toffee (if using). Wrapped in plastic, leftovers will keep for up to 4 days at room temperature.