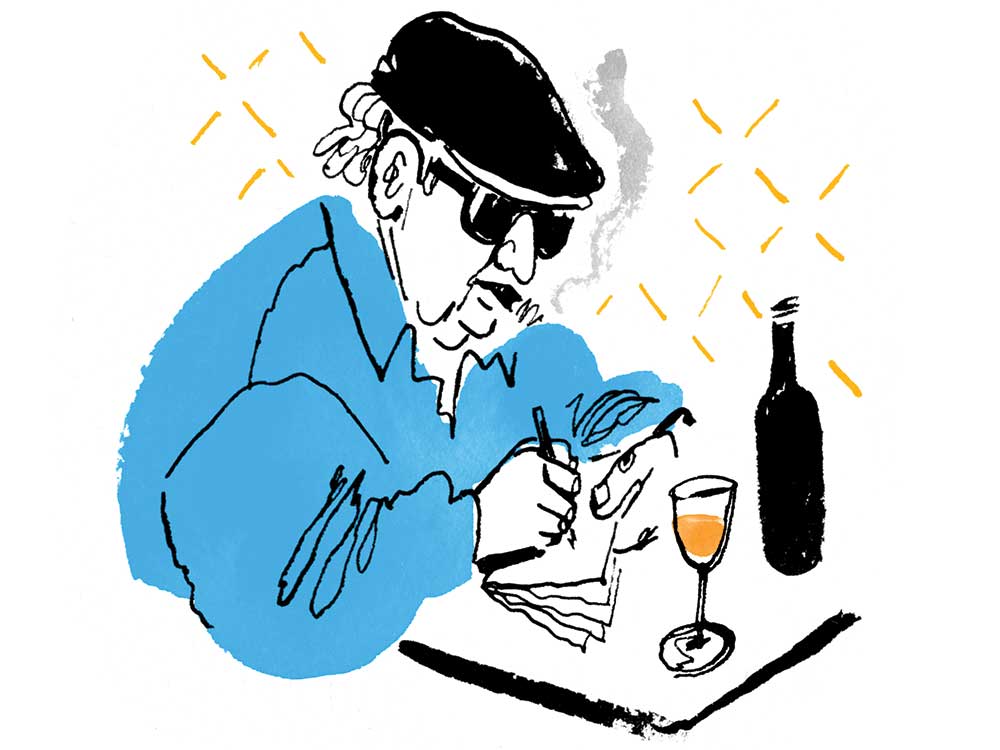 Drinks
Sherry Goes with Everything
In Jerez, a sherry maker and a criminologist have embarked on a quest to find the oldest, most potent casks of amontillado (and discover why it just makes food taste better)
The fiery Andalusian sun would soon be disintegrating over Jerez de la Frontera's horizon, all silhouetted palm trees, Moorish fortress towers, and spindly Gothic spires. For now, its platinum radiance bleached the cloudless sky, making it appear completely white. "The sunlight is fierce here in the winter­time," said Eduardo Ojeda. The legendary sherry winemaker slipped on his sunglasses and opened another bottle of amontillado. After a leisurely lunch in Ojeda's book-lined fifth-floor apartment in the center of Jerez, he'd suggested we finish up with a drink on his balcony. We were joined on that balmy December afternoon by his son Eduardo and his two grandsons, the eldest of whom is also named Eduardo. "My father is Eduardo, and his father is Eduardo, and his father's father's fathers were Eduardos; we are many generations of Eduardo," Ojeda explained. Sitting beside him was the Spanish criminologist Jesús Barquín, his partner in Equipo Navazos, the most exciting sherry project of this generation and of the past few generations and likely of generations to come as well. The bottle he opened now was Equipo Navazos' La Bota de Amontillado 49. "This amontillado was made before we were born," Barquín said, holding his glass to the light to reveal its lambent amber interior. The 80-plus-year-old elixir is an Equipo Navazos bottling, but they didn't actually make it. "We simply knew about the cask," clarified Barquín. "We knew who sold it and who bought it and we kept track of it, and finally it became something we could share with the world." In addition to producing their own range of Jerez wines, Ojeda and Barquín have gained international renown by tracking down hoary casks of extraordinary, forgotten sherry stashed away in cobwebbed local bodegas. They bottle them in limited-edition runs, usually around a few thousand bottles per release, to a worldwide audience of discerning sherryheads. La Bota de Amontillado 49 retails for around $150 for a half bottle—a relative bargain given its extreme rarity. The two minds behind Equipo Navazos met over their shared love of sherry (jerez, in Spanish). As an academic criminologist, Barquín's area of scholarly expertise involves the boundaries and intersections between tort, crime, and civil liability, as well as the study of the penal system as a whole. Alongside his legal work, he is also a passionate connoisseur of the traditional wines of Andalusia who used to write on the subject for El Mundo—which is how he connected with Ojeda, whose day job is winemaker and technical director for Grupo Estévez, owner of the famed sherry houses of Valdespino and La Guita.
The duo started their Equipo Navazos project in 2005 after coming upon a wizened cache of amontillado in the seaside town of Sanlúcar at a small 18th-century bodega (a typically Southern Andalusian peak-roofed warehouselike cellar designed for producing, storing, and aging sherry). "One of the amontillados was so special that Eduardo and I agreed it would be suitable for a private bottling," recalled Barquín. "We established what it would cost to buy the cask, then contacted friends and asked if they would share it with us."
La Bota de Amontillado 1 was the group's first offering; each subsequent bottle proceeds numerically, with current editions now in the high 70s. "The first one was not released commercially," Barquín pointed out, "but then people asked us for more things like that, special bottlings of vintage pedro ximénez and palo cortado, and it just grew. Really, this whole thing was not our decision: Society was to blame."
"How would that explanation hold up in court?" I asked the criminologist.
"It would be an admission of culpability," he offered, with a lawyerly you-got-me laugh. "It would be zero defense."
"The project started out as pure joy," Ojeda added. "But from the beginning, we both sensed that the initial idea could grow very quickly."
They named their series of releases after Edgar Allan Poe's short story "The Cask of Amontillado," in which the eponymous wine lures an oenophile to his death. That tale gives a sense of how precious—and creepy—amontillado can be. The Navazos team cautions that there can be something "dangerous" about a long-lived amontillado. "Once a bottle is opened," Barquín has written, "its aromas invade the room and the aromatic intensity will make one's guests feel they are trapped inside a cask of great amontillado."
Perhaps that's why they suggested we head outside to uncork this one. We'd already killed several bot­tles of fino, oloroso, and aged manzanilla pasada with the meal. Ojeda wanted to move into the sunshine to, as he put it, bajar la pelota al suelo—"drop the ball onto the ground"—a local expression meaning, he said, "to be calm and enjoy the view." As tipsily overjoyed as I was to have just shared a homemade meal with him and Barquín, I was even more thrilled at the prospect of chilling in the warm winter sun with some legit Poe-level amontillado.
It might have been mellow out there on the balcony, but there was nothing restrained about the amontillado's fragrance. Imagine an explosion of orange peel concentrate, hashish oil, and deeply roasted, nearly burnt, almonds. It was the olfactory equivalent of staring into the sun. There was no way to know its age with exact precision, as the area's traditional solera method involves incorporating fractional amounts of younger wines into older stocks, although Barquín noted that this particular cask was at least 80 years old and had stopped being topped up decades ago. Its ferocious perfume melded dizzyingly with the scent of orange blossoms from the trees in the courtyard below. It tasted even more powerful than it smelled. Extremely sharp and bitter, but also supremely focused, profoundly satisfying in its unimpeachable harshness.
"What grip," remarked Barquín, shaking his head in wonderment.
"Grip is that sensation of your tongue being pulled out of your throat," clarified Ojeda, with a distressing precision of imagery. "Grip like this is exactly what we look for in a fine old amontillado." I took another sip, and closed my eyes to better enjoy the Poe-like feeling of my mouth's tasting organ being wrenched from its usual resting place.
For a long time sherry was a victim of changing tastes, with fortified wines, like sweet wines, having fallen out of style around the time Churchill was born. The category has come back in vogue lately, partly because of its affinity for complex foods, and also because anything grandmothers approve of inevitably ends up becoming hip again. But even though a vanguard of sherry lovers has undeniably sprung up in recent years, they haven't had any significant commercial impact. "New York has a freaky-geeky sherry scene," Ojeda conceded. "But as far as some global sherry revolution with sales increasing? No, it isn't happening. The numbers are still going down." It doesn't help that sherry comes in a confusing, hard-to-keep-track-of array of styles. Those aged under a layer of the yeasty white rind known here as flor are called finos—unless they're made in the coastal town of Sanlúcar de Barra­meda (where the sea breeze coats everything in iodine mist, giving the wines an extra salinity), in which case they are manzanillas. A fino or manzanilla that is aged biologically for a long time may become an amontillado, once the flor breaks apart or is killed off. A manzanilla pasada is a mature manzanilla that hasn't quite become a full amontillado, but almost—while a fino amontillado is an in-between hybrid that the authorities have decreed shall no longer be labeled as such. Flor aging isn't the only way to produce sherry wines. Olorosos, for example, don't age under any flor. These wines are oxidative, deeper in color, and tend to complement meatier dishes. There is also a type of sherry that begins under flor but then mysteriously and unintentionally deviates from its destiny and becomes something else entirely: palo cortado. These can be magnificently good, especially with age. All of the above are mainly made from the palomino fino grape. The other major local varietals, pedro ximénez and moscatel, are primarily used for sweeter styles of sherry; but because nothing is straightforward in Jerez, they can also be used to make dry wines. And while the sweet ones certainly have their place (with spicy Indian food, dark chocolate, creamy desserts, or blue cheeses), the dry wines are, to contemporary palates, the most beguiling elixirs in the Marco de Jerez (as the Sherry Triangle between the three towns of Jerez de la Frontera, Sanlúcar de Barrameda, and El Puerto de Santa María is known). Equipo Navazos bottles all of the above styles, as well as unfortified wines, hard spirits, and various other oddities. Ojeda oversees and ages inconceivably vast quantities of fermenting casks in his capacity as technical director at La Guita and Valdespino (much of the contents coming from the chalky soils of Pago Macharnudo, considered one of the top vineyards in the region). He and Barquín are able to make selections from these ecosystems for Equipo Navazos. Whenever they come across barrels in the immense cellars that the two of them feel are sufficiently note­worthy or particular, they can arrange to release them as their own thing. "The aim at Equipo Navazos is to show that there is personality from barrel to barrel within the so­lera system—that, in fact, each barrel is different," says Talia Baiocchi, author of 2014's Sherry: A Modern Guide to the Wine World's Best-Kept Secret. "The region's whole method of production was meant to mitigate those inconsistencies—whereas Ojeda and Barquín celebrate them." Back in the warm sunlight of the balcony, Barquín drained his glass and exclaimed: "This right here is the true history of the Jerez region. The history in drops!" "It is the summary of life," summarized Ojeda, finishing his glass. The two continued rhapsodizing about the amontillado. (Their website notes that their wines present a "verbal challenge for even the most skilled poet-taster," a challenge neither of them backs down from willingly.) Savoring another hit, I squinted into the white sky and realized I'd never felt such a peculiar combination of overwhelmed and relaxed at the same time. Emerald-colored crystalline fragments floated iridescently through the auburn-ruby syrup. I meant to ask about them but got distracted by the strains of flamenco guitar and clapping wafting up from a nearby plaza. Looking over the balcony edge for the music's source, I was momentarily blinded by the sunbeams glinting off some palm fronds just as the easterly levant wind lifted a flight of swallows into the tangerine-scented air.
Jerez is a place of great and exaggerated vividness: not just in the food, but in the still-very-much-alive flamenco culture, in the bullfighting matches, in the rampant use of green corduroy by men of all ages. Everything is more vibrant and potent in Andalusia. The fresh-squeezed local orange juice you start your day with; the sunshine-blasted tomatoes they crush onto breakfast toast at Café La Moderna; the hand-carved slices of acorn-fattened pata negra hams and chorizos and lomos (the cured pork-loin charcuterie) deployed at bars at all hours. And the olives! Olives in Jerez taste so electrically alive that they alone justify the journey here—especially when paired with some stubby picos breadstick-crackers and a glass of unfiltered fino en rama (yet another category, which essentially means raw and straight from barrel to bottle, a newly popular way to drink sherry). Over the course of a week embedded with the Navazos crew, I came to see this masterful pairing of food, wine, and atmosphere as the region's true strength. Manzanilla, for example, is the quintessential complement to sardines—especially when standing at the burnished wooden bar of a Quixote-era taberna forever imbued with the scent of leather horse saddles. And the only thing better than starting a meal with walnuts and Iberico lardo and a glass of oloroso is following it with some roast lamb and viejísimo palo cortado—ideally with someone you care about deeply who also has a thing for potent sherry. Amontillado is a sensible way to end a meal, although it too matches a range of foods and moods. Classic pairings include salted Marcona almonds, morcilla with green beans, and hard sheep's milk cheeses. Perhaps the best thing that an octogenarian one like La Bota de Amontillado 49 pairs with, Ojeda suggested, brandishing a box of Cohibas, is a real Cuban cigar straight from the humidor. As well as blinding sunlight, if possible. Any clued-in sommelier today will tell you that sherry's strength is its compatibility with various foods—but only after spending time in Jerez de la Frontera did I realize how sensuously the myriad styles of sherry can correspond to different vibes and settings. One afternoon, I met with Jan Peterson, owner of the historic Fernando de Castilla estate, which ages some Equipo Navazos soleras in its bodega. That day, he was preparing arroz con perdiz (braised partridge with rice) on a campero, an outdoor gas range popular in the Spanish countryside. He emphasized that the key is to cook the birds with the same herbs that they eat in the vineyards—wild thyme and rosemary, in particular—and to simmer the whole thing in a healthy amount of the same amontillado you drink alongside the dish. As Peterson and I ate—taking care to avoid the numerous shot pellets found in the freshly hunted birds—he spoke of palo cortado's affinity for asparagus and egg dishes; of the way amontillado seems to meld into an organoleptic oneness with high-quality mojama (sun-dried tuna); of manzanilla with simple fish preparations, ceviches, and salads in vinaigrette; of how oloroso complements slow-cooked oxtail, terrines, and foie gras with sour cherries. "We are all about pairing things here in Jerez," he said. "The greatest of all is a proper fino en rama with some bellota jamón that is highly streaked with 'infiltrated fats,' as we call them in Spanish. That combination is pure perfection." To prove it, he brought out a plate of the best hand-sliced ham I have ever tried.
Each of the dishes that Ojeda and Barquín prepared for our lunch together also came alive with a different type of sherry. The papas aliñas con atún, a potato salad topped with preserved tuna belly and an exuberance of olive oil, reached their full sea-and-land apotheosis when paired with fino. The only thing better than their cazuela de fideos con mariscos (noodles in a cumin-and-saffron seafood broth topped with just-caught mantis prawns, cockles, cuttlefish, and langostinos de Sanlúcar) was eating the dish alongside their manzanilla pasada. They braised pork cheeks in palo cortado (a slow-cooked specialty here known as estofado de carrilleras con palo cortado), which actually made for a textbook interplay not with the palo cortado it simmered in, but rather with La Bota de Amontillado 58, an easier-drinking, significantly younger amontillado than the 49. Of all the swirling moments of flavor alchemy that dosed my trip through the psychedelic taste-scape that is Jerez, two things in particular lodged themselves permanently into my temporal lobe. Jan Peterson's acorn-fed pata negra jamón combining with and transforming and being transformed by his Fernando de Castilla fino is a neurotransmitter-altering sensory impression that will stay with me for the rest of my life. And my strongest sherry flashbacks will always be linked to the all-out assault on the senses that was La Bota de Amontillado 49 with a Cohiba on Ojeda's balcony. That sunny amalgamation seemed to condense all of Andalusia's tremendous range of flavors into a single taste bud–shredding sensation of utter aliveness.
"Whatever type of sherry it may be, I'm in favor of the true thing, the authentic thing," Barquín explained as we watched the sun sink into its One Thousand and One Nights backdrop. "Even if it may seem too savage, like this Amontillado 49. This is the way it is. I am against any manipulation or attempts to cover up the true personality of a wine. Additives, coloring agents, sweeteners—all that stuff is terrible. This is the way it should be."
"So is it accurate to say that you are seeking the truth in these wines?" I asked.
At this Barquín balked. "I do not believe in the truth," he stated, stiffly. "So I cannot be seeking it." Barquín is a tall man, highly serious and intent on the exact meanings and implications behind certain words. He also has the sort of piercing, perceptive, raven eyes you might expect of someone who both investigates and teaches the inner workings of crimi­nology for a living. As we spoke, it struck me that, like his inspirator Edgar Allan Poe, Barquín's field of study has given him a penetrating awareness of the darkness that lurks within us all, of humanity's innate capacity for evil, of what Poe meant when he wrote about retribution and impunity. Or perhaps my writerly imagination was simply growing warm with the amontillado?
"Don't worry," Ojeda said, simultaneously lightening the vibe and relighting his cigar. "You just need to drink more sherry and you will understand everything."
"But is it really about understanding?" I pressed. "Or is it more like poetry, where certain aspects resist comprehension?"
Barquín again took issue at this line of reasoning. "I cannot accept the notion that it is 'magic in the glass,' or inexplicable in any way," he declared. "The sherry board attempted to forward that notion in the past, but I disagree entirely. No, you can understand wholly what you have in your hands here. Everything has a reason, everything has an explanation. Sometimes it is hard to understand—but if you focus and stay with it, you will be able to discern it. It is complex, but it is not esoteric."
"Can we compare it to reading literature?" I offered, recalling the passage in Poe's story where Fortunato disparages the inability to "distinguish sherry from amontillado" (when amontillado is precisely, as any sherry-loving reader realizes, a type of sherry).
"Yes, tasting sherry simply requires a person's attention," Ojeda agreed. "You just need to care, and be interested in it, and spend some time with it—and then you'll get it. Sherry rewards curiosity, and passionate inquiry. Many people eat and drink without paying any attention at all to what is happening. But if you observe sherry with your heart"—here he tapped himself on his tell-tale heart—"these wines can give you the greatest range of pleasure imaginable."
Where to Eat, Drink, and Stay (and Drink Some More) in the Sherry Triangle
La Moderna is the café of your surrealist Andalusian dreams—and the perfect place to start a day with pan con tomate. Calle Larga 67.
Restaurante Albalá is one of Eduardo Ojeda's go-to spots for creative contemporary cookery in central Jerez. Don't miss the Iberian pork lomo tartare and roasted red peppers with local prawns. restaurantealbala.com
La Carboná is the place to try a variety of sherries and the foods they pair with. The daily catch comes straight from the Gulf of Cadiz, the anchovies are by Don Bocarte, and the artichokes are amontillado's best friend. lacarbona.com
Bar Arturo, located on the outskirts of town, is an unfussy seafood eatery with the power to render visitors giddily happy with the simplest and freshest of dishes. Highly recommended. Calle Guita 9.
La Fonda Barranco, a renovated 19th-century home on Calle Barranco, is perfectly situated for exploring Jerez. lafondabarranco.com
An Introduction to Amontillado
"In general, old true amontillado is always good—it cannot be bad, as the aging process simply doesn't allow for it to be anything other than the real thing," says Jesús Barquín. Here are five amontillados worth seeking out:
Valdespino: Tio Diego Amontillado ($28; klwines.com) is actually produced by Equipo Navazos' Eduardo Ojeda, who also oversees a highly aged bottling called Coliseo, made for connoisseurs. $110; klwines.com
NPU: Sanchez Romate's entry-level offering is an ideal and low-priced introduction to the joy of fine amontillado. $22; masterofmalt.com
Botaina: Part of the Lustau family since 2008, Botaina today is just the thing to order for an aperitivo at a bar or café in Jerez, where it costs around the same as a cheap espresso.
Fernando de Castilla Antique Amontillado: Made by Equipo Navazos teammate Jan Peterson, it is as good with wild gamebirds as it is with almonds and olives. $44; klwines.com
Pérez Barquero: On the cheap and lovely end is the Gran Barquero ($30; klwines.com), whereas Pérez Barquero's Solera Fundacional 1905 is positively unreal (and has a price tag to match). $499; italianwinemerchants.com
Beyond Jamón...Six Recipes that Show how Sherry Shines with Food