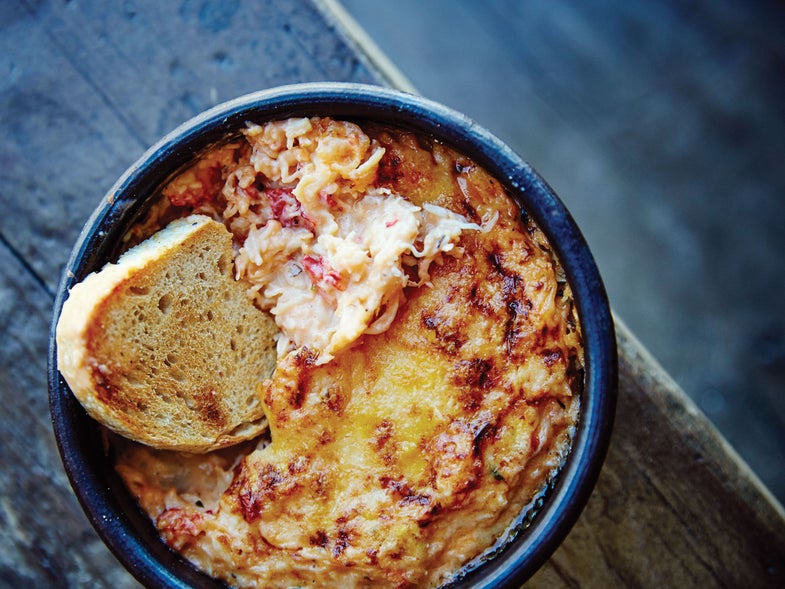 Known as chupe de centolla, this Chilean crab gratin borders on a cheesy crab dip. While similar South American chupe are always prepared with milk-soaked bread and any combination of shrimp, scallops, shellfish, meats, and cheeses, Patagonia's version relies solely on the massive local king crabs, the hallmark of fishermen's kitchens along Chile's southernmost coast.
Featured in: The Epic Food and Landscape of Patagonia
The Ultimate Crab Dip
Your new go-to party appetizer.
Yield:
serves 2-4 as an appetizer
Time: 45 minutes
Ingredients
1 cup cubed white bread, crusts removed (1 1/2 oz.)
2⁄3 cup whole milk
1 1⁄2 tsp. extra-virgin olive oil
1 tsp. fresh oregano, minced
1⁄3 cup minced yellow onion (1 3/4 oz.)
11 oz. king crab meat, cooked and roughly shredded (1 lb. 6 oz. in shells)
2 Tbsp. heavy cream
Kosher salt and freshly ground black pepper to taste
1⁄3 cup grated Grana Padano or Gruyère cheese (1/2 oz.)
8 slices toasted country bread
Instructions
Preheat broiler to high heat and warm a cast-iron medium serving dish over a low flame while you prepare the crab.
Combine the bread and milk in a small bowl and set aside for 5 minutes. Purée the milk and bread in a blender until very smooth, then force the mixture through a fine mesh strainer.
In a 3-quart saucepan, warm the olive oil over medium-low heat. Add the oregano and sauté gently, just until it becomes fragrant and begins to sizzle, about 2 minutes. Add the onion and continue sautéing for 5–6 minutes, until the onion is translucent and soft. Add the crab and the milk mixture to the pan and stir gently until thoroughly combined and warm. Remove the pan from the stove and fold in the heavy cream. Season to taste with kosher salt and freshly ground black pepper.
Transfer the crab mixture to your preheated serving dish. Evenly cover the dip with the cheese and broil for 5 minutes. Allow the crab dip to rest for 5 minutes before serving with toasted country bread.