Crispy-Skinned Salmon with Seaweed Salad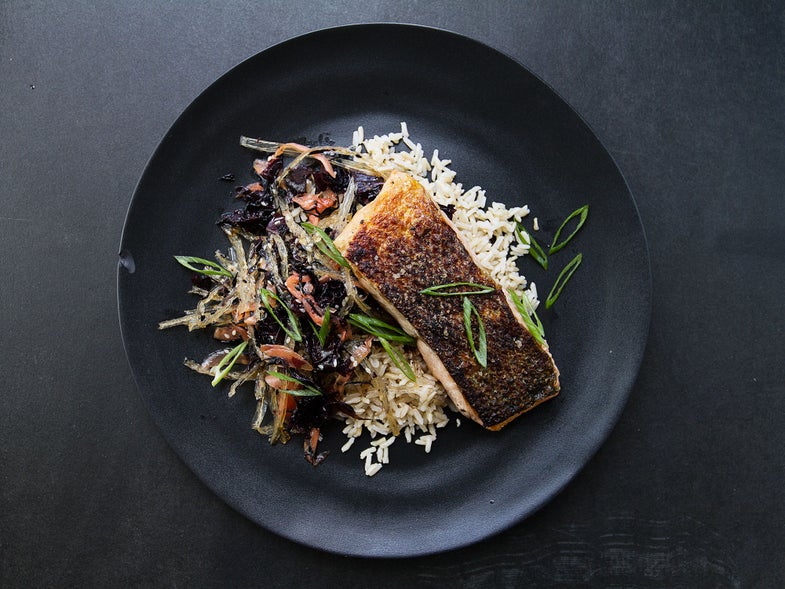 Like anyone else, sometimes I run out of ideas for what to cook for dinner. I'll look through books for inspiration, see what ingredients are left over in the test kitchen that I can pilfer, or—when all else fails—I'll ask my coworkers for ideas. That's where the inspiration for this dish came from—it's one that assistant editor Alex Testere has been cooking a lot lately. To ensure extra-crispy skin on the salmon, be sure to dry the fillet and salt the skin. Heat a cast-iron skillet over medium-high and cook the fish, skin-side down, until it's nice and crispy, then flip it and cook it for a minute longer. You could really serve this with just about anything, but Alex (and I) like to serve it with a sesame and soy-marinated seaweed salad and our perfect brown rice. —Farideh Sadeghin, test kitchen director
See our step-by-step guide on how to pan-fry fish »
Crispy-Skinned Salmon with Seaweed Salad
Serve this simple, pan-fried salmon with a sesame and soy-marinated seaweed salad and a pile of brown rice.
Time: 45 minutes
Ingredients
3 oz. mixed seaweed
1 tbsp. toasted sesame seeds
1 tbsp. mirin
1 tbsp. rice vinegar
1 tbsp. soy sauce
1 tbsp. sesame oil
Kosher salt and freshly ground black pepper
4 (5-ounce) salmon fillets
2 tbsp. canola oil
2 scallions, green part only, thinly sliced on the bias
Instructions
Soak seaweed in water until hydrated, about 15 minutes. Drain, discarding water.
Whisk mirin, vinegar, and soy sauce in a small bowl; slowly stream in sesame oil until emulsified, then toss with seaweed and sesame seeds.
Pat salmon dry and season skin-side with salt. Heat oil in a cast-iron pan over medium-high; add salmon, skin-side down, and cook until the skin is crispy, about 3 minutes. Season the flesh side with salt and pepper, then flip and cook a further 1-2 minutes. Transfer to a serving platter with seaweed salad. Serve with brown rice and garnish with scallions.