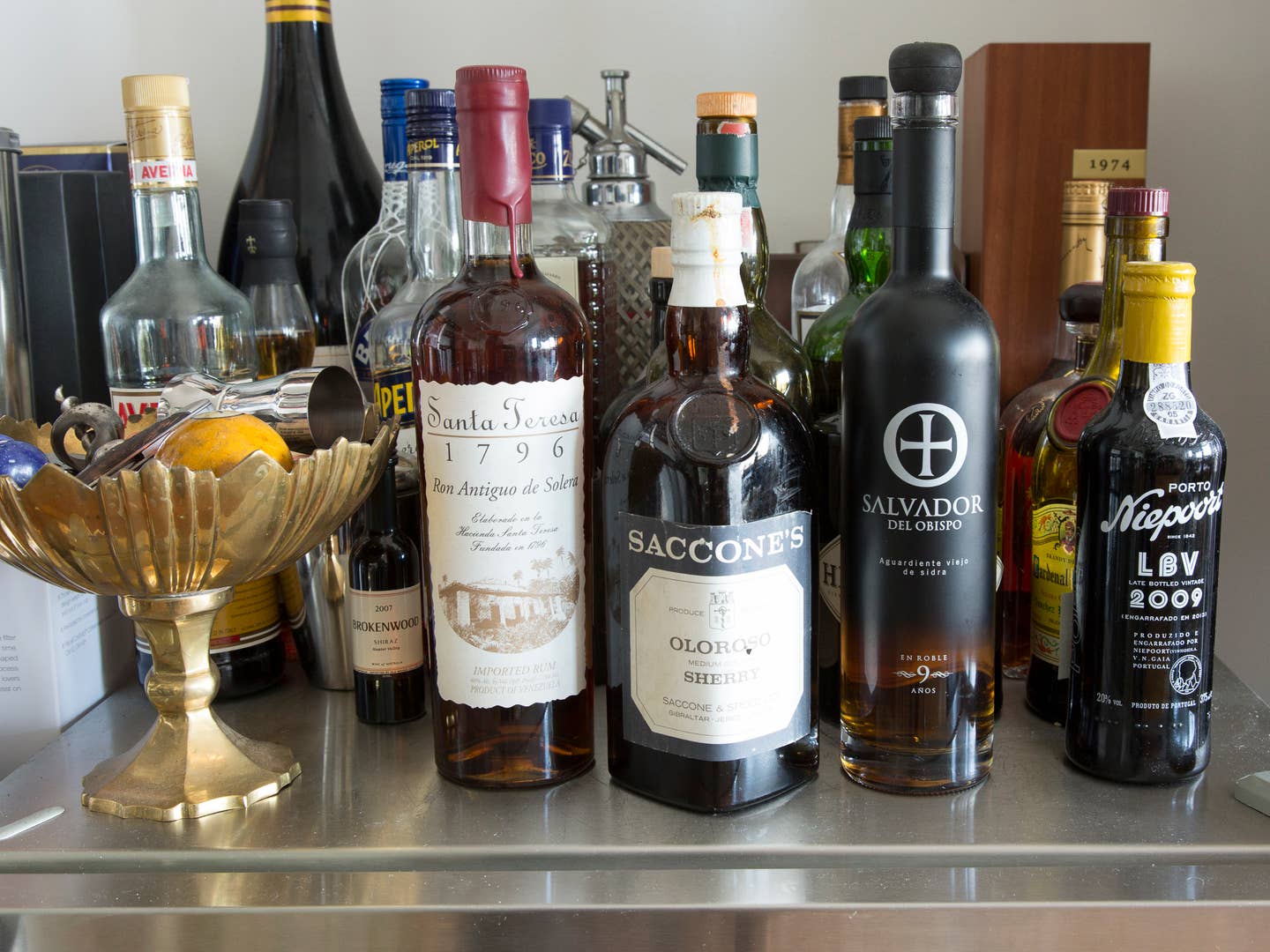 Drinks
The Bottles of Booze We'd Bring to a Desert Island
The only thing worse than being stranded is being stranded and sober
We've all been asked in a job interview: "Name three things you'd bring if you were stranded on a desert island." It's tough to answer: do you go for survival and pack resources like a knife and duct tape, trust that you'll be found and bring enough food to last your imminent rescue, or accept defeat and bring sentimental items to cherish in your final days?
For a fun twist on the question, we asked our editors to name the one bottle of booze they'd want to have if trapped on a deserted island. The answers may surprise you—they definitely showed us where our priorities lie. From Everclear to Champagne, here are the bottles of the booze the SAVEUR gang would bring to our middle-of-nowhere island.
At the risk of sounding too collegiate, I have to say I'll be stocking my island with Everclear. Of course, overproof grain spirits have a handful of purely practical disaster-scenario uses (Fuel! Sanitizer!). But think of all the other possibilities. I'm going out on a limb and assuming that there will be plenty of sugar cane, fruit, and botanicals growing around the Swiss Family Robinson abode and there is no better base for infusions, cordials, and liqueurs than the famous fratty firewater. I'll pass the time whipping up batches of limoncello, bitters, and tropical fruit tinctures while I try to figure out how to DIY a proper still. Because, lets be real: we're going to need some rum, eventually. — Kat Craddock, test kitchen assistant
I have limited real estate for a home bar, which means firm rules about what gets a place. I have to naturally reach for it often. It can't be so nice I'd feel guilty ever drinking some. And I have to be able to enjoy it neat or on the rocks, regardless of the type of spirit. Anything else isn't versatile enough.
This is true even for gin. Especially for gin, really, as it's one of my favorite things to drink neat. That's because of gins like Gin Mare, a Spanish production with hits of thyme, basil, and olive, that are juniper-forward but have a lot of other things going on. It's not as austere as London dry but isn't sweet and perfumey like so many American new-style gins. It makes a superlative G&T and a killer martini (swap fino sherry in for the vermouth for extra credit), but really, I'm most content to take it right from the bottle. It's that good. —Max Falkowitz, executive digital editor
I'm keeping this national Hungarian liqueur shaded in the palm tree cabinet. A violent gut-punch of bittersweet herbals makes this a potent digestif. Which is great considering I'd be on a steady-drip of nothing but island fruits and coconut water until I get fishing lines straightened out. It has an unforgiving medicinal taste that sticks on your tongue and doesn't let go, just like the little hope for rescue I'd cling to. The best way to drink it is straight—a true Hungarian drinks the stuff lukewarm and neat—and standard deserted island weather would bring out that piney flavor beautifully. —Nissan Haque, production assistant
This is good inspiration for my newfound goal of carrying around a bottle of something everywhere I go, just in case I get uncontrollably swept away to a deserted island. After thinking greatly about what precise spirit would benefit me most in any specific place (a light rum for an island filled with coconuts, tequila for one filled inexplicably with lime trees), I believe my best bet is to stick to a single, endlessly adaptable, anywhere drink: champagne. It wouldn't even have to be an expensive bottle, since there won't be anyone to show it off to. If my final days are approaching, all I'll need is a bright, vibrant bottle of bubbles to lift my spirits, and all the better that I won't have to worry about finding a bottle opener. Figuring out how to bring it down to a satisfying temperature is a different story, but it seems I'll have plenty of time to figure that out. —Alex Testere, associate editor
The thing that sucks about a stranded island is mixers like tonic and soda are so hard to come by. Luckily a glass of Braulio, an amaro from the Italian alps that up until a few years ago wasn't available stateside, tastes beautiful on its own: minty, herbaceous, and smooth without the lingering bitterness of so many amari. —Andrew Richdale, deputy editor
On a desert island, I'd be taking Wild Turkey Rye 101. It's partially for sentimental reasons (my partner and I drank a full bottle on my stoop when we first met), but also because it's classically American. It'd be spicy enough to remain interesting and boozy enough to drown my lonely sorrows. And if I found some sugar cane or coconut and some citrus, it'd be pretty easy to make a makeshift old-fashioned. —Leslie Pariseau, special projects editor
I know this would lead to the kind of sunburn you never bounce back from, but I would hope to be stuck on an island with a bottle of La Nina del Mezcal Joven. I'm sure it makes you a better swimmer in the same way it makes you a better dancer, right? —Katie Whittaker, assistant digital editor
I'd grab a bottle of Cruzan Blackstrap Rum—cloyingly sweet on its own, but perfect when opened up with citrus or even a little water. Since it can function as both booze and sweetener in one, I'd use it to mix in equal parts with juice pressed from fruits grown on the island. If I could find some pineapple and lime, I'd attempt a makeshift Jungle Bird using my bitter tears in lieu of Campari. — Dan Q. Dao, deputy digital editor
I would be content on an island alone with a bottle of Georges Laval. It's got fancy packaging, goes down easy, and has a high percentage of alcohol. Everything I need to savor that taste while by myself. —Emma Goodnough, social media intern