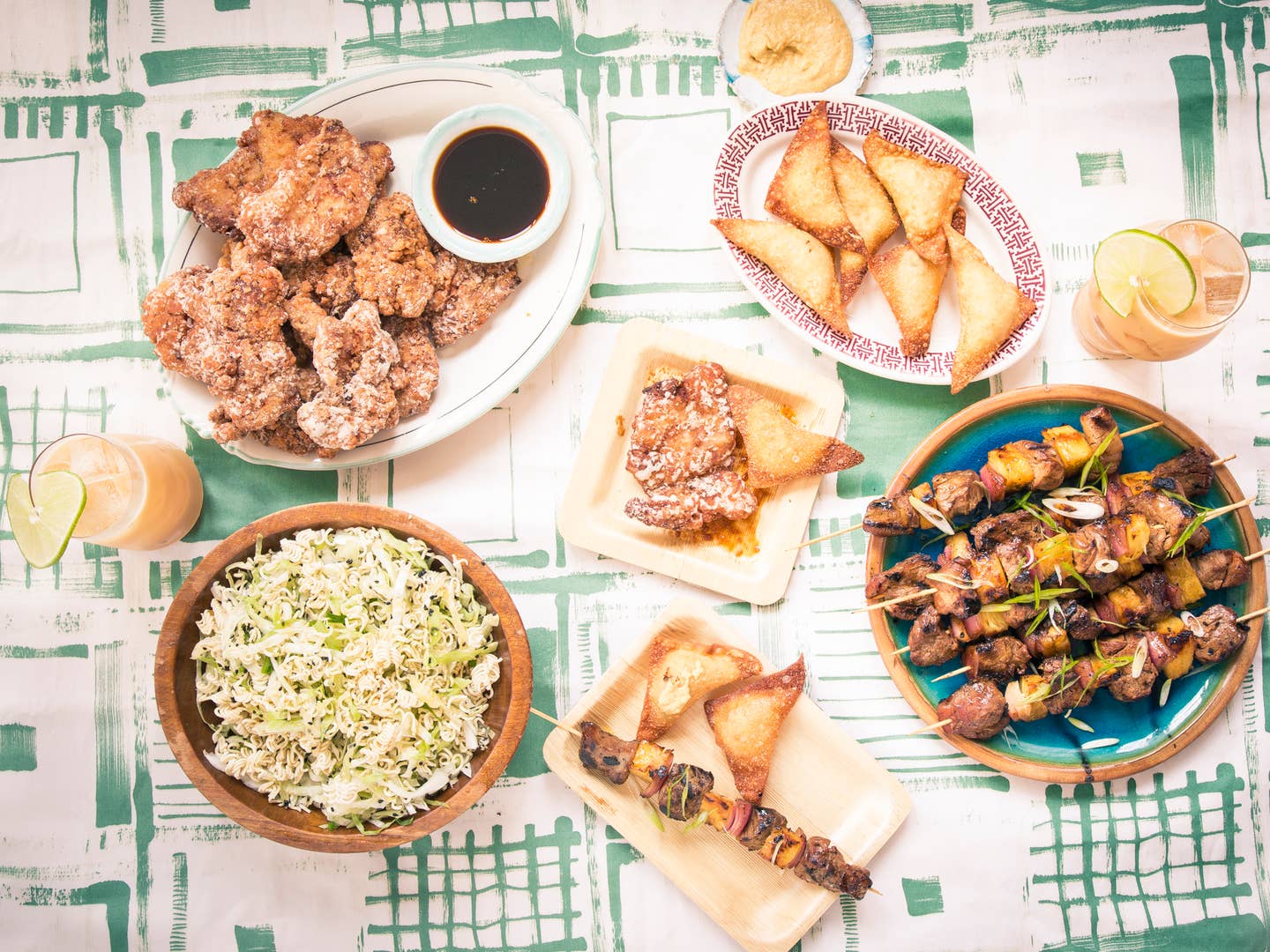 Culture
A Make-Ahead Tiki Menu for Summer Entertaining
Say so long—or rather "Aloha!"—to summer with a menu featuring grilled skewers, small plates, and plenty of rum-soaked cocktails
As summer fades, we find ourselves basking in those last rays of hot sun, fitting in beach days whenever possible, and wondering how else we might capture the season's spirit. Enter tiki night. Tiki is a movement spawned in 1934 by Hollywood restaurateur Donn Beach (not his given name, but one he would legally adopt). Having traveled through the South Pacific, Beach melded elements of Polynesian and Cantonese cuisine, added tropical flair to rum drinks, and subsequently created his idealized vision of island living. As part of our August/September outdoor entertaining month, our test kitchen put together a tiki-themed menu of grilled skewers, small bites, and rum-soaked cocktails—because summer's not complete until you've had at least a few frosty drinks with paper umbrellas.
Here's the game plan: pre-batch a few (okay, a bunch of) cocktails, and set out a small-bite buffet. As guests filter in, serve crab Rangoon, that addictive mix of seafood and cream cheese stuffed into wonton wrappers and deep fried. For drinks, prepare plenty of mai tais—quintessential tiki, it's three rums blended into a knock-out punch with orgeat (almond syrup) and Velvet Falernum (a warmly-spiced sweet liqueur)—and a riff on the piña colada. But remember the old tiki wisdom, "You're getting more interesting by the drink!" and alongside, offer a third option, The Hurricane Club's #77, a cinnamon and cardamom-spiced rum concoction enriched with plenty of coconut. To pad the stomach, set out platters of grilled pineapple-and-pork kebabs, Hawaiian slaw tossed with crunchy instant ramen noodles, and a (gluten-free) twist on fried chicken, breaded in potato starch and served with tangy ponzu.
One Week Before: Assemble crab Rangoon and freeze in a single layer (to prevent sticking) before transferring to a plastic freezer bag. Make the cardamom syrup for the Hurricane Club's #77.
The Day Before: Marinate the chicken—the the longer it sits, the more flavorful it will become. While you're at it, make the ponzu sauce, too. Next, make the cocktails; prepping drinks ahead keeps the party flowing smoothly all night long. For the mai tai, combine several servings of rums, syrup, and liqueurs. For the Castaway, combine several servings of pineapple juice, amaretto, rum, and bitters. And for the Hurricane Club's #77, combine several servings of coconut water, coconut purée, syrup, spices, and rum.
The Morning Of: Squeeze fresh juice for all the cocktails. (When it comes time to serve, each serving of the mai tai will get 5 oz. of the batch, ½ oz. lime juice, and the garnish; the Castaway will get 4 oz. of the batch, ½ oz. cream of coconut, ½ oz lime juice, and the garnish; the Hurricane Club's #77 will get 8 oz. of the batch, 1 oz. lime juice, and the garnish.) Defrost crab Rangoon. Assemble pork skewers.
A Few Hours Before: Make the cabbage salad, but hold off on adding the crispy ramen noodles until just before serving so they don't become soggy.
An Hour Before: Set out dipping sauces and prep the fry station.
Just Before Guests Arrive: Set the mood with Spotify's tiki-themed playlist. Fry the crab Rangoon. Keep batches warm in an oven set on the lowest setting.
When Ready To Eat: Fry the chicken, grill the skewers, toss crispy noodles into the cabbage salad, and bring paradise to the ones you love.