Making Jasper's Rum Punch with Jeff "Beachbum" Berry
The cocktail master teaches us how to make a classic tiki drink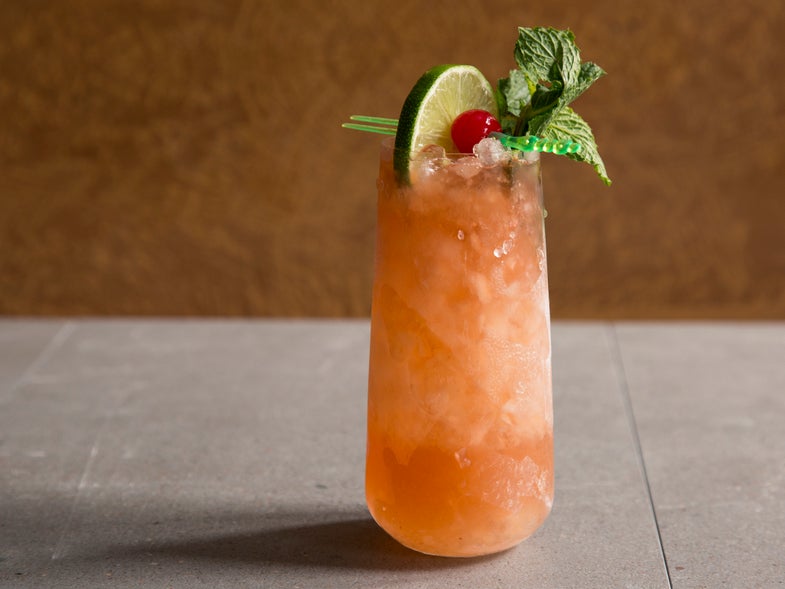 One of the foremost experts on the world of rum, there's no better person than Jeff "Beachbum" Berry to teach us a few tips on proper tiki technique. While tiki certainly employs other base spirits, rum is decidedly king of the category and rum punch is an awfully good (and enjoyable) way to learn the specific attributes of various types and brands of the spirit.
To make the drink, Berry mixes equal parts Jamaican rum with a pre-batched mixer, adds crushed ice or ice pellets, and uses a traditional swizzle stick, a.k.a. baton lele or bois lele from Martinique (available online at cocktailkingdom.com). In a world before shakers, the prongs on the swizzle's base served a dual purpose: mixing the drink while allowing the ice to shift around for a thoroughly chilled cocktail. And, unlike shaking, using a swizzle won't over-aerate the cocktail, rendering a clearer finished product.
When garnishing, be sure your (edible) flowers are pesticide free. And, in the absence of Latitude 29's Easter Island-inspired swizzle sticks, a paper umbrella or hula dancer speared on a bamboo skewer adds a festive touch.
Get a tiki menu for summer entertaining »
See our favorite rum cocktails »