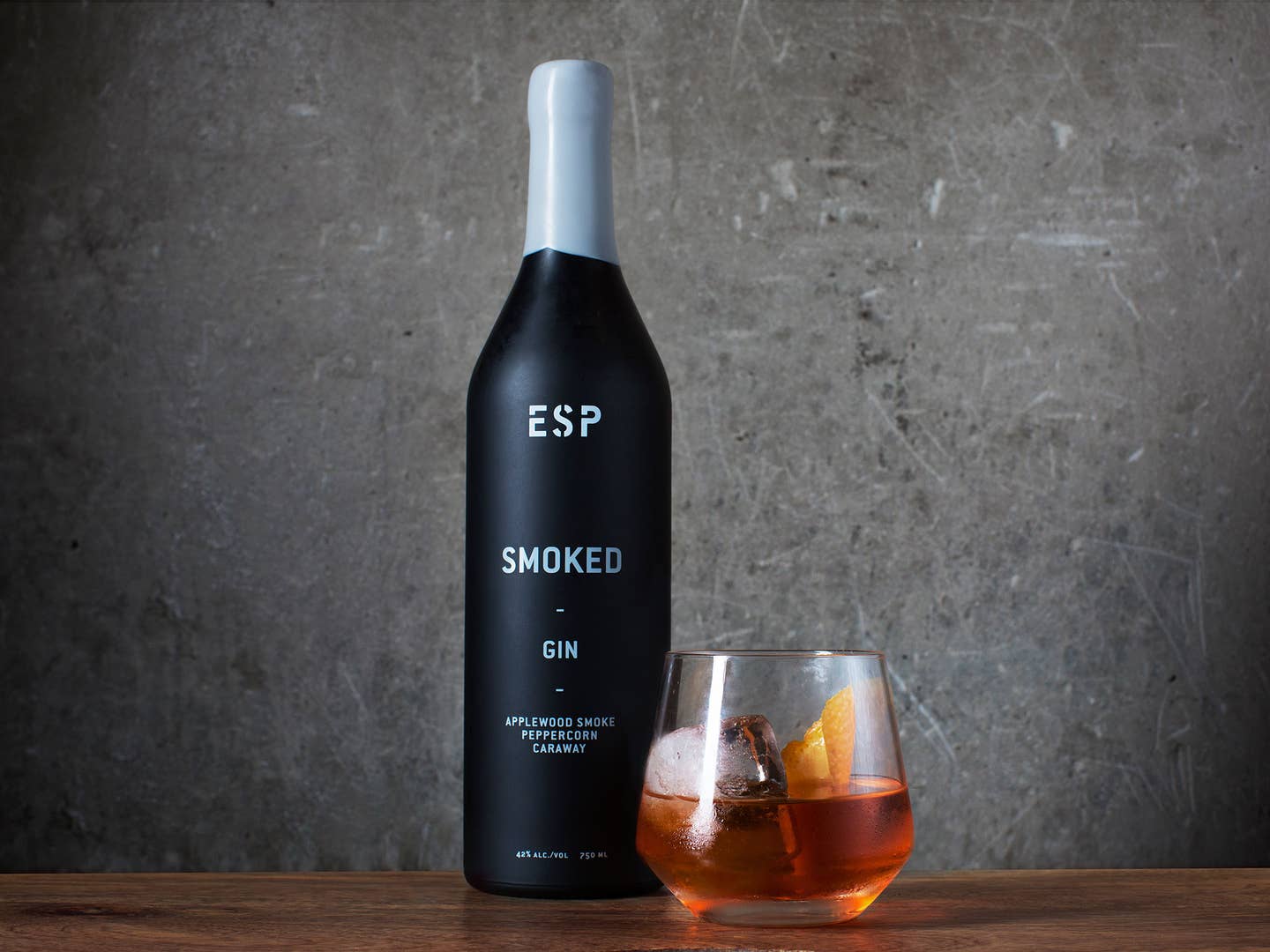 Drinks
A Former Fine Dining Chef Launches America's First Smoked Gin
Juniper meets applewood smoke, peppercorn, and caraway
Gin is typically not the first spirit that comes to mind when creating a smoky cocktail—you'd much sooner grab a bottle of peaty Scotch or an herbaceous mezcal to achieve that flavor. But from the still-nascent Yonkers-based Empire Spirits Projects (ESP) in New York comes a new gin that showcases the versatility of the juniper-spiked spirit by marrying it to a handful of smoked botanicals including applewood, Sichuan peppercorn, and a heady smack of caraway. The result? Smoked gin.
Launched as part of the company's inaugural, three-bottle portfolio, the gin draws heavily upon the culinary background of chef-turned-distiller Jake Sawabini, an alum of Wylie Dufresne's Michelin-starred wd~50 and Shea Gallante's Cru. It's joined by a floral American Beauty gin made with rose, ginger, and cinnamon; and the South Asian-influenced NoHo with hits of saffron, cardamom, and orange.
"I treated the development of our gins the same way I would a recipe," says Sawabini. "Juniper was the foundation, but each gin started with another specific botanical as an inspiration. As we tested and tasted, I could pull out what was working, and what was not, refining the recipes until they achieved the harmony I wanted."
Sipsmiths Gin is a smoked gin for the British market, but ESP's take is the first smoked gin made in America, and it's vastly different in style from a classic London Dry. It's also likely to be the most polarizing of the ESP lineup, not just for using in cocktails but also as an unapologetically bold sipping spirit.
Interestingly, it's the spiciness from the Sichuan peppercorn that balances out both the gin's initial blast of caraway and its smoky undertone. Sawabini tells us it was by coincidence that he thought to use it.
"I tasted Sichuan peppercorns for the first time working at Le Bernardin and knew I would use them in the future," said Sawabini. "When I was playing with the smoked recipe there was something missing. I was standing in the dry storage at wd~50 and there they were. The idea just clicked."
For those interested in how the smoked gin might play in cocktails, The Dead Rabbit head bartender Jillian Vose concocted several recipes using it for a recent event. The easy-sipping Ace King Jack soothed ESP Smoked with Domaine de Canton ginger liqueur, Campari, Rose and apricot; while the Bunko Artist brightened it as a traditional sour layered with sherry, poppy seed, and grapefruit.
Whether sipped straight or mixed, the effect of the smoke in the gin is certainly interesting, demonstrating the depth of what a gin of this category could be. Sawabini perhaps puts it best when he brings the comparison back to food: "The smoke accents and enhances. Just think what bacon does on a cheeseburger."