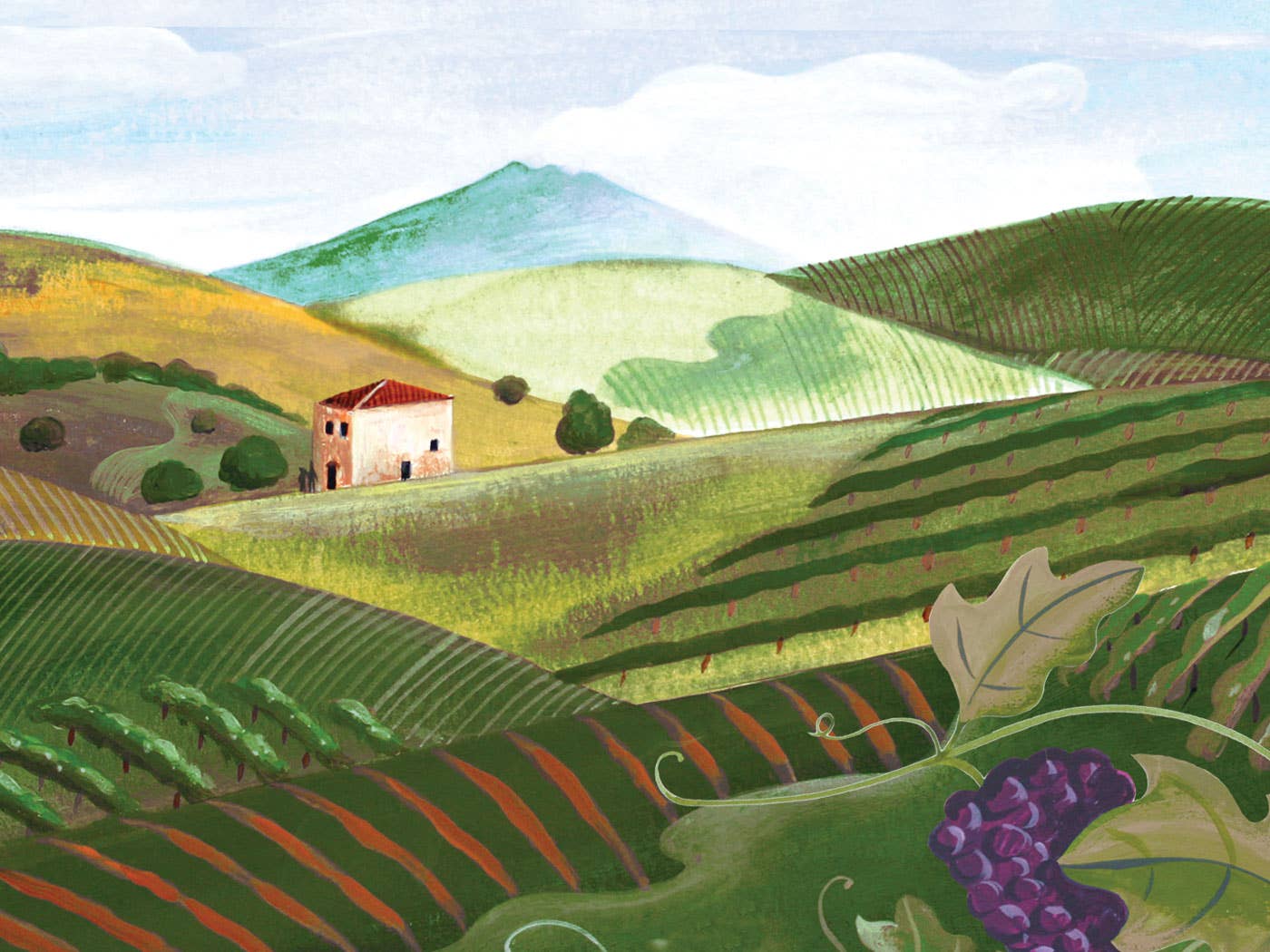 Drinks
Our New Favorite Sicilian Wine
A family made nero d'avola as fresh and charming as the island from which it comes
They call winemaking an art, but Natalia Simeti wasn't buying it. Her idea of art meant masterpieces that quickened your pulse, Leonardos and Vermeers and Matisses, not stomping grapes at the family vineyard. So she studied museum management in Italy and the Netherlands and honed her skills as an intern at New York's Whitney Museum of American Art. In 2001, when a master's thesis brought her home to Sicily, she dove into a culturally rich life in Palermo, working in museum communications. Bosco Falconeria, her family's farm an hour west of the city, seemed a world away. (If the name sounds familiar, it's because the 40-acre property played a prominent role in the 1986 book On Persephone's Island: A Sicilian Journal, a chronicle of Sicilian life by Mary Taylor Simeti, Natalia's mother.)
But she would visit on weekends, reacquainting herself with the olive groves and vineyards, pitching in when there was work to be done. Before long, she was surprised to find herself eagerly awaiting her time there. The grapes were a work in progress, evolving from week to week, season to season. The pleasure they provided was visceral, not abstract. One day, after she'd been back in Sicily for four years, an idea occurred to her that she couldn't shake. "I was bored," she says. "And I thought maybe the thing that would make sense would be to take care of the farm."
Bosco has been in the Simeti family since 1933, but following the postwar agricultural crisis and a period of poor management, it hit hard times. In 1966, it fell to Antonio Simeti, Natalia's father, then an agricultural economics professor, to resurrect it. Antonio renewed the vineyards, which included the white grapes that are common in that part of Sicily. He also, almost on a lark, planted the red nero d'avola that covers the island's eastern half. Nobody could remember seeing it grow there, high above the Gulf of Castellammare, but at Bosco it seemed to thrive. "The wine Tonino made from it," Mary recalls, "was always delicious."
Not that anybody else was drinking it. The Simetis initially made only enough for their own table and sold off the remaining fruit in bulk. That's typical in Sicily, where wine production sits somewhere between a hobby and a profession for many families. Eventually, they began selling some of it locally. When Natalia took over in 2007, she ramped up the commercial enterprise. "When I started studying and looking around and understanding what making wine was really about," she says, "I realized there was a lot that we could do."
In her first year, at a time when even the best Sicilian wines were cranked out by large companies using purchased fruit and few had the charm to develop an international following, Natalia took a chance and put her family's white, made from the indigenous catarratto grape, in a bottle with a new label and began selling it on a wider scale. Then she did the same with the nero d'avola.
Today she makes up to 10,000 bottles of wine annually, nearly all of it white. But it's the nero d'avola that transmits the essence of Bosco. Those woodsy, dark-berry flavors could only emerge from a fecund place, yet the freshness that comes from the breezes off the gulf would be unattainable in the warmer sites on the eastern side of the island. It's also, the Simetis believe, a result of the grapes being grown organically for a quarter-century.
The intricate wine that results is ideal for the roasted lamb and boar that often highlight Sicilian feasts. It doesn't aspire to be art, but a delicious manifestation of a few majestic hills that sit atop a singular island: Bosco in a glass.