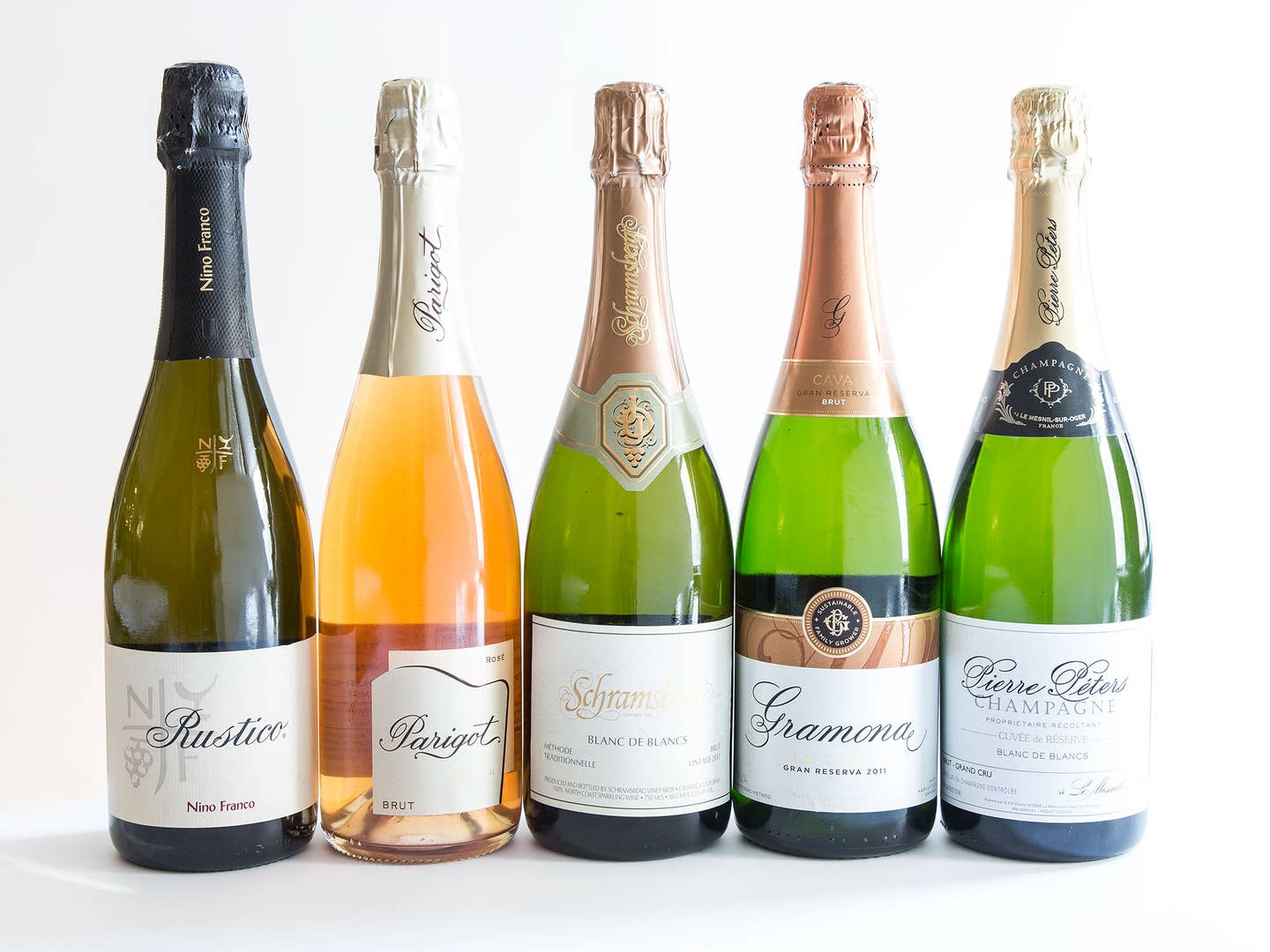 Drinks
Wine Experts' Picks for the Best Champagne at Any Budget
Two Champagne obsessives share a handy short list of stellar bottles
Holiday season means more holiday party invites than you know what to do with, and dinner parties mean gifts. And when it comes to one-size-fits-all crowd-pleasing host gifts, nothing beats Champagne.
For advice on which bottles to make our go-tos, we turned to two experts on the sparkling wine: writer and critic Peter Liem, and Daniel Johnnes, founder of La Paulée de New York and wine director for Daniel Boulud's restaurant group. The two men are hosting New York's La Fête du Champagne next weekend, a three-day festival all about Champagne (tickets here). The no-holds-barred symposium features seminars, dinners, and tastings joined by world-renowned chefs, sommeliers, and Champagne producers and experts that includes a benefit dinner for Ment'or, an organization that works to cultivate the next generation of America's fine dining chefs.
If you're looking for a shortcut to great Champagne, here are some of the go-to bottles Liem and Johnnes love.
Louis Roederer Brut Premier (About $30): This full-bodied brut comes from a larger Champagne house, but it's made more like a boutique wine. Johnnes says production under the Roederer umbrella means this wine tastes a lot more expensive than it costs.
J.L. Vergnon Éloquence (About $40): Le Mesnil Sur Oger is a Grand Cru vineyard is known for the high quality of chardonnay, and this Blanc du Blancs is one of Johnnes' favorites. Each sip gives a precise tension of ripe fruit and focused acidity.
Marie-Courtin Concordance (About $80): Made by boutique artisan producer Dominique Moreau, this small-batch Blanc du Noirs is made entirely from pinot noir in a white wine style. Liem likes this organic selection for its distinct, full body and unique personality.
Marie-Noelle Ledru Goulte (About $90): Though Marie-Noelle has been producing wine for 30 years, her tiny batches have only begun flying off the shelf in the past ten. If you see this 2010 vintage, or any other that come from her house, Liem says to pick it up.
Louis Roederer Cristal (About $170): Most people think of Cristal as flashy and opulent. But Liem urges wine-lovers to work past the price tag and rep and realize that, at its core, it really is an incredible wine that earns its price through high labor and production costs. The newly released 2007 is complex, but still young, so buy one to drink now and put another in the cellar for a couple of decades to age.