Recipes
Indian Fried Banana Dumplings (Unniyappam)
Serves

makes 36

Cook

4 hours 25 minutes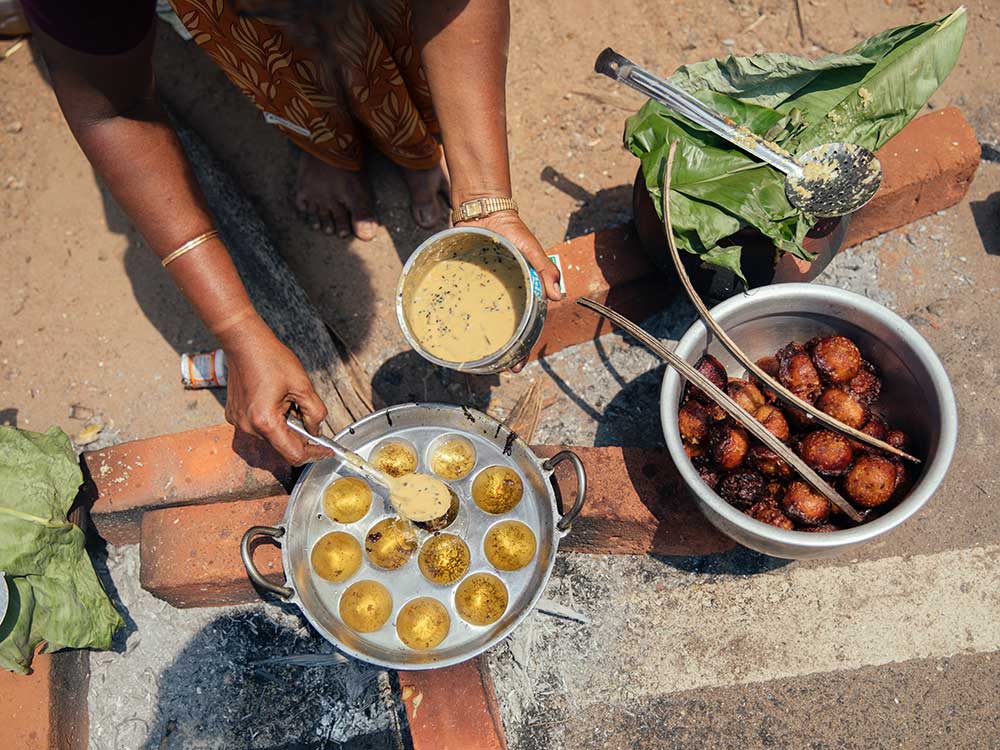 These sweet, fried rice flour balls are a typical prasadam, or "offering," sold at Hindu temples in Kerala or at local sweet shops. The runny batter, which includes banana purée, grated coconut, and jaggery syrup, is spooned into a ghee-coated appachatti pan (a specialty pan with divots), which is then heated over an open flame, cooking the batter into crispy cakes. (If you have an aebleskiver or takoyaki pan, those work too.) Fried unniyappam can be stored for up to a week and reheated in a moderate oven before serving.
Ingredients
1 1⁄2 cups jaggery
2 ripe bananas, peeled
2 cups rice flour
1⁄2 cup freshly grated coconut
2 tsp. freshly ground cardamom
1 tsp. ground ginger
1⁄2 tsp. baking soda
3⁄4 cup melted ghee or coconut oil
Instructions
Step 1
In a small pot over medium heat, add the jaggery and 1½ cups water. Cook, stirring, until the jaggery dissolves.
Step 2
Strain the mixture through a fine sieve, then set aside to cool slightly.
Step 3
In a food processor, process the bananas until very smooth.
Step 4
In a large bowl, add the rice flour, coconut, cardamom, ginger, and baking soda; stir to combine. Add the banana purée and the jaggery syrup and stir until a loose, wet batter forms. Cover and let rest for 3–4 hours.
Step 5
Set a paper towel–lined plate next to the stove. In an appachatti pan over high heat, distribute ½ cup melted ghee evenly among the divots. When the ghee is nearly smoking (about 2 minutes), lower the heat to medium and carefully but quickly drop 1 tablespoon batter into each divot. Cook until browned and crispy on one side, about 2 minutes, then flip and cook 2–3 minutes more.
Step 6
Transfer to the prepared plate and continue cooking the batter in batches, refilling the divots with the remaining ¼ cup ghee as needed. Serve the unniyappam warm.