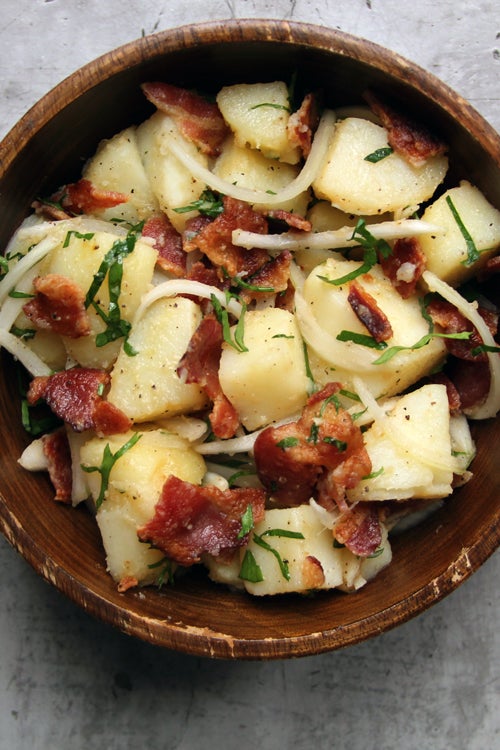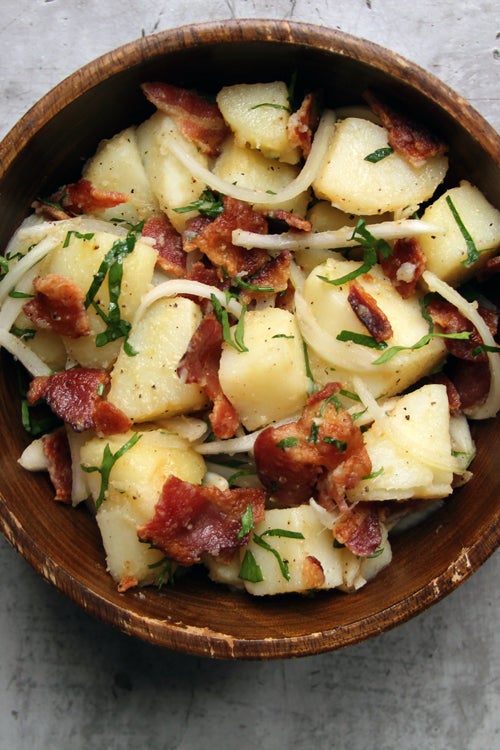 Some recipes for this German potato salad call for sautéing the onions in the bacon fat, but we prefer them left raw. This recipe comes from James Beard's American Cookery (Little Brown & Co., 1972).
German Potato Salad
Some German potato salad recipes call for sauteing the onions in bacon fat, but we prefer them left raw for crunchy contrast.
Ingredients
6-8 medium waxy potatoes
12 slices thick bacon
1 large yellow onion, peeled and thinly sliced
6 tbsp. white wine vinegar
Freshly ground black pepper
1⁄4 cup chopped fresh parsley leaves
Salt
Instructions
Put potatoes into a large pot, cover with cold water by 2″to 3″, and add a generous pinch of salt. Bring to a boil over medium-high heat, reduce heat to medium, and gently boil until potatoes are tender when pierced with the tip of a knife, 15–20 minutes.
Meanwhile, cook bacon in a large skillet over medium heat until crisp, 10–15 minutes. Drain on paper towels, setting skillet with rendered fat aside. Crumble bacon into large pieces.
Drain potatoes, peel while still hot, and cut into 1″ cubes. Put potatoes into a large warm serving bowl and add bacon and onions. Return skillet with bacon fat to medium-high heat and heat until hot. Carefully add vinegar and salt and pepper to taste. Pour hot dressing over potato mixture and toss well. Adjust seasonings. Garnish with parsley. Serve warm.