Recipes
German Potato Salad
James Beard's take on the bacon-y, mayo-less classic.
Serves

serves 4-6

Cook

45 minutes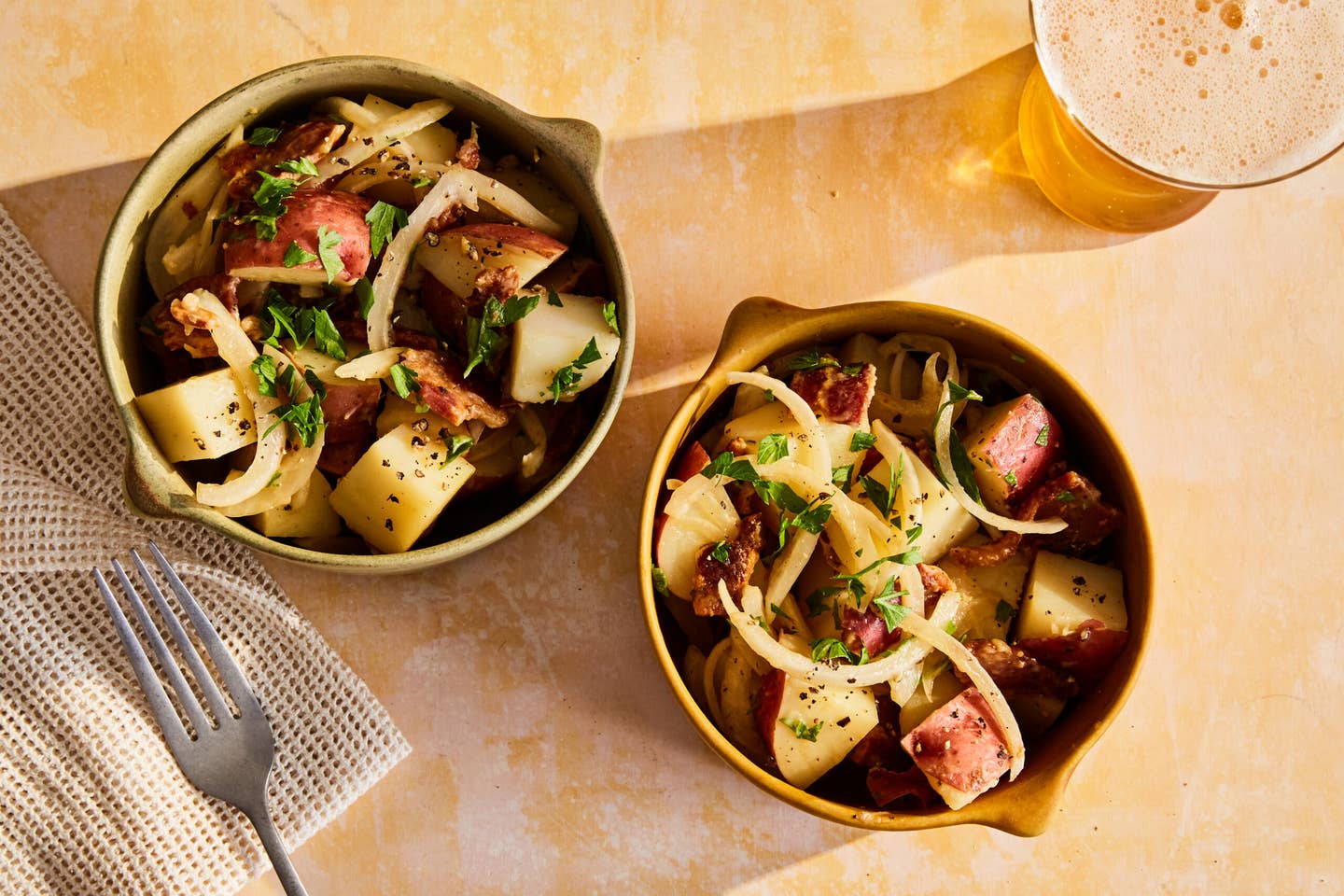 Not a fan of mayonnaise? Then this bacony and vinegary German potato salad recipe is for you. Some versions of the classic recipe call for first sautéing onions in bacon fat, but we prefer them left raw so that their gentle crunch and allium heat retains a bit of pop against the fatty smoked pork and starchy potatoes. This recipe is adapted from one that first appeared in James Beard's American Cookery.
Ingredients
6–8 medium waxy potatoes
Kosher salt
12 slices thick bacon
1 large yellow onion, peeled and thinly sliced
¼ cups plus 2 Tbsp. white wine vinegar
Freshly ground black pepper
¼ cups coarsely chopped fresh parsley leaves
Instructions
Step 1
To a large pot, add the potatoes and enough generously salted cold water to cover by 2 inches. Bring to a boil over medium-high heat and cook until the potatoes are tender when poked with a thin knife, 15–20 minutes.
Step 2
Meanwhile, to a large skillet over medium heat, add the bacon and cook, turning occasionally, until crisp, 10–15 minutes. Remove from heat, transfer the bacon to a paper-towel-lined plate, and set the skillet aside, reserving the rendered bacon fat. When the bacon is cool enough to handle, crumble it into large pieces.
Step 3
Drain the potatoes, discarding the cooking liquid. While still hot, cut the potatoes into 1-inch cubes, then transfer to a large, warm serving bowl. Add the bacon and onions and set aside.
Step 4
Return the skillet of bacon fat to medium-high heat. Once the pan is hot, remove from heat and add the vinegar, scraping the bottom of the skillet with a wooden spoon to incorporate any browned bits from the bottom of the pan. Season lightly with salt and black pepper, then pour the hot dressing over the potato-bacon-onion mixture; toss gently to combine. Season to taste with more salt and black pepper, garnish with parsley, and serve warm.
With all due respect to mayo, we have a few other dressing ideas.