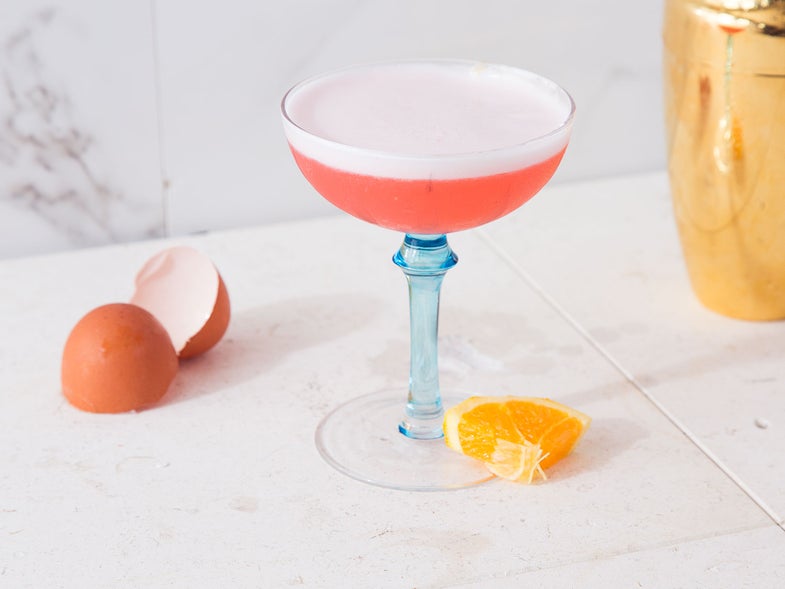 Sometimes we like cocktails to have a bit of an aggressive bite; other times, we're looking to round them out a bit. Gin, Campari, and lemon are three ingredients that pair beautifully, but all have their sharp edges. Adding an egg white helps mellow and integrate these flavors without muting them, while also contributing a silky texture and an opacity that's quite elegant in a vividly colored drink.
Featured in: Why Raw Egg Whites Make Better Cocktails
Get seasonal recipes, methods and techniques sent right to your inbox—sign up here to receive Saveur newsletters. And don't forget to follow us on Instagram at @SaveurMag.
Gin-Campari Sour
A bright, crisp gin cocktail given depth by Campari and orange bitters and smoothed out with egg white.
Ingredients
1 1⁄2 oz. gin, such as Plymouth brand
3⁄4 oz. Campari
3⁄4 oz. fresh lemon juice
1⁄2 oz. simple syrup
1 egg white
1 dash orange bitters
1 small orange wedge, to garnish
Instructions
In a cocktail shaker, combine the gin, Campari, lemon juice, simple syrup, bitters, and egg white, and shake until combined. Fill the shaker three-quarters full with ice and shake vigorously until the egg white is incorporated and frothy, about 30 seconds.
Strain into a chilled coupe glass. Garnish with the orange wedge.